Paramount Pictures has closed worldwide distribution rights for Spanish animation duo.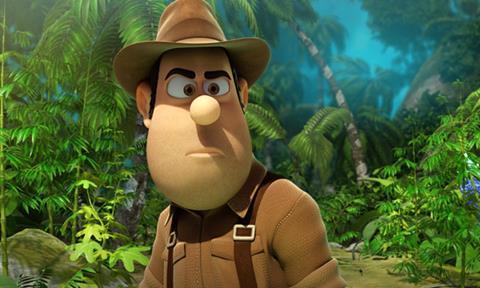 Paramount Pictures has closed a worldwide distribution deal for Enrique Gato's next two animation productions, Capture the Flag and Tad Jones: The Hero Returns.
The agreement was signed with TeleCinco Cinema, Telefónica Studios and Los Rockets AIE along with producers Jordi Gasull - creator and co-writer of Tad - Edmon Roch and Nico Maji, CEO of Lightbox Entertainment.
The deal follows the breakout success of Spanish animation feature Tad the Explorer ($54m worldwide), which charts the story of a construction worker who realises his dream of becoming an adventurer like his hero Indiana Jones.
This character will be back "with new and exciting adventures", said Gasull, "in funnier film that won't lose its tenderness".
Capture the Flag, based on the return of men to the moon when a greedy millionaire wants to exploit its natural resources for his own benefit, is scheduled for a summer 2015 release, while Tad Jones: The Hero Returns is slated for a 2016 bow.
Director Enrique Gato said: "The film has the same passion for space conquest as the '60s. Since the first moment I knew it was a great project".
Ghislain Barrois, CEO of Telecinco Cinema, said: "This deal shows the great potential of Spanish animation. Working with local talent we can create global products. What better for an ambitious company like TeleCinco Cinema than to partner with such a successful and veteran company as Paramount Pictures".
"This is a great step ahead for Spanish cinema", pointed out Gabriel Arias Salgado, CEO of Telefónica Studios.
Telefónica Studios is one of the most important players in Spanish cinema producing around 12 titles per year. Recent titles include Wild Tales, by Damián Szifrón and the upcoming Alejandro Amenábar feature Regression.
TeleCinco Cinema, producers of Pan's Labyrinth and Cell 211, scored recent success with Spanish Affair, the comedy directed by Emilio Martínez Lázaro that has broken a number of local box office records, raking in more than $70m this year.