EXCLUSIVE: Paris-based MK2 Films close to selling out worldwide on supernatural thriller starring Kristen Stewart.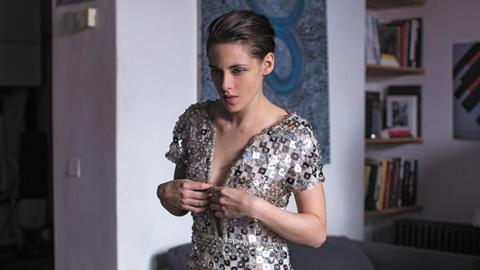 Universal Pictures Home Entertainment Content Group has signed a multi-territory deal for Olivier Assayas's supernatural Paris-set thriller Personal Shopper starring Kristin Stewart following its award-winning premiere in Competition at Cannes.
The deal covers all rights in Scandinavia, Latin America and Eastern Europe, Poland, Turkey, Portugal, Baltics, CIS (excluding Russia), India, Indonesia and Taiwan.
The Group is planning a 2017 release for the picture in cinemas, on DVD, digital download and TV.
Film expected to sell-out
Other post-Cannes sales include to Japan's Tohokushinsha Film Corporation and deals to Italy and Australia are expected to be sealed in the coming days.
MK2 expects the title to sell out worldwide, with the only territories still under discussion being Spain and Israel.
"This is one of Assayas's most internationally focused project to date as well as a highly honed genre film and the buyers response has been amazing," said MK2 Films sales and acquisition chief Juliette Schrameck.
The fresh sales come hot on the heels of Assayas's best director award win at Cannes for Personal Shopper, starring Stewart as a Paris-based personal shopper whose efforts to come to terms with the death of her twin brother take a supernatural turn.
Deals announced during the festival included to Metrodome for the UK, Strada for Greece while China's IQIYI, which had one of its busiest Cannes markets to date, picked up digital rights.
Prior to Cannes the film sold to the US and Canada (IFC), Germany (Weltkino), Austria (Film Laden), Benelux (The Searchers), Switzerland (Filmcooperative), Middle East (Shooting Stars), South Korea (Challan), Hong Kong (Bravos Pictures), South East Asia (Noori), the Philippines (Pioneer Films) and Singapore (Shaw).
Les Films du Losange is due to release the film in France on October 19, 2016.
Personal Shopper marked Stewart's second collaboration with Assayas after Clouds Of Sils Maria, for which she became the first US actress to win a Cesar award for her performance as a personal assistant to a famous actress, played by Juliette Binoche.
The new film carries on the assistant theme with Stewart playing Maureen, a young American women in Paris, who makes her living as a personal shopper for a celebrity and starts to believe she may psychic powers like those of her recently deceased brother.