3D family movies are all the rage in the market but there are also new horror, comedy and drama titles being introduced by Europe-based sellers at Cannes. Geoffrey Macnab reports.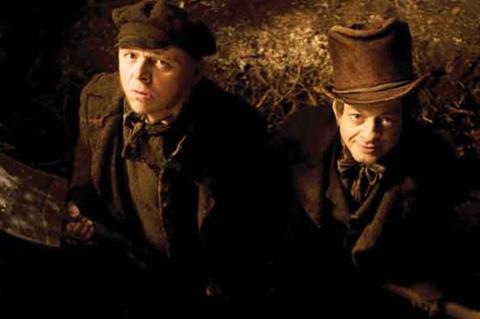 HanWay Films will be looking to capitalise on buyers' enthusiasm for 3D with natural history doc Distant Thunder, about elephants in East Africa. Made by Victoria Stone and Mark Deeble, this comes billed as an emotional family movie. Distant Thunder is produced by Liz Keynes and Stone and executive produced by Potboiler Productions' Gail Egan. HanWay will be screening a 10-minute 3D promo in the market.
In fact, 3D is a recurring theme in new Cannes projects: Pathé International has taken over international sales duties on Kelly Asbury's 3D animated feature Gnomeo And Juliet, produced by Elton John's Rocket Pictures.
Exclusive Film Distribution is launching international sales on another 3D family film, The Flying Machine, produced by Hugh Welchman and co-directed by Martin Clapp and Geoff Lindsey. Starring Chinese pianist Lang Lang, The Flying Machine combines live action and stop-motion animation. Frederic Chopin's music inspired the story about a family that takes to the skies in an amazing flying machine.
Scandinavian outfit NonStop will be launching its 3D animated project, Moomins And The Comet Chase, with a voice cast that includes Max von Sydow, Stellan Skarsgard and Peter Stormare. Pop diva Bjork has reportedly written a new song for the film.
John Landis will be in Cannes with Simon Pegg and Andy Serkis to drum up buyer support for Burke & Hare. Ealing Studios will be screening a promo to invited distributors.
Gael Garcia Bernal and John Hurt headline Regret Not Speaking, which Bankside Films is launching in Cannes. Currently in pre-production, this erotic comedy set on board a plane is directed by Richard Kwietniowski (Love And Death On Long Island).
London To Brighton director Paul Andrew Williams is in pre-production on Song For Marion, a London-set comedy drama about a recently widowed old man who gets more than he bargains for when he joins an unconventional choir. E1 Entertainment has acquired rights for distribution in the UK and Canada, in addition to handling world sales. The film, produced by Ken Marshall through Steel Mill Pictures, is due to start shooting later in the summer.
E1, which is also introducing documentary The Foxhounds, has also taken on sales for Australian title South Solitary written and directed by Shirley Barrett (Love Serenade). The film follows unmarried Meredith (Miranda Otto), who arrives on the remote lighthouse island South Solitary. Bad weather leaves her marooned, and a faltering courtship ensues with the assistant keeper (Marton Csokas).
UK outfit Intandem Films will be giving a market premiere to Australian First World War film Beneath Hill 60, while launching pre-sales on Matthew Hope's $4m drama The Veteran. Intandem is also giving a market premiere to horror film Devil's Playground, starring Danny Dyer, Jaime Murray and Sean Pertwee. The company will also unveil a new Neil Marshall-presented project, The Ghost Of Slaughterford, which is currently casting.
Simon Crowe's SC Films International has picked up Australian director Bill Bennett's Uninhabited, a ghost story shot on the Great Barrier Reef. SC will be launching Jonathan Newman's comedy Swinging With The Finkels (produced by Deepak Nayar) and will also be introducing Newman's next feature, Foster, also produced by Nayar, which has just shot in London and stars Ioan Gruffudd and Toni Collette.
Protagonist will be giving a market premiere to Gareth Edwards' debut feature Monsters following its festival debut at SXSW in March, where it was picked up for the US by Magnet Releasing, the genre arm of Magnolia Pictures. Another title Protagonist will be introducing to buyers is Paddy Considine's debut feature as director, Tyrannosaur. The film, currently shooting, stars Peter Mullan, Olivia Colman and Eddie Marsan and tells the story of a man plagued by violence and rage.
Spanish sales outfit Filmax will be introducing a new English-language horror film, Exorcismus, at the market. The film, in post-production, is about a teenage girl who experiences frightening fits. Directed by Manuel Carballo, Exorcismus is scripted by David Munoz (The Devil's Backbone) and stars Sophie Vavasseur.
Madrid-based 6 Sales will be giving a first market screening to Ian Power's The Runway in Cannes. It is based on the true story of a South American pilot who crashed his plane in rural Ireland in 1983. The local people then came together to build a runway to get him home.
In a market likely to be rich on genre fare, UK sales outfit Moviehouse will be screening a promo of its noir thriller, Swerve. The $4m feature, in post-production, is directed by Craig Lahiff, and David Lyons and Emma Booth lead the cast.
Fellow UK sales outfit AV Pictures will be giving a market premiere to Sacha Bennett's gangland drama Bonded By Blood, starring Kierston Wareing, Tamer Hassan and Vincent Regan.
ContentFilm is launching Age Of Heroes, an action drama starring Sean Bean and Danny Dyer. It is based on the true story of the formation of James Bond creator Ian Fleming's 30 Commando, set up during the Second World War and a precursor to the SAS.
Meanwhile, High Point is launching the feature-film version of A Passionate Woman. Co-directed by Kay Mellor and Antonia Bird, the film (which recently screened in a small-screen version on UK TV) stars Billie Piper. High Point is also giving a market premiere to much-feted feature documentary, Cameraman: The Life And Work Of Jack Cardiff, which screens in Cannes Classics.
Buyers in search of upscale arthouse fare may also be intrigued by Black Butterflies, on Bavaria Film International's Cannes slate. Directed by Dutch Oscar nominee Paula van der Oest, it is an epic love story set against the backdrop of apartheid, inspired by the life of South African poet Ingrid Jonker. The cast is led by Carice van Houten, Liam Cunningham and Rutger Hauer.
Miranda July was feted at Cannes in 2005 with Me And You And Everyone We Know. Buyers are likely to be drawn by her new Film4-backed feature, The Future, which has just completed shooting and is being handled in the market by The Match Factory.
Another Film4-backed project also likely to pique buyers' curiosity (albeit a project at an early stage) is Frank, which Lenny Abrahamson (Garage) will direct. Set in the 1980s music world, it is being scripted by Jon Ronson and Peter Straughan with David Barron from Runaway Fridge Films producing alongside Ed Guiney.
Legendary documentary maker Fred Wiseman's previous feature, La Danse: The Paris Opera Ballet, sold all over the world. Doc & Film will be looking to match that success with Boxing Gym, a feature documentary the sales outfit will be introducing in the market in Cannes.
Another documentary which may have theatrical traction is Jane's Journey, sold by Bavaria Film International. In post-production, this is the story of celebrated primatologist Dr Jane Goodall. It is directed by Lorenz Knauer and produced by Germany's Neos Film.