EXCLUSIVE: The former engineer tells Jeremy Kay why he wanted his sci-fi TV series to be the first from the Middle East to come to the annual San Diego pop culture convention.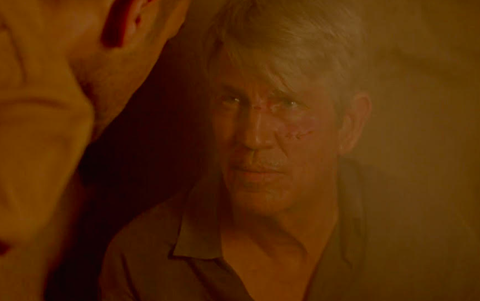 Eric Roberts, Natasha Henstridge, and Eyad Hourani star in Medinah, which takes place in the near future in Qatar as a catastrophic rocket mission to stop global warming plunges humans into a fight for survival against monsters, parallel realities, and their own demons.
Al Baker is polishing off the first season, which shot from January to June this year in English and Arabic, and is funded entirely by Qatar's privately backed Katara Studios.
Al Baker previously directed short films and a feature debut, sci-fi The Package: Volume 1. He screened the first episode of Medinah at Comic-Con and heads to Los Angeles for meetings before returning to Qatar to write the second season.
Medinah has no distribution anywhere yet, so why bring it to Comic-Con?
The model in the Middle East is production companies create shows and sell to networks, or a network commissions a show and carries it. We want to sell the show outside Qatar. We're here to reach out to audiences first and put the content there and see the reaction and understand where we should take this and try to secure distribution in the States, Europe and the Middle East. This allows us to speak directly to the audience. In other places it's business-to-business.
So you had heard of Comic-Con?
Yes and I am a huge fan of Buffy The Vampire Slayer and want to find whatever I can about it while I'm here. I always say to my producers there's no harm in trying. The worst that can happen is they say no. For Comic-Con, we put together a scene and reached out to [them] in March and worked with them and an events agency.
Don't ask, don't get.
It became our motif for the team: let's push the boundaries. We reached out to agents for casting and got great feedback from many actors who wanted to join but had time restrictions. We had to start the shoot in January because once the summer stars it's too hot.
Behind the storyline, what are the key issues in the series?
The concept is to tap into change and how we should deal with it. Sometimes with change there are hardships. It's such a big word to understand because change can mean anything. Everything else was sculpted around it by introducing a lot of concepts from Arabic mythology with djinns and sci-fi elements that have never been seen on screen.
What are some of the creatures in the series and are there any taboos when presenting content for a Middle Eastern audience?
We're an oral history society. Most stories are told to us by our parents and grandparents and in school. Our mythology always has some kind of value. People in the Middle East will see [in the show] creatures they have heard about but never seen. We have a demon called Jathoom that haunts you in your sleep and paralyses you so we have tapped into that and one of our characters has a conflict with it.
There are no taboos [in this regard], although we try to be respectful of audiences. Qatar is an open-minded place but there is some conservatism there and we kept the show PG. It's not too brutal and we needed to be careful with adult themes. Intimacy can be shown in different ways.
You were an instrumentation engineer working in oil and gas, so how did you wind up making film and TV?
In 2009 I took the decision to be full-time filmmaker. I hadn't gone to film school – I had studied instrumentation engineering and worked in oil and gas for two years. I always wanted to be a filmmaker. My father has always supported me to be in the arts. He was an engineer and my older brother is an engineer so he wanted me to go and be an artist.
How did you learn your new trade?
I got myself on set more to understand how international crews worked. I knew I could either go abroad and study this or stay in the field. I want to shoot things in my town, Doha. My first instinct was to try to do it. I read, learned, and watched other films. Wanted to be around that scene as much as possible. Everything I have learned I have learned from crew members I have worked with.
Katara Studios funded your series – its first. How much did Medinah cost?
I'd rather not say, but while it may not seem much by US standards, it is a considerable sum in the Middle East.
How did you get the Qatari cast?
I was writing a show that's based in Qatar but the story is international with many characters from the world – and that's how life is in Qatar as we're a small place but there are people who speak multiple languages and I wanted to reflect all that and make it the base of the story. I needed Qatari actors but we don't have so many of them and the ones we had weren't the right age, so I had to write these characters and knock on doors to find young Qataris who wanted to be in film but never thought they could. I did acting workshops for about three years and it was a learning curve for all of us. I got them engaged in acting workshops in the region like those staged by the Doha Film Institute.

What is it like shooting in Qatar?
We got support every time we needed it from the authorities in Qatar. People were like, 'Let's do this. We don't have a system for this so let's create it.' Early on there were a couple of explosions we needed to do but this had never been done before. The authorities came on set and supported us and ensured it was done in a safe manner and a controlled environment. We were able to get access to the middle of the city and close down roads to shoot in places where there was the best architecture in town. A lot of people pulled favours for us.
You wrote the series, and co-directed two episodes with US TV veteran Wayne Rose, while Jason Bourque directed the other two. Were there any Qataris in key roles behind the camera?
One of my editors is a woman called Maryam Al Sahli, who edited three episodes, all directed by Wayne. One of the two EPs is a Qatari called Jassim Al Anssari in his first credit. [The other is Luca Bercovici].
What is it like for a young artist who wants to make content in Qatar? Is there any infrastructure?
We don't have film schools in Qatar. Our education system is one of the best in the region but it's focused on the export of Qataris who will be able to work in the established industries like oil and gas, banking and medical. The film industry doesn't even exist in Qatar. There were attempts a couple of years ago with the Doha Film Institute and that was the inspiration for us to believe in ourselves. We have voices that should be heard.
Will the diplomatic crisis affect you and the artistic community? In June some Gulf states and Egypt cut diplomatic ties with Qatar after they claimed it supported terrorism and Iran. Qatar has denied supporting terror groups.
In the Middle East we want to showcase the voice of the youth. It's away from politics because there's always something new in politics, so we try to make sure we get heard. The best thing is to look away from it and focus creatively on how you can reach out to people. You're asking them to go on a journey with you. We're engaging with a new audience and we want to know what they want to see and what they want to hear. Politics is not the answer; the arts is the answer.