Dir. Havana Marking. UK/Afghanistan. 2008. 88mins.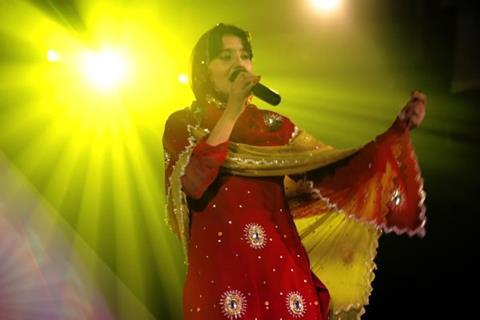 The winner of the directing prize and the audience award at Sundance's world documentary section Havana Marking's debut feature Afghan Star is an informed and entertaining dispatch about the collision of culture, ideology and history that ultimately suggests a darker, more rueful Afghani Slumdog Millionaire.
Produced by the UK's Channel 4, it tracks the fate of four contestants on the Afghan version of Pop Idol, turning up stories of individual tenacity transcending harrowing obstacles. The Sundance success coupled with the movie's accessible and culturally fascinating story guarantees festival play and a possible show on the international arthouse. Ancillary certainly looks healthy.
The central front of the war on terror, Afghanistan has been ripped apart for decades by the Soviet occupation, civil war, tribal and sectarian clashes, the rise of religious fundamentalism and the terrorist operations of al Qaeda. Culturally the country is still reeling from the six-year reign of the Taliban that outlawed art, dancing and the playing of music.
In these difficult times, one entrepreneurial broadcast company, Tolo, has inaugurated Afghan Star, where the country's population text in their votes; drawing off the show's countdown structure, Marking's film follows the strange odyssey of semifinalists Setara Hussainzada, Rafi Nabaazda, Hameed Sahkizada and Lema Sehar.
The show quickly becomes a cultural sensation. For the finalists the consequences prove troubling, especially the two female contestants. In the most frightening passages, Setara shows how deeply entrenched the country's reactionary politics remain when her chaste dance number and removal of head covering results in a series of ugly recriminations. A religious cleric publicly condemns her and people on the street chillingly call for her death.
Afghan Star is not a radical act of film-making and visually, it is far from an inspired piece of work - but it's a great example of a film where the strong content rules supreme. Marking is at her best illustrating the cultural struggle between those Afghanis who view the program as a return to the country's open, somewhat progressive past and the religious clerics and political leaders who view it as a tool of Western imperialism which violates sharia law.
Production companies
Channel 4 Documentary Foundation
Tolo TV
International sales
C4i Distribution
+ 44 (0) 207 494 5790
Cinematography/sound
Phil Stebbing
Editor
Ash Jenkins
Music
Simon Russell