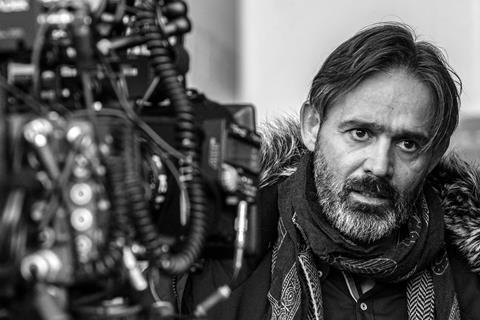 It helps that Baltasar Kormakur lives in Iceland, which had social distancing guidelines but never a full lockdown; and that he owns his own facility, RVK Studios.
Kormakur is now shooting the Icelandic-language Netflix series Katla, a supernatural drama set against a volcano eruption. Production shut down for four weeks during the worst of the crisis in Iceland and resumed in late April.
The Icelandic crew were tested for Covid-19 before coming on set, where guidelines dictated that no more than 20 people could be on set in any shared space. To help make things easier, departments wore colour-coded clothing.
New guidelines issued in Iceland on May 4 said gatherings can be of up to 50 people. With less restriction, the Katla shoot can move outside and not be confined to within the studio.
Kristinn Thordarson, the chair of the Association of Icelandic Film Producers and the head of production for Truenorth (one of the partners on Katla), told Screen: "The shoot has been going really well. They have very strict rules on set – only a certain amount of people can be around the camera and social distance is kept, so it is working well."
Getting foreign crews into Iceland
For an upcoming foreign shoot that Thordarson hopes Truenorth will be working on by the end of summer, he added, "We are working on getting permission with the medical community to be able to get foreign crew to Iceland and keep them in semi-quarantine while they are here," he says. "The authorities like the idea and since we have been very successful fighting Covid, this might speed up getting foreign productions to Iceland."
Thordarson notes, "If this will be the case, each person needs to be checked before they leave their country and we would have a medical person with us that would check temperature on every crew and cast member at the beginning of each day."
The Icelandic government established safety precautions for foreign workers who went to Iceland in late April to work on a hydroelectric plant, so there is some precedent. Specific guidelines for film and TV shoots have now been submitted pending government approval.
Truenorth's Thordarson and Iceland's film commissioner Einar Hansen Tómasson both say the phones have been ringing steadily since Netflix announced in late April that its only two active productions at that time were in Iceland and South Korea.
Tómasson notes that currently "there are flights to Boston, London and Stockholm from Iceland, so crews can transit there and bigger productions can have a charter flight." More routes are expected to be added after May 15.
Local experts hope that by June gatherings of up to 100 people will be permitted in Iceland.
The island nation – located between North America and Europe, with stunning locations, a 25% rebate, and highly skilled crews who speak perfect English – has long been a popular shooting destination for films such as Flags Of Our Fathers, Prometheus, Oblivion and Star Wars: The Force Awakens, as well as TV shows like Game Of Thrones, Sense8 and Fortitude.
The view across the Nordics
Some of the other Nordic territories are also quietly allowing shoots. In Sweden, there was never a full lockdown and there was no ban on production. TV shows such as crime drama Beck (a Filmlance production) continued to shoot with enhanced safety and hygiene regulations.
Peter Possne, head of production at Swedish regional fund Film i Vast, references several other shooting projects such as Camilla Lackberg TV adaptation Lyckoviken. Possne reassures the international film community that even though Sweden didn't lock down, it's hardly lax when it comes to safety.
"There are a lot of regulations and the production companies are extremely careful due to the virus threat," he says. "We are all very nervous about the situation and some productions have already been postponed. But so far the situation seems to be better in Sweden than in most of the countries in the rest of the world."
Two new locally-produced family films, Sune and Eva och Adam, are scheduled to start shooting in June in Sweden.
Ruben Ostlund's Triangle Of Sadness was lucky to finish the Swedish portion of its shoot – about 40% of the film – before the pandemic intensified, and still plans to shoot the rest of the film in Greece this summer "as soon as it is possible," says producer Erik Hemmendorff.
Norway has cautiously begun local production, for instance season two of NRK's Exit started shooting in early May, alongside TV comedy Nesten Voksen.
A film industry council in Norway including the producers, directors, actors and writers guilds has set up guidelines. Measures include restricting the circulation of physical papers between people, frequently cleaning doorknobs, workrooms and toilets, having crew not wear rings, jewellery or watches, not sharing vehicles, and asking actors to do their own make-up whenever possible in consultation with a make-up artist.
Denmark awaits second phase of reopening plans
In Denmark, the government is expected to announce its second phase of reopening plans by Monday May 11, when more productions could become eligible to shoot. Denmark has travel restrictions in place until Sunday May 10 restricting all non-essential travel in and out of the country, for both residents and foreigners.
Claus Ladegaard, CEO of the Danish Film Institute, tells Screen, "Except for some documentaries and some smaller talent productions, no-one is shooting in Denmark. Four feature films and two drama series had to stop shooting when we were locked down and a number of other films have been postponed until autumn or even to 2021."
"90-95% of all production is on hold," added Jørgen Ramskov, head of the Danish Producers Association. "One of the rules in Denmark is that it is illegal for any group of more than 10 persons to stay together in public – obviously making it quite impossible to produce film and TV outside the studio. This rule, we hope will be lifted during the next few days."
The Danish Producers Association is in negotiations with the government and health authorities and creative unions about how to reopen production safely, and what guidelines to follow. Some of the unions' proposed guidelines include measures such as having a dedicated Covid-19 representative for each production, craft services served as individual portions instead of a buffet, staggered meeting times, and maintaining social distancing even with transport.
In Finland, more travel opens up on Wednesday May 13 and social gathering guidelines are starting to allow for more people (50) in one space. The Finnish unions have established shooting guidelines – in line with government regulations – that will be updated on a rolling basis.
Those include measures such as working two metres apart from any other cast and crew members, appointing one health safety supervisor on set, actors dressing themselves and setting up their own microphones, avoiding shooting intimate scenes, and identifying cast and crew members who are at special risk or whose household includes a person at risk.
Tim King, executive vice-president of production at pan-Nordic powerhouse SF Studios, says even with Sweden on less of a lockdown it's hardly business as usual: "I expect a shake-up of the production industry in the next 12 months," he says.
Even if shooting is safe, current rules have big financial implications. King continues, "Production costs are going to go up given our need to provide a safe working environment. Risks are also going up given that testing is not widespread in the Nordics. This in turn means that we have to over-react to any sign of sickness on set, which means lost hours, days or weeks depending on the severity of the situation. Who pays for this is still being hotly debated between broadcasters/streamers, production companies and cast and crew."
King adds, "Some production companies will end up taking huge risks to produce to stay afloat, but will bear all risk themselves. When things go wrong, they won't make it through."