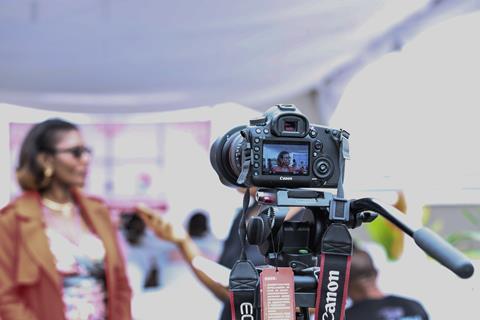 As the virtual Cannes market settles into its stride, efforts are underway to enlist the US government's help in averting an insurance time bomb created by the pandemic.
Facing a backlog of claims from thousands of stoppages that could run into billions of dollars, insurers, unable to reinsure their risk, can no longer afford to indemnify new productions against losses stemming from Covid-19.
It is a situation that will hit the independent space particularly hard as the production revival gathers pace amid a broad relaxing of restrictions across the US and around the world.
"Studios and streamers will self-insure until something bad happens," said producer Cassian Elwes. "But as far as the independent business goes, the whole thing is driven by pre-sales and insurance and bonds. Everything requires a bond.
"Nothing is bonded until there's Covid insurance. All the other insurance is out there, but you cannot buy Covid insurance. The French government is going to back local movies, Canada is going to back local production in a backstop arrangement. The US government needs to do something or there aren't going to be any independent movies out there until we get a vaccine."
Back channels
Unsure how long it will take for a privately-funded solution to reach the marketplace, a number of film industry professionals who asked to remain anonymous are lobbying the US government and working back channels to set up a federal insurance backstop, echoing the ongoing efforts in France, the UK, and Canada.
Alex Walton, head of international film sales and distribution at Endeavor Content agreed a government-backed initiative was "probably the dominant way of addressing it [the situation]… but it's not there yet."
As one independent veteran put it: "I would want to feel confident that the company I'm buying from has the ability to really make the movie that you're considering acquiring and what that plan is. You won't be able to answer the question by the time of the Cannes virtual market."
Some have said what could arise is a situation whereby independent productions that secured pandemic or communicable diseases coverage before the lockdown resume shooting. And then the business may have to pause until a vaccine – or a new insurance product – is discovered and new productions start sometime in 2021.
Insurance is still available for categories like general liability and workers compensation (sickness, death and injury) and civil authority (insured parties under pre-Covid polices argue this covers the lockdown), however independent producers canvassed by Screen said pandemic exclusions in new policies would leave them exposed to liability claims from infected cast members.
"The liability issue is what a lot of producers are focusing on right now," said Alissa Miller, a partner at Akin Gump law firm in Los Angeles. "They're going to have claims. They don't want the claims, but they're not trying to restrict cast or crew from making the claims. They just want somebody to cover them like they did pre-Covid."
Budget rises
In addition to the implications pandemic exclusions may have on hiring older or vulnerable talent, one producer whose films have regularly premiered at major international festivals said the situation stacked the odds in favour of streamers even more.
Health and safety protocols requiring accommodation and travel costs associated with quarantining, frequent testing, craft services and personal protective equipment measures could add 7-12% on budgets, the producer said.
"If you're not a streaming platform, getting everyone tested on your indie production is virtually impossible," said another, adding the cost of taking care of cast and crew should not be onerous on the industry. "It's handing once again more power to the streamers. Indie producers need to [be able to] own [and produce] their IP as a business plan. I cannot earn a living making fees for Netflix."
One proposal for government intervention has already been tabled by New York Democratic Congresswoman Carolyn Mulroney. The Pandemic Risk Insurance Act of 2020 is a shared public and private compensation scheme that would require insurance companies to offer business interruption insurance policies that cover pandemics, be they a resurgence of Covid-19 or future pandemics.
Mulroney's chief of staff Andrew Lowenthal spoke about the Bill on the Cinetic Media webinar Restarting And Risk: Insurance And Other Concerns last week.
Some say the problem with a federal-backed solution is the US Treasury may argue at a time of unprecedented health and economic crisis, it has more pressing matters to deal with than propping up the independent film sector.
Brian Kingman, an insurance broker and managing director at Gallagher Entertainment who has secured insurance for Tyler Perry films and several instalments of The Hunger Games, said the proposal, which is not restricted to the entertainment business, has roughly three-quarters of a billion dollars in federal government backing and might take six months to a year to get enacted.
But he is watching developments closely and remains hopeful a solution will be found. "We're trying to find risk takers that are prepared to take the risk," he said.