Dir. Martin Pieter Zandvliet. Denmark, 2009. 86 min.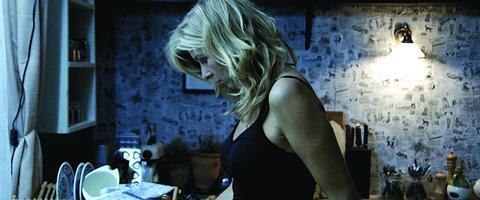 A terrific performance by Danish film star (and occasional director) Paprika Steen holds this first feature by Martin Pieter Zandvliet together. Evidently tailored to Steen's talents – it won her the best actress award at Karlovy Vary – Applause casts her as a stage actress who is trying to regain custody of her two sons after a serious battle with alcoholism.
There is only Steen go keep Applause going and, formidable though she is, she requires something more consistently solid to lean on
Steen has just the right kind of mature intensity needed for the part, fearlessly plunging into its darker corners and successfully invoking both sympathy but also mistrust in her audience. Though the script isn't always challenging enough for the actress, she is nonetheless Applause's main asset and could carry it beyond the status of well-made TV drama. A berth in Toronto's Discovery section has been announced.
Thea (Steen) owes much to Edward Albee's Martha in Who's Afraid of Virginia Woolf? On the verge of returning to "normal" life, after having drunk herself into a stupor, Thea has divorced Christian (Falch) and given up custody of her two sons (Koch Sofeldt and Steen Rieks, Paprika's own son) who now live with him and his new partner, also a psychiatrist (Maltha).
Now that Thea believes herself to be back on her feet, she demands – and is given, with much trepidation - visiting rights to her sons. She also feels she should obtain full custody, which seems unwise and premature not only to her husband, but, thanks to Steen's remarkable performance, to the audience as well. Haunted by memories of her past, which intrude in flashback, and by Albee's character Martha whom she played successfully on stage, Thea is tormented by doubts and driven by her passionate need for her children.
Steen gives the character all she has, making her abrasive, manipulative, fiercely egocentric, but at the same time highly vulnerable. Constantly in need of reassurance, she is terrified to deal with her age and face up to herself in the mirror or in other people's eyes. However Thea the actress exists here only in flashback, appearing entirely divorced from her profession and life in the theatre. Thus, the script has cleared out everything in order to treat one topic, which does tend to limit its scope.
As such, it does lag and soften, particularly in the second half. There is only Steen go keep Applause going and, formidable though she is, she requires something more consistently solid to lean on.
Shot most of the time using a hand-held camera, a kind of tribute to Dogme antecedents, but with far more polished results, Zandvliet's film is impressively bathed in a moody dark light, somewhere on the border between black-and-white and color. All the rest of technical credits are to typically-high Danish standards.
Production Company
Koncern Film
International Sales
TrustNordisk
+45 36 868 788
Producer
Mikael Chr. Rieks
Screenplay
Anders Frithiof August
Martin Pieter Zandvliet
Cinematography
Jesper Toffner
Production design
Rasmus Gold
Editor
Per Sandholt
Music
Sune Martin
Main Cast
Paprika Steen
Michael Falch
Sara-Marie Maltha
Shanti Roney
Lars Brygmann
Noel Koch Sofeldt
Otto Leonardo Steen Rieks