The Palestinian actress tells Melanie Goodfellow about her commitment to breaking stereotypes.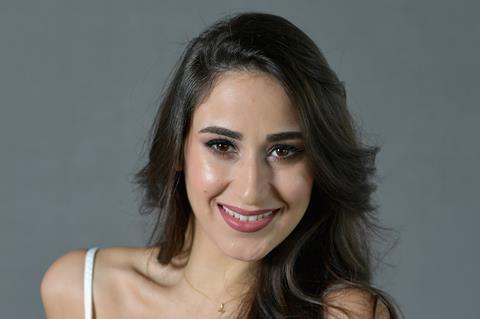 Haifa-born Palestinian actress Maria Zreik is regarded as one of the brightest young talents of her generation. Her first role was a small part in Peter Kosminsky's 2011 Channel 4 TV drama The Promise, about a young British woman who goes to Israel and Palestine to research her grandfather's life there in the final days of the British mandate.
"My sister Lana is also an actress and had gone for an audition," says 25-year-old Zriek, who was 17 at the time. "She heard they were looking for someone to play a young girl and suggested I went along. To my surprise, I landed the part." (Her sister won a small role too.) Zreik was cast as the daughter of a character played by celebrated Palestinian actor Ali Suliman. "Working with Ali Suliman was an amazing experience," Zriek enthuses. "From that moment, I knew I wanted to work in TV and cinema, nothing else."
But her parents insisted she work towards another professional qualification before focusing on acting. "They had seen how hard it was for my sister and that there was not a lot of work in the acting field," Zriek explains. "They said study something, have it in your pocket and then do whatever you want."
Zreik did as her parents asked but within weeks of graduating in law from the University of Haifa and completing an internship at a local firm, she flew to the US for an intensive acting workshop at the William Esper Studio in New York.
Now back in her home city of Haifa in northern Israel, one of the few cities in the divided territory where Israelis and Palestinians live side by side, Zreik has put her law qualifications to one side to focus on acting. But she says her status as a Palestinian citizen of Israel can make it more complicated to find work. "As a minority [in Israel], you don't get as many acting opportunities," says Zreik. "Most Israeli productions present Palestinians as terrorists or the underdog. I don't want to give this image of Palestinians."
Before she had finished her studies, Zreik had clinched the starring role in Villa Touma, directed by Israeli Arab writer-director Suha Arraf. She played the orphaned niece of eccentric sisters living in the fading grandeur of the family villa in Ramallah. The film premiered at the Venice film festival in 2014 and went on to play the circuit.
She describes the role, which brought her into contact with the more established actresses Nisreen Faour, Cherien Dabis and Ula Tabari, as a seminal experience. "Villa Touma got me back into the acting scene," she explains. "It was so challenging but it was an amazing cast that helped me through it all."
She then played a novice nun in Basil Khalil's short Ave Maria about five nuns in a remote West Bank convent whose silent routine is disturbed when the car of an Israeli settler family breaks down on their doorstep. The film premiered at Cannes in the short film competition and was nominated for an Oscar for best live-action short film. "Basil had come on to the set of Villa Touma and seen me at work there, and then asked me to read the script he'd just written," says Zreik.
Her recent work in Israeli cinema includes a role in Miya Hatav's Between Worlds, which screened at the Busan and Haifa film festivals in 2016. She played the Palestinian girlfriend of a young Israeli man who has turned his back on his strict religious upbringing. "It's a film about love and acceptance. It wasn't political at all," she explains. "All the cast and crew were Israelis. It was a new experience for me for which I am grateful."
Zreik appears in two features screening at DIFF. She has a supporting role in Annemarie Jacir's Wajib, alongside father and son co-stars Mohammad and Saleh Bakri, which is screening in the Muhr Feature competition. She also stars in Saudi director Hajar Alnaim's Detained, which is premiering in the Muhr Gulf Short section. Zriek plays a Syrian refugee in the US picked up by Homeland Security due to her father's alleged terrorist activities.
"As a Palestinian, I can feel their struggle and daily crisis," says Zreik of her decision to play a Syrian woman. "It is really important to show the world that we are all connected as Arabs. We are one nation."
Contact Maria Zreik zreikmaria@gmail.com