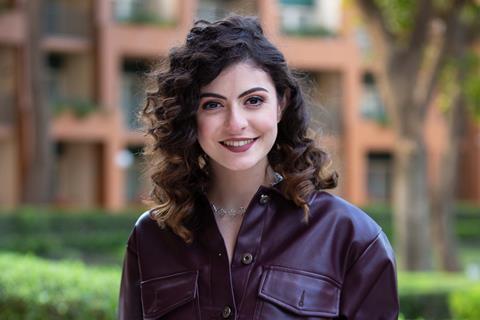 Expect to see Palestinian-Jordanian actress Tara Abboud on the red carpet at one of the A-list festivals next year thanks to her role in Egyptian director Mohamed Diab's upcoming drama Amira. Set in Palestine, it was shot in Jordan just prior to the start of the pandemic and is now in post-production.
Abboud plays the titular protagonist, a bubbly 17-year-old who believes she has been conceived through the smuggled sperm of her political prisoner father. Her sense of identity is shattered when he is discovered to be infertile. Abboud shot the film while juggling the first year of her medical studies in Amman.
Abboud's acting career began as a child when an actress aunt started signing her up to appear in student films. Her first professional starring role was in the 2009 short comedy-drama Princess Of The Mountains, about a father-and-daughter trip to the cinema that goes awry. It was written and directed by Amjad Al Rasheed, one of Screen's inaugural Arab Stars of Tomorrow in 2016. Other credits include the narrative short 12cm by Zaid Abu Khlaif, a tale of teenage rebellion about a girl who attempts to customise her frumpy school uniform with disastrously hilarious results.
Amira is Diab's third feature after Cannes Un Certain Regard title Clash and his award-winning debut Cairo 678. "This director is a genius. I adore him," says Abboud. "He was always there for me, always answering my questions, always giving my confidence a boost."
Fellow cast members include Palestinian actors Ali Suliman and Ziad Bakri, US-Palestinian star Waleed Zuaiter and Jordanian actress Saba Mubarak, who suggested Abboud for the role after the pair worked together on TV series Oboor, about Syrian refugees living in a Jordanian refugee camp. Mubarak executive produced and starred in the show, in which Abboud plays a girl who has been disfigured in the fighting in Syria but overcomes adversity through her talent as a dressmaker.
"Saba called me saying she had told Mohamed Diab about me and asked me to send a video," says Abboud. "I was amazed she still remembered me. This really touched me. I'm now her adopted daughter in the field and I really appreciate her love and support."
Working with such an experienced cast and crew has been inspiring for the young actress. "I admire Mohamed Diab and Saba Mubarak, not just for their success, but rather because they're always growing. I'm just so motivated by them. Ali Suliman was also great to work with, at every level."
Contact: Habiba El Barkouki, Mad Celebrity