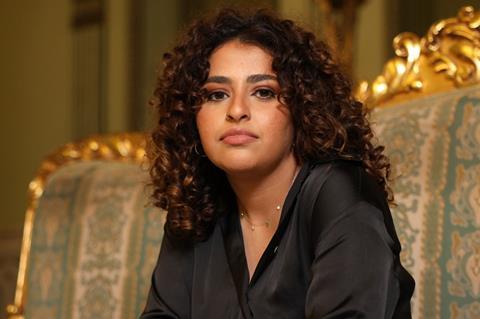 Saudi director and screenwriter Sara Mesfer recounts how she would sometimes skip high school as a teenager after bingeing films late into the night. "I'd be too tired to get up. It definitely showed in my grades," she says, laughing.
Mesfer's love of film goes back to childhood when her family moved cities and the busy work lives of her parents meant she was left to her own devices.
"I spent a lot of time as a kid watching TV and films," she recounts. "It was my window to the world. As a Saudi girl, it was difficult to experience things in real life."
A turning point for Mesfer came when she discovered that the women-only Effat University in her home city of Jeddah offered a degree in visual and digital production, which has since been renamed as a degree in cinematic art.
Mesfer is now a rising star in the independent filmmaking scene that has sprung up in Saudi Arabia following the lifting of its 35-year cinema ban in late 2017.
Her first experience on set came as the producer of Jawaher Alamri's Sadeya Left Sultan, about a divorced man who tries to reconnect with his daughter through a puppet. The film won the jury prize at the national Saudi Film Festival in 2019 and also screened at the Malmo Arab Film Festival in Sweden.
"It was mainly a logistical role and made me understand I wanted to be on the creative side," says Mesfer, who subsequently branched into directing with The Girls Who Burned The Night, about two teenager sisters who rebel after being denied a trip to the shops. The film world premiered in Cairo's Cinema of Tomorrow competition in 2020, receiving a special mention.
Mesfer was back Cairo for a second time this year as one of the directors of female-focused omnibus film Becoming, which world premiered in the festival's Horizons of Arab Cinema strand and will play in this month's inaugural Red Sea International Film Festival (RSIFF).
"My segment deals with a mother-and-daughter relationship that is challenged when the mother falls pregnant but doesn't want the child," she explains. "It's not a subject you can talk freely about yet here, so the film doesn't tackle it on the nose, and I am still unsure about its reception."
She is also involved in a second female-focused omnibus film Qareer, revolving around the theme of what goes on behind closed doors in Saudi households, which will world premiere at RSIFF.
"I like the female gaze on stories," says Mesfer. "I never plan what I'm going to write next. It comes naturally from what I'm feeling and the characters I want to explore and, because of the nature of my life here in Saudi, they often end up being women."
Contact: saramesffer@gmail.com