Screen profiles four of the hottest new Australian stars making waves on the international circuit, both in front of and behind the camera.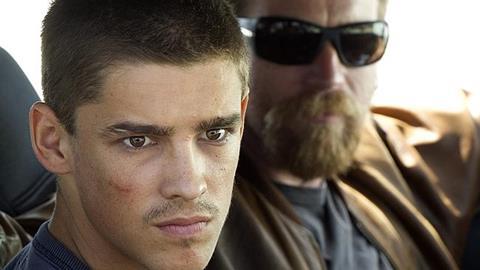 Garth Davis
Director
There is huge buzz around Garth Davis, in part because The Weinstein Company pre-bought world rights excluding Australia and New Zealand to his debut feature Lion at Cannes this year.
The film charts the real-life story of Saroo Brierley, a 30-something Indian-Australian man who was separated from his mother in India aged five and subsequently adopted by a family in Australia, but who tracked down his birth mother using Google Earth.
Davis's break came when he was brought on to co-direct mini-series Top Of The Lake with Jane Campion. It was after a screening of the drama series at Sundance in 2013 that See-Saw Films producers Emile Sherman and Iain Canning showed Davis an article about Brierley.
"I thought there was a lot of magic in the story and I found the sense of destiny and hope very moving," says Melbourne-based Davis. "I also found it to be an incredible adventure with epic scope, like an old mythical tale with a contemporary surface… It ticked a lot of boxes for me."
Lion is set to shoot in January 2015 in India and the Australian cities of Melbourne and Hobart.
Prior to Top Of The Lake, Davis worked mainly in commercials, winning a Cannes Golden Lion award for his work on a Schweppes advert. But he has always been interested in drama and character.
"The whole industry works on validation, and unless you've done something, you're not really seen," he says. "In Top Of The Lake, I could finally spread my wings. It has been huge for my career and I'm engaging with scripts from LA and all the doors are open to me."
Davis says he is attracted to "human and moving stories of any genre". "I would be happy to do science fiction if it has that element or it can be a kitchen-sink drama," adds the director.
Observing the people at companies such as See-Saw and Matchbox has added to Davis's sense of optimism about the Australian film industry. "At those times it feels organic and fluid and full of possibilities, as if there is a bit of excitement brewing."
Sarah Snook
Actress
Sarah Snook gives an astounding, chameleon-like performance opposite Ethan Hawke in the 2014 Australian time-travel mind-bender Predestination, meeting the challenge of changing her gender from woman to man with aplomb.
Predestination, which had its world premiere at SXSW and opened Melbourne International Film Festival before being released by Pinnacle Films, was written and directed by brothers Michael and Peter Spierig and based on Robert A Heinlein's 10-page short story All You Zombies.
"At first I was dubious as to whether they would manage to turn the story into a full-scale script," Snook says. "It turned out to be incredible."
She was seen in the Australian films Not Suitable For Children and, fleetingly, as a psychopath in These Final Hours; and will star in upcoming Australian family comedy Oddball alongside Shane Jacobson, and the mini-series The Secret River, set during Australia's convict past.
In the US she plays the lead in Kevin Greutert's upcoming horror film Jessabelle, for which she did many of her own stunts, and the title role in the pilot Clementine, filmed in Canada for US network ABC.
"If I could work in both countries, that would be great. I am Australian and I'd like to be able to tell Australian stories. The US seems to be able to inhabit that position of being global storytellers somehow, because they have the biggest market share," says Snook, who graduated from Sydney's National Institute of Dramatic Art in 2008, going on to almost score the lead in David Fincher's Girl With The Dragon Tattoo.
Looking ahead, Snook says she would like the challenge of playing someone "who is really evil". "I've been genre hopping a lot lately and I've been grateful for that opportunity because it keeps me interested and, hopefully, it will mean diverse opportunities," adds the actress.
Jennifer Kent
Writer-director
"The most important thing for me is to make a film that completely comes from the core of who I am, a film that is honest and true, because that way if it's successful, fantastic, but if it's not then I've made a film I really believed in," says writer-director Jennifer Kent, who received a phenomenal response to her debut feature The Babadook in Sundance and is currently living in Brisbane (she left Los Angeles after two months on realising she got more work done at home). The film opens theatrically in the UK in October and in the US in November.
Describing herself as being in "an interim phase", Kent reveals she has read a "bucket-load" of scripts, and has had several offers including two studio pictures - in September she was considering making a film "with an otherworldly quality" in the US - and has taken on Gary Ungar, whose clients include Guillermo Del Toro, as her manager. "I was getting sent so many scripts, I needed a business partner I could trust who would help me wade through and choose the best projects with my long-term career goals in mind."
Kent, who is represented by WME, is writing two features with support from Screen Australia and ScreenNSW. The Nightingale is set on the 1820s Tasmanian frontier, has a woman at its core and explores the futility of revenge. The other is the multi-layered, multi-protagonist Whoever Brought Me Here (working title), about death, loss and how one generation affects the next.
"I will go on making films whether I can make them in Australia or not," she says, a reference to the lack of theatrical interest in home-grown films generally and the pressure on local finance. "I will work anywhere in order to tell meaningful stories.
"I'm entering into a very different world, meeting people I see in films and getting scripts I never thought I'd get hold of and opportunities I've never had before. But I'm trying to stay very grounded."
Brenton Thwaites
Actor
In the hotly anticipated Australian action thriller Son Of A Gun, Brenton Thwaites plays JR, a young man who has to pay the price for being taken under the wing of a hardened criminal during a prison sentence.
When producer Timothy White was discussing who might satisfy the demands of the role with first-time feature director Julius Avery, he drew parallels with Heath Ledger's part in the 1999 film Two Hands, which White also produced.
"The person needed to be someone who was impressionable and vulnerable and sensitive but at the same time had an energy and a charisma and a strength that would make them an attractive package to watch," White says. They found Thwaites had "an electric quality".
Once upon a time, appearing in a big Australian critical or commercial hit was the leverage that allowed many Australian actors to gain attention in the US - celebrated cases include Nicole Kidman as a result of Dead Calm, Geoffrey Rush with Shine and, recently, Jacki Weaver with Animal Kingdom.
Nowadays Australian actors do not need that kind of calling card. Thwaites studied finance and acting at Queensland University of Technology, spent time on television series SLiDE and Home And Away and then Hollywood called. Now his list of credits keeps growing. These include Maleficent, in which he played Prince Phillip opposite Angelina Jolie and Elle Fanning; and The Signal, which taught him how to fight for roles he wants; and Australian director Phillip Noyce's science-fiction story The Giver, in which he plays a teenager who is chosen to receive the repressed memories of a 'perfect' society.
"The main things actors have to do, I think, is to relax and to trust themselves," he is quoted as saying during the promotional tour for The Giver.
Most recently he starred opposite Helen Hunt in the comedy Ride, which she also directed, and spent a solid chunk of time in Sydney for Gods Of Egypt with Alex Proyas, which is set for release in 2016.