As Venice, Telluride and Toronto introduce a slew of prestige titles, Jeremy Kay examines the season's possible awards contenders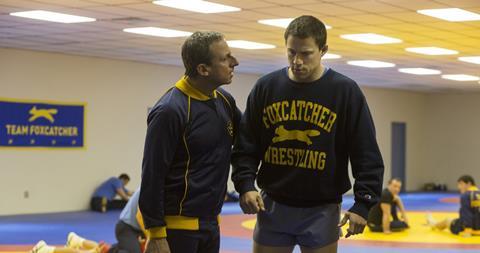 Roll the drums, roll the dice (or, for some, roll the eyeballs). The awards race is under way again, ushering in a binge of brilliance, bluster and ballgowns.
The gruelling circuit is not for the faint-hearted, yet the next six months are statistically likely to deliver several dazzling movies, plenty of behind-the-scenes tales of trial over adversity and the odd breakout performance.
For these rewards alone, the marathon will be worth it - despite the irritating year-round hype by myopic awards bloggers that tests everyone's patience.
It will be intriguing to see how everything plays out, because while very little is known at this stage, on paper it looks like the season is more auteur-heavy than in previous years. It is by no means guaranteed that the box-office heroics of the crop of contenders from the past couple of years will be repeated.
Venice, Telluride and Toronto loom large. Some films will fly high on public approval, while others will crash and burn. Venice was the first of the trinity of autumn festivals to announce a title of significance, snagging Alejandro Gonzalez Inarritu's much-anticipated Birdman for the opening night world premiere on August 27.
Next up, New York Film Festival (NYFF) unleashed a powerful one-two punch.
Last year the festival launched Captain Phillips and this year it has stepped up its game yet further, securing two of the most sought-after movies of the season. The festival will kick off on September 26 with the world premiere of Fox/New Regency's crime adaptation Gone Girl from the masterful David Fincher. It carries awards potential across the board, from Fincher to reinvented Hollywood darling Ben Affleck.
The other undisputed US auteur whose work will bow at NYFF is Paul Thomas Anderson, who landed the centrepiece slot with the first screening of his Thomas Pynchon stoner private investigator allegory Inherent Vice starring Joaquin Phoenix. These are heavyweights and New York owns them.
Venice tried to get both movies and, Screen understands, so did Toronto. New York rounded out its early salvo of announcements with a closing night North American premiere for Birdman.
"Three total home runs," as one top awards strategist described the haul. "Three serious films by major directors and they're not going to Toronto."
That is saying something. In fact immediately after NYFF's announcements, there were dark mutterings that Toronto would struggle to catch up.
That's nonsense. Toronto may lack focus in its effort to be all things to all people, but its sheer scale guarantees heavy-hitters as well as discoveries. It can be a maddening, sprawling dynamo that bothers industry types who are there to work, but pretty much everybody gets to see movies - the point of a festival - and the public loves it.
Also, judging from Toronto's late summer fusillade of announcements, it has landed prestige titles. There is world premiere opener The Judge starring Robert Downey Jr; a first showing of Jason Reitman's Men, Women & Children and the premiere of James Marsh's Stephen Hawking drama The Theory Of Everything.
Noah Baumbach's While We're Young is an acquisition title and may not land a 2014 release, but everybody will want to see it. A healthy international contingent showcases world premieres of Francois Ozon's The New Girlfriend and former Oscar winner Susanne Bier's A Second Chance, among others.
The best of the rest
The Weinstein Company's The Imitation Game starring Benedict Cumberbatch will open BFI London Film Festival on October 8 and receives a Canadian premiere in Toronto, suggesting a world premiere slot at Telluride.
Fox Searchlight's Reese Witherspoon drama Wild may also screen in the Rockies before hiking up to Toronto a few days later. In spring, the Toronto leadership, riled by years of unofficial sneak previews of its world premieres at Telluride, delivered distributors an ultimatum.
From now on, Toronto will only open coveted first-weekend slots to undisputed world or North American premieres. Everything else rolls into the second week.
"We would present what we called the world premiere or the North American premiere in Toronto, but after all that excitable coverage [by the media from Telluride] had already happened before we got up on stage, it began to feel silly," artistic director Cameron Bailey told Screen.
Foxcatcher and Mr. Turner both play at Toronto and are already known quantities. They will find their champions in the awards season, as will other admired films such as The Disappearance Of Eleanor Rigby (a Toronto premiere last year that had a Cannes berth in May), The Grand Budapest Hotel, The Homesman, Boyhood and possibly Whiplash.
Apart from the inevitable surprises that will pop up, a handful of titles have not as far as we know landed festival berths. Werner Herzog's Queen Of The Desert will not be ready for Telluride or Toronto due to technical delays.
Christopher Nolan's Interstellar, Angelina Jolie's Unbroken, David Ayers' Fury, Ava DuVernay's Selma and JC Chandor's A Most Violent Year are all fourth-quarter releases that may find their way to AFI FEST, which kicks off on November 6.
Jeremy Renner thriller Kill The Messenger opens through Focus in October and Susanne Bier's much-delayed English-language drama Serena starring Jennifer Lawrence and Bradley Cooper has been slated for release by StudioCanal on October 24.
Finally, it has been arguably a decade since Clint Eastwood has delivered a cracker and Warner Bros has set a December 25 limited debut for American Sniper. Will that be a brilliant late arrival to the party?
Key Awards Season Titles
| Title | Festival world premiere | US distributor | US release date |
| --- | --- | --- | --- |
| The Grand Budapest Hotel | Berlin 2014 | Fox Searchlight | March 7 |
| The Fault in Our Stars | Seattle 2014 | Fox | June 6 |
| Boyhood | Sundance 2014 | IFC | July 11 |
| The Disappearance Of Eleanor Rigby: Them | Cannes 2014 | The Weinstein Company | Sept 12 |
| Gone Girl | New York 2014 | Fox | Oct 3 |
| The Homesman | Cannes 2014 | Saban Films, Roadside Attractions | Oct 3 |
| The Disappearance Of Eleanor Rigby: Him and Her | Toronto 2013 | The Weinstein Company | Oct 10 |
| The Judge | Toronto 2014 | Warner Bros | Oct 10 |
| Whiplash | Sundance 2014 | Sony Pictures Classics | Oct 10 |
| Birdman | Venice 2014 | Fox Searchlight | Oct 17 |
| The Theory of Everything | Toronto 2014 | Focus Features | Nov 7 |
| Interstellar | | Paramount | Nov 7 |
| A Most Violent Year | | A24 | Nov 12 |
| Fury | | Colombia Pictures | Nov 14 |
| Foxcatcher | Cannes 2014 | Sony Pictures Classics | Nov 14 |
| The Imitation Game | Telluride 2014 | The Weinstein Company | Nov 21 |
| Inherent Vice | New York 2014 | Warner Bros | Dec 12 |
| The Hobbit: The Battle Of The Five Armies | | Warner Bros | Dec 17 |
| Mr. Turner | Cannes 2014 | Sony Pictures Classics | Dec 19 |
| Big Eyes | | The Weinstein Company | Dec 25 |
| Selma | | Paramount | Dec 25 |
| Unbroken | | Universal | Dec 25 |
| Men, Women & Children | Toronto 2014 | Paramount | TBC |