Launched in May 2022, Beta Fiction Spain (BFS) is quickly establishing itself as a significant player in the territory's film and TV series sectors.
Spanning production and distribution, BFS was set up by leading Spanish executives Mercedes Gamero and Pablo Nogueroles. Both are minority shareholders in Madrid-based BFS — a subsidiary of Germany's Beta Film group, which is run by Jan Mojto.
Gamero serves as CEO of BFS and Nogueroles is its general manager. Christian Gockel is EVP international operations and Beta Spain co-CEO.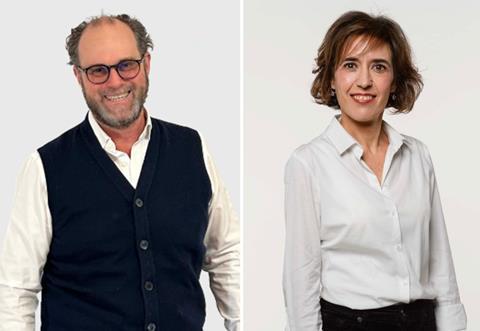 Gamero was previously general manager of Spanish entertainment giant Atresmedia Cine, the company originally behind the Netflix global hit Money Heist and Oscar-­nominated animation Klaus. Nogueroles, meanwhile, served as managing director and SVP at Warner Bros Pictures International España for 16 years.
Backed financially by Beta, Gamero and Nogueroles say the Spanish branch will enjoy significant autonomy and will also benefit from the German group's know-how, access to European talent and IP. BFS works alongside Beta Entertainment Spain, which is devoted to unscripted formats.
Screen International: What are your plans going ahead for film distribution?
Pablo Nogueroles: The aim is to have 12 films per year, one a month, a figure we believe the current market can absorb easily. We are aiming for a market share of approximately 5% of the total Spanish box office. Half of our films will be our own co‑productions and the balance will be films that we acquire for distribution — all rights — in Spain.
We mainly want to distribute our own local co-productions as we believe these kinds of films can achieve better results. If we are involved with them from the beginning, we can plan the distribution strategy and think about how they can achieve commercial success. We are hoping to start our first productions in the autumn, so those films will enter our line-up in 2024.
What have you acquired and what is your acquisition strategy?
Nogueroles: We took all Spanish rights for My Fairy Troublemaker, an animated film directed by Caroline Origer, which we released in cinemas on March 10. It will be followed by Michael Jacobs' Maybe I Do, a romantic comedy with a cast including Diane Keaton, Richard Gere and Susan Sarandon, among others. In mid-May, we'll release Yann Samuell's La Guerre Des Lulus, a French film that we acquired in Paris at the Rendez-Vous.
We are also taking Hermano Caballo, a beautiful new documentary directed by Marcel Barrena and produced by our good friends at Nostromo, to Malaga Film Festival. It is about the relationship between [renowned trainer] Santi Serra and his horses. The film will be released in selected theatres and for a limited time following its Malaga premiere. We'll also release Noah's Ark, a retelling of the classic story made as a musical animated film. We'll be announcing several more films for the remainder of 2023.
We can be a production partner, a theatrical distributor in Spain and handle international sales through Beta. For us, local films will be our priority and unlike the studios or other distributors, our focus will be on those films. The acquisitions will just be a complement to our line-up, not the other way around as is the case for most players.
What would be your perfect film to acquire?
Nogueroles: La La Land.
Mercedes Gamero: Right now, the key is to find films that can perform strongly in theatres and on TV [pay-TV and free-to-air] and platforms. They are difficult to find, which makes it hard to pay the minimum guarantees that sellers are asking for. The ideal would be, for instance, Oriol Paulo's God's Crooked Lines. This film performed very well in theatres and, after 10 weeks, worked superbly on Netflix.
Where are you in terms of BFS's production slate?
Nogueroles: Our goal is to produce five to seven films per year, all in co-­production with other independent producers as well as free and pay-TV operators. We are currently developing Dolores, a film based on the life of La Pasionaria [Dolores Ibarruri, a politician and anti-­fascist during the Spanish Civil War of 1936-39] with scriptwriters Alejandro Hernandez [While At War] and Michel Gaztambide [No Rest For The Wicked] writing the script. Infiltrada [based on the true story of a young Spanish policewoman who infiltrated Basque separatist group ETA], which will be directed by Arantxa Echevarria, is also being developed from a script by Amelia Mora, who is behind Spanish hit series La Unidad.
Gamero: We want to make commercial, quality films and TV shows and to partner up with other producers as well as free and pay-TV players. On the film side, we want to be involved in films from their inception.
We are developing El Afilador, a horror/slasher film using the icon­ography and sound of the 'afilador' [an old Spanish craft of sharpening knives in the streets], which still takes place in Spanish cities. The film is being developed by novelist Javier Ruescas and director Angel Gomez Hernandez [Don't Listen]. We are also developing other local projects from a wide range of genres including thrillers, dramas, animation, romance and horror, and the Spanish-language adaptations of several Beta Group IPs.
Why did you join forces with Beta?
Gamero: Beta's reputation is extraordinary. With more than 60 years of experience and interests in over 30 production companies around the world, Beta was missing a presence in Spain. However, they have been vital to the recent success of local Spanish fiction. They were the first ones to distribute our fiction around the world. TV shows such as Gran Hotel became an international hit thanks, in part, to Beta handling sales. Having worked with them over many years, we thought they were the perfect fit for our skillsets. They fully support our plans, and push us to be more creatively ambitious. Jan Mojto and [managing director] Moritz von Kruedener, as well as their teams, are not only top-class executives but wonderful and sensitive individuals. Working with all of them is very easy and a true joy.
Are you looking to reach audiences in Europe, the US and Latin America with your projects?
Gamero: Our aim is to produce ambitious films with international impact. Dolores, the film about La Pasionaria, is a clear example. It's in the vein of Simone: A Woman Of The Century, which was one of France's highest-­grossing local films last year with 2.5 million admissions. We believe that international audiences can be captivated by the story of an important woman who changed the course of history and fought for a better world.
We are also trying to develop a film project based on a bestselling book, with the action taking place in Mexico. The Americas are a huge opportunity for us, and the shared language certainly helps.
We have a couple of films in development for co-production in Italy where we feel very comfortable. We share the Mediterranean culture and way of life, and we believe we can do projects together. We will be announcing an ambitious TV series in partnership with an Italian producer very soon.
What is the market like for film and TV series in Spain at the moment?
Nogueroles: The box-office recovery in post-pandemic Spain is slower than in other markets, hence the need for our film productions to travel abroad. But we believe the theatrical market will recover fully here.
Gamero: Even though language is no longer a barrier, we are lucky to have one of the most spoken languages in the world and that's a comparative advantage. We have a lot of creative talent as well as strong crews and companies that can compete on equal terms with anyone else around the world. So, the time is right for us to take advantage of the renewed strength of our industry.