Dir/scr. Jane Campion, UK/Australia. 2009. 119 mins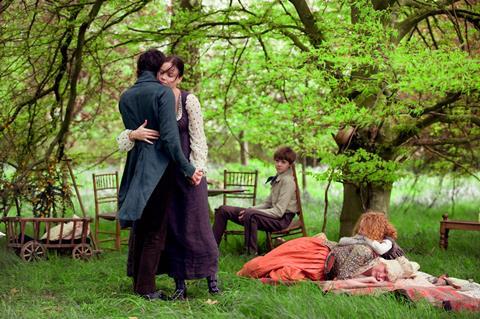 Sixteen years after The Piano, Jane Campion has found renewed artistic inspiration in a tragic romance to match the haunting intensity of that Palme D'Or winning feature.
The integrity of all the performances is indicative of the overall quality of a film that has an honesty of approach to the period and the emotional heart of a tragic story that proves to be immensely moving
Bright Star tells the story of the love affair between John Keats and Fanny Brawne with a classical poise, exquisite craftsmanship and a piercing tenderness. It is Campion's most fully realised, satisfying achievement in a long while and will be warmly embraced as a prestige item with awards potential. The measured pace and restrained emotional temperature of the piece could restrict the market to an older, more sophisticated arthouse audience but Bright Star should still shine as an irresistible quality attraction.
Taking her lead from the sensuality of Keats' verses, Campion has created a film that revels in the beauty of the English countryside. Gorgeous camerawork from Greig Fraser sees the changing seasons reflected in glowing daffodil fields, meadows strewn with bluebells and snow-dusted winter woods. The central love affair is expressed through modest caresses, clasped hands and lingering glances rather than anything more explicit. It is a dreamy film to make the viewer swoon.
In the London of 1818, impecunious 23-year-old John Keats (Ben Whishaw) has devoted himself to a life of poetry, sharing quarters with his devoted friend Mr Brown (Paul Schneider). Keats becomes an object of fascination for his neighbour Fanny Brawne (Abbie Cornish), an 18-year-old whose own creativity is expressed in the bold clothes she designs and creates by hand. He describes her as a minx but a relationship that begins in playful banter gradually deepens into something which will overwhelm them both. A meeting of minds blossoms into a union of hearts.
Bright Star deftly avoids the stilted, starchy quality often found in lesser period dramas. Characters appear comfortable in their clothes and settings, the dialogue flows easily from their lips and there is a quiet, everyday intimacy to the way events unfold. We are invited into this world rather than kept at arm's length because nothing jars or seems out of place. The keen attention to detail is never obtrusive but instead creates a complete, credible universe. Understanding and respecting an age hidebound by propriety and the observance of social rituals lends an authenticity to the restraint that Keats and Fanny were obliged to observe in navigating their feelings. There is a sense in which it is easier to say nothing than try to express the torrent of love stirring between them.
Beautifully crafted in every department from the composure of the camerawork to the precision of the costume and production design, Bright Star is a film to savour. Campion ensures that its pictorial appeal is matched by an emotional engagement thanks to a universally fine cast. Bearing a distracting resemblance to Eric Cantona, Paul Schneider's broad Scottish accent may seem laboured at times but he perfectly captures the belligerence and sarcasm of a man determined to protect his friend from a woman he judges to be an emotional gold-digger. His jealousy and disdain for this threatening interloper rings completely true.
Australian Abbie Cornish is also obliged to adopt an unfamiliar accent but passes that test with flying colours. She captures all the youthful impetuosity of the English Fanny and portrays her as a young woman trying to maintain control of a life torn apart by all the fresh emotions and new sensations that she is experiencing. It is a performance that should win her awards season consideration and emphatically underlines why she is one of the most highly regarded performers of her generation. Great expectations now also attend the performances of Ben Whishaw and he is equally impressive as John Keats making the poet an entirely human figure; unassuming, vulnerable and constantly engaged by the mysteries of life, love and the burdens of being human.
The integrity of all the performances, including Kerry Fox as Mrs Brawne and Edie Martin as Fanny's younger sister Margaret, is indicative of the overall quality of a film that has an honesty of approach to the period and the emotional heart of a tragic story that proves to be immensely moving.
Production Companies
Bright Star Productions
Jan Chapman Productions
International sales
Pathe International
(44) 207 323 5151
Producers
Jan Chapman
Caroline Hewitt
Cinematography
Greig Fraser
Production/costume design
Janet Patterson
Editor
Alexandre de Franceschi
Music
Mark Bradshaw
Main cast
Abbie Cornish
Ben Whishaw
Paul Schneider
Kerry Fox