Saudi Arabia's new Red Sea International Film Festival is coming together against a complex geopolitical backdrop and mixed industry reaction.
A scene of a brunette woman driving down a desert highway at dawn in an open-topped sports car, hair fluttering in the wind, kicks off Saudi filmmaker Mahmoud Sabbagh's promotional video for his country's inaugural Red Sea International Film Festival. It is an image heavy with significance. Posted online on June 28, alongside an announcement of the festival's March 2020 dates, the video's release coincided nearly a year to the day with Saudi Arabia's lifting of a historic ban on women driving.
It is a bold and modern vision, setting the tone for Saudi Arabia's first large-scale international film event. It is also a vision at odds with the country's wider global image as it remains mired in controversy around the murder of journalist Jamal Khashoggi, condemnation of its ongoing war in neighbouring Yemen and its track record on human rights, including a recent rise in public beheadings.
Sabbagh, who is best-known internationally for his groundbreaking 2016 romantic comedy Barakah Meets Barakah, is also the festival director and CEO of the event, due to unfold in Saudi Arabia's second biggest city of Jeddah. Its creation follows in the wake of the Middle East nation's lifting of a 30-year ban on cinemas in 2017 and a drive to create a national film and TV industry. This, in turn, is part of the Saudi Vision 2030 strategy announced by controversial Crown Prince Mohammed bin Salman in late 2017 to diversify his country's economy away from a dependence on oil.
With a population of 34.1 million, around 60% of which is under 30, Saudi Arabia has the largest, and one of the youngest, populations in the Gulf region. It is well positioned to create a thriving local industry, making content with wider regional appeal. Even prior to the Crown Prince's modernising drive, the country was home to a bubbling underground YouTube comedy scene, which spawned stars such as stand-up comic Hisham Fageeh, who was also the lead actor in Sabbagh's Barakah Meets Barakah.
An independent cinema scene was also quietly taking root, especially in Sabbagh's hometown of Jeddah, which is regarded as Saudi Arabia's most open and cosmopolitan city, thanks to its roots as a crossroads for both traders and pilgrims headed to Mecca. Another Jeddah native, Shahad Ameen, premieres her debut feature Scales in Venice Critics' Week on Monday September 2.
Courting controversy
Sabbagh is launching the festival against a complex local and international political backdrop. Much of the initial international optimism around the Crown Prince's drive to open up the conservative kingdom has dissipated over the past 11 months, following the assassination of Khashoggi in the Saudi consulate in Istanbul last October and the growing condemnation of the Saudi-led coalition war against Houthi rebels in Yemen, which has resulted in more than 100,000 civilian deaths.
The Crown Prince's image as a reformer and moderniser has also been left in tatters by reports of a rise in public executions. The London-based Arab Organisation of Human Rights reported in July that the country publicly beheaded 134 people in the first six months of 2019, including 37 political dissidents in a mass execution in Riyadh in April.
A number of prominent young dissidents also remain in jail — notably writer and blogger Raif Badawi and female-rights activist Loujain al-Hathloul. Her husband, the YouTube star Fahad Albutairi — whose big-screen credits include filmmaker Ali F Mostafa's 2014 road movie From A To B — has also disappeared after being allegedly abducted in Jordan.
Regionally, the decision to hold the festival in March so close to Doha Film Institute's respected talent development event Qumra (scheduled for March 20-25) has also raised eyebrows amid the ongoing Saudi-led blockade of its Gulf neighbour, which may make it difficult for international professionals to attend both events.
Against this backdrop, Sabbagh and former Dubai International Film Festival managing director Shivani Pandya Malhotra, who has been hired for the same role at Jeddah, took up residence on the terrace of the Majestic Beach at Cannes Film Festival in May to brief industry and media on their plans.
Sabbagh deflected questions about the Saudi regime, opting to focus instead on the cinematic, artistic aspects of the event and its open-minded, cosmopolitan backdrop of Jeddah. But it remains to be seen whether the international film community can, and will, buy into this sentiment. There is much personal goodwill towards Sabbagh, Pandya Malhotra and other members of the Red Sea team, which includes former Sundance Film Festival documentary programmer Hussain Currimbhoy as artistic director.
Support issues
Film professionals canvassed by Screen were divided on whether they would support the inaugural edition. Their responses ranged from vehement political opposition to unease at attending an event backed by a regime with such a terrible human-rights record.
"How could I attend an event [in a country whose government] held our prime minister hostage?" asks one Lebanese producer, referring to unconfirmed reports of Lebanon's former prime minister Saad Hariri being confined in December 2017 and coerced into stepping down.
"I won't help a dictatorship to pretend they're a normal regime," adds a European sales executive. "It's a boycott as long as women are not equal to men, gay people are sentenced to death and slavery still exists."
Others felt it was important to support the festival as an enlightening, positive event in a country undergoing huge social and political change. "It's a small glimmer of hope," suggests another European professional. "I've thought about it long and hard but it seems right to get behind it."
There are also pragmatists, such as the young Egyptian filmmaker attracted to the lucrative grants being offered as part of the event's Red Sea Lodge script and feature lab, running as high as $500,000 for the two top awards. "I know a dozen filmmaker friends who will apply for the lab," she says. "Winning one of the grants is the difference between making their films or not. It's a no-brainer."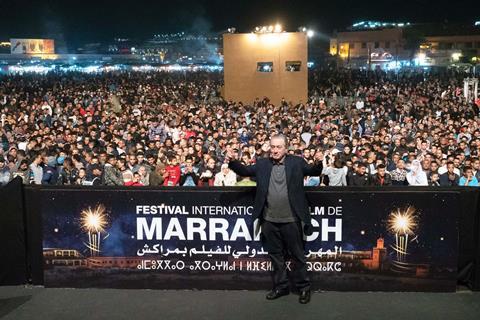 The MENA film festival circuit
El Gouna Film Festival, Egypt - September 19-27
The three-year-old festival is bankrolled by Egyptian billionaire Naguib Sawiris and unfolds in the luxury Red Sea resort of El Gouna.
Festival director: Intishal al-Timimi
Competition: The Golden Star prizes, worth a combined $200,000, are awarded across three strands covering fiction features, documentary and short film. International and Arab titles compete side by side.
2018 winners: best film - A Land Imagined (Sing); best Arab film - Yomeddine (Egypt)
Industry: The CineGouna Platform supports 12 projects in development and six projects in post-production.
Carthage Film Festival, Tunis, Tunisia - October 26-November 2
Founded in 1966, the festival is the oldest film event in North Africa.
Competition: Carthage's Tanit awards are named after a local Phoenician goddess and are worth a total of $60,000. The competition focuses on Arab and African cinema.
2018 winner: best film - Yomeddine (Egy)
Industry: The three-day Chabaka project development meeting and the post-production- focused Takmil showcase. Both initiatives focus on Arab and African cinema.
Ajyal Film Festival, Doha, Qatar (18-23 November, 2019)
Launched in 2013 by the Doha Film Institute (DFI), the festival initially focused on younger audiences but its scope has widened in recent years.
Artistic director: Fatma Hassan Alremaihi
Competition: A selection of international and regional features are judged by 500 youngsters divided into three age-related juries.
2018 winners: best films, Capernaum, What Walaa Wants, Zoo
Cairo International Film Festival, Egypt - November 20-29
Established in 1976, Cairo was given a new lease of life in 2018 with the arrival of producer Mohamed Hefzy to head the event.
Festival director: Mohamed Hefzy
Competition: The festival runs two competitions: the Golden Pyramid Awards for non-regional cinema and the Horizons of Arab Cinema Contest.
2018 winners: Golden Pyramid best film - A Twelve-Year Night (Arg); Horizons best film - Poisonous Roses (Egy)
Industry: Cairo Film Connection showcases 16 upcoming projects from the Arab world, and metes out $100,000 in prize money.
Marrakech International Film Festival, Morocco - November 29-December 7
The festival was revamped in 2018 after a one-year hiatus. As well as bolstering its focus on independent films and local cinema, Marrakech strengthened its industry programme under the directorship of Rémi Bonhomme.
Artistic director: Christoph Terhechte
Competition: International films compete with local and regional titles for the Golden Stars.
2018 winner: best film - Joy (Nig)
Industry: The Atlas Workshops encompass a project development meeting and post-production showcase. Bonhomme is keen to foster links between Arab and African professionals.
Red Sea International Film Festival, Jeddah, Saudi Arabia - March 12-21, 2020
Created in the wake of Saudi Arabia's lifting of its 30-year cinema ban, the festival is gearing up for its inaugural edition in the vibrant port city of Jeddah, with a focus on local and 'Global South' cinema.
Festival director: Mahmoud Sabbagh
Industry: The Red Sea Lodge script and feature lab, an initiative created in collaboration with TorinoFilmLab, will select 12 Arab projects for a five-month development programme, culminating in a meeting at the festival.