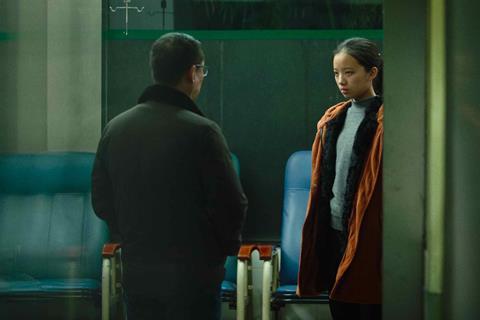 In a year where there has been much scrutiny of identity politics regarding the Competition feature directors, it's easy to overlook that the short films - in all strands - represent a healthily diverse group of filmmakers.
This year's five-strong jury for the main shorts strands (Competition and Cinefondation), led by Claire Denis and including Stacy Martin, Eran Kolirin, Panos H. Koutras and Cătălin Mitulescu, chose to honour an eclectic selection of work with little in common thematically, but which showcases the range of filmmaking and filmmakers offered at the 72nd edition of the Cannes Film Festival.
Similarly, in the prizes associated with the festival sidebars (in the case of the non-Competitive strand Directors' Fortnight, awarded by sponsors rather than the strand itself), jurors recognised work covering female friendships on Facebook, female Chinese acrobats, and a slice of life on a busy Vietnamese street corner. Our Screen Picks below additionally highlight work which didn't win a prize but whose directors we feel are ones to watch.
IN COMPETITION
The Distance Between Us And The Sky (Greece, 9 mins) 
- SHORT FILM PALME D'OR
Dir: Vasilis Kekatos
Sometimes the simple ideas are the best. The Distance Between Us And The Sky is essentially just a late-night conversation, mostly between the two charismatic leads, Nikolakis Zeginoglou and Ioko Ioannis Kotidis, and that's about it. But it's a conversation captured with intimate grace, every frame singing with supple chemistry as Giorgos Valsamis' attentive close-up camerawork catches every little piece of body language, every teasing smile or incredulous flicker of an eyebrow. The deserved winner of both the Palme d'Or and Queer Palme for Best Short this year at Cannes, writer-director Vasilis Kekatos has made three shorts in the last four years; fingers crossed for more from him soon.
Contact: judith@shortcuts.pro
All Inclusive (Finland, 15 mins) - SCREEN'S PICK
Dir: Teemu Nikki
Brilliantly exploring the dark side of the social contract, All Inclusive is a pitch-black revenge-of-the-nerds fantasy which shows that a downtrodden putz who is bullied by their peers won't necessarily be empowered by liberation to act benevolently. Kalvero (Lauri Maijala) is the unlikely recipient of absolute power, in this Roy Andersson-esque short from Teemu Nikki, an assured and fully mature filmmaker who you can easily imagine playing Un Certain Regard in a few years' time.
Contact: otto.suuronen@ses.fi
CINEFONDATION
Mano A Mano (France, 23 mins) - FIRST PRIZE
Dir: Louise Courvoisier
Receiving a €15,000 ($17,700) prize – and the arguably even more valuable guarantee that her first feature will receive a Cannes premiere – is Louise Courvoisier, whose winning narrative drama Mano A Mano is a two-hander offering a slice-of-life insight into the relationship and working life of a couple who perform as an acrobatic team. Courvoisier uses her leads' profession to construct an elegantly-observed piece about trust and consent in relationships - not sexual consent, but pettier, quotidian battles of the will that will surely resonate with anyone who has ever been in a long-term relationship.
Contact: courvoisier.louise@laposte.net
HIEU (US, 24 mins) - SECOND PRIZE
Dir: Richard Van
Directed by Richard Van of CalArts, Hieu immerses us in the dynamics of a Vietnamese-American family whose down-on-his-luck patriarch attempts to return after a prolongued absence. There is gentle humour as well as affection for the eponymous lead character, with Roy Tran giving a convincingly low-key portrayal of the kind of guy who is not a millionaire but runs classes on how to become a millionaire. Kudos to the costume and make-up team too: his powder-blue suit and lustrous wig really complete the picture without ever tipping over into fully comic territory. Van takes home the Cinefondation's second prize of €11,250 ($13,225).
Contact: richardvan@alum.calarts.edu
Ambience (Palestine, 15 mins) / Duszyczka (Poland, 9 mins) - JOINT THIRD PRIZE
Dir: Wisam Al Jafari (Ambience); Barbara Rupik (Duszyczka)
The Cinefondation's third prize of €7,500 ($8,800) was split between two chalk-and-cheese films. Barbara Rupik, currently studying at the Polish National Film School, helps maintain Poland's status as one of the very best territories in the world right now for short animation. Her film, Duszyczka, is a technically ambitious, texturally seductive triumph detailing the post-mortem travails of a trapped soul. Rupik's co-winner in third place, Wisam Al Jafari, has crafted an unpretentious black-and-white study of two aspiring Palestinian musicians as they attempt to record a demo against the un-ideal backdrop of exploding bombs in the distance; the film's major achievement is in capturing the way that a long-term constant threat of violence can come to feel like an almost banal nuisance.
Contact: wisam.jafari91@gmail.com / basia.rupik@gmail.com
As Up To Now (Hungary, 24 mins) - SCREEN'S PICK
Dir: Katalin Moldovai
Working from a script by Zita Palóczi, director Katalin Moldovai crafts a portrait of the guilt felt by busy adult children in relation to their parents, a theme that also emerged in Competition at Cannes in Pedro Almodovar's Best Actor winner Pain And Glory. Guilt leads us to places that aren't always healthy, but Moldovai's film goes to huge lengths to foreground the experience of the elderly parent, played with soulful depth by Vera Venczel. Should make audiences pick up the phone and call their mothers. Contact: besenyeizsu@gmail.com
DIRECTORS' FORTNIGHT
Stay Awake Be Ready (Vietnam, South Korea, 14 mins) - ILLY PRIZE
Dir: Pham Thien An
The Directors' Fortnight rarely disappoints in its short film selections, with several credible contenders for the Illy Prize emerging this year, but it's ultimately the impeccably directed Stay Awake Be Ready that leaves the biggest impression, because of the ambition of the piece. It is very, very difficult to successfully pull off one-take films in busy, naturalistic locations without slipping into a sense of either quirky artifice or would-be documentary. Stay Awake Be Ready successfully navigates the challenges of portraying a busy Vietnamese street-corner, managing to offer up an heightened slice-of-life that deftly nails the spirit of its location without falling into the trap of feeling the need to pursue the chimera of so-called realism. This is impressive filmmaking.
Contact: team@lightsonfilm.org
Grand Bouquet (Japan, 14 mins) - SCREEN'S PICK
Dir: Nao Yoshigai
Perhaps too experimental to rally broad support across a jury, filmmaker, dancer and choreographer Nao Yoshigai's Grand Bouquet is abstract but gripping. Yoshigai seems to have absorbed and regurgitated a buffet of exciting influences; Jonathan Glazer's Under The Skin seems like a possible visual touchpoint, while the hard-to-watch body-horror elements feel like some of the slightly more disturbing parts of body-invasion anime have been blended with David Cronenberg at his most clinical, and, as with Alex Garland's Annihilation, flowers are here disturbing and strange.
Contact: hello@c-a-r-t-e-blanche.com
CRITICS' WEEK
She Runs (China-France, 20 mins) - LEICA CINE DISCOVERY PRIZE
Dir: Qiu Yang
A formal and technical tour de force where form and technique are never the only reason to be watching, Qiu Yang's She Runs is a narrative drama detailing a Chinese student's struggles in her school's aerobic dancing team, and it is a standout piece across every shorts strand and sidebar in the festival. She Runs gradually builds a convincing factory-world where a person's societal role takes precedence over their personal preferences, a choice supported and enhanced by the camera's reserve: we are mostly at a great distance and often looking at the backs of heads, with the edge of the screen occluded by an out-of-focus door or drape, boxing these tiny characters still further into their rigid lives. In 2017 Qiu Yang was the first Chinese director to be awarded the short film Palme d'Or, for A Gentle Night, and with this follow-up it feels like only a matter of time before he returns with a feature likely to wow critics.
Contact: shorts@neweuropefilmsales.com
Ikki Illa Meint (Denmark-Faroe Islands, 21 mins) - CANAL+ AWARD FOR SHORT FILM
Dir: Andrias Høgenni
Featuring one of the very best scenes of passive aggression on film in a while, Andrias Høgenni's Ikki Illa Meint grapples with the relatively new phenomenon of digital etiquette. It avoids the already well-worn question of dealing with people you don't know online, and focusses instead on dealing with those that you do. The actual content of a girl's apparently annoying Facebook posts is not the point of the film; Høgenni is more interested in our response to such modern grievances. What subsequently unfolds is told with a relative restraint and lack of overt sentimentality that neatly serves the effective performance of lead actor Mariann Hansen.
Contact: johannes@metafilm.dk
The Manila Lover (Norway-Philippines, 26 mins) - SCREEN'S PICK
Dir: Johanna Pyykkö
Some short films never feel like they go anywhere or offer any surprises. Others are entirely built around a "gotcha" moment - a twist to which the whole film is subordinate. Then there's Johanna Pyykkö's The Manila Lover, which enacts a finely calibrated and gradual wrong-footing, dependent on certain preconceptions, but which doesn't feel like a pat fable about gender, class or race (although it is interested in all of these things). Above all, it is a sly and delightful treatise on male expectation.
Contact: shorts@neweuropefilmsales.com
Catherine Bray commissions and curates short film strand Random Acts for Channel 4