Screen highlights the buzz titles ready to entice international buyers at the Cannes film festival 2022.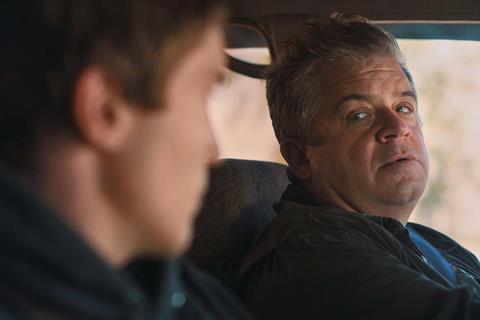 Lionsgate International will restore high-profile commercial heft to the Cannes market's major in-person return with the launch of pre-sales on two renowned franchises. The Hunger Games stalwart producer Nina Jacobson has lined up the adaptation of Suzanne Collins' prequel novel The Ballad Of Songbirds And Snakes with Francis Lawrence (Catching Fire, Mockingjay 1 and 2) returning to direct. Jonathan Levine, meanwhile, will direct Jennifer Grey in the sequel to Dirty Dancing, 35 years after she starred as Frances 'Baby' Houseman opposite Patrick Swayze in the summer dance-camp romance.
FilmNation will be talking up Last Breath, an action thriller about the rescue of a diver stranded under the North Sea. Woody Harrelson, Simu Liu and Djimon Hounsou star and Alex Parkinson, who co-directed the Netflix documentary on which the film is based, directs. CAA Media Finance handles US rights. The slate includes Michael Keaton directing and starring as a hitman with a vigorous form of dementia in noir thriller Knox Goes Away.
WME Independent will show first footage from Slingshot, the story of an imperilled space mission starring Casey Affleck, Laurence Fishburne and Emily Beecham and directed by Mikael Hafstrom. The project hails from Richard Saperstein's Bluestone Entertainment and its 10-film deal with Hungary's Szechenyi Funds. WME Independent is also selling Endeavor Content rom-com Maybe I Do starring Diane Keaton, Richard Gere, Emma Roberts, William H Macy, Susan Sarandon and Luke Bracey.
Voltage Pictures will commence talks on the morgue-set thriller Play Dead, co-written by genre aces Adam Mason and Simon Boyes. Bailee Madison (Pretty Little Liars: Original Sin) plays a student who fakes her own death to break into a morgue and steal evidence that ties her brother to a crime. Once inside she discovers the coroner is using the business as a front to sell body parts. Patrick Lussier (Dracula 2000) directs, and the project is in post.
Millennium Media reunites with Till Death director SK Dale on sci-fi thriller Subservience, about a struggling father who purchases an android assistant to care for his house and family, only for the mechanoid to gain awareness with murderous intent. Will Honley (Escape Room: Tournament Of Champions) and April Maguire (Lost Girls) co-wrote the screenplay.
AGC Studios starts sales on Christopher Smith's UK-shot supernatural thriller Consecration starring Jena Malone and Danny Huston. The team also has Anna Kendrick true-crime serial-killer thriller The Dating Game, which is being directed by Chloe Okuno; her Sundance hit Watcher was sold internationally to Focus Features by AGC.
Bron Releasing kicks off talks on Coky Giedroyc's musical comedy Greatest Days, featuring the songs of boy band Take That and based on stage musical The Band, about a group of friends reminiscing 25 years after they attended a concert by their favourite pop group. Danny Perkins of Elysian Film Group produces with Kate Solomon and Jane Hooks. Members of Take That are also among the producers.
Visit Films hits the Croisette with worldwide rights to Robert Machoian's upcoming Tribeca selection The Integrity Of Joseph Chambers starring Clayne Crawford, Jordana Brewster and Jeffrey Dean Morgan about an insurance salesman fearing the apocalypse who sets off into the woods on a hunting trip. The slate includes world rights on Pete Ohs' recent SXSW entry Jethica, in which two old high-school friends seek help from beyond the grave to deal with a stalker. Callie Hernandez, Ashley Denise Robinson and Will Madden star.
Sphere Films (formerly WaZabi Films) arrives on the Croisette with Into The Weeds, Jennifer Baichwal's David vs Goliath documentary about a Bay Area groundskeeper who takes on the agrochemical giant Monsanto over allegedly misleading labels on a herbicide. The slate includes the complete drama The Blind Steal from Maxime Giroux, based on the Norbourg financial scandal from the early 2000s when the company stole more than $100m from small investors. The film from Réal Chabot stars Vincent-Guillaume Otis, Francois Arnaud and Christine Beaulieu.
Bleiberg Entertainment brings its own production, the action epic Boudica, starring Olga Kurylenko in the title role as the legendary female warrior who rallied Celtic tribes to take on the mighty Roman empire. Production is scheduled for Wales in August. Ehud Bleiberg and Jesse V Johnson are producing. The sales slate includes animation Across The Wall from PitchiPoy Animation Productions in Israel based on the Baldy Heights property about an underground band, and Liam Neeson assassin thriller In The Land Of Saints And Sinners, which CAA Media Finance and UTA Independent Film Group represent for the US.
Highland Film Group arrives in Cannes with rescue thriller Land Of Bad led by Russell Crowe and Liam Hemsworth in the tale of an Air Force drone pilot supporting a Delta Force team in the South Philippines. Will Eubank (Focus Features' The Signal) is expected to commence production in September in Australia.
Capstone Global brings action thriller Breathe, starring Sam Worthington, Jennifer Hudson, Milla Jovovich, Common and Quvenzhané Wallis. Capstone and Thunder Road produce and finance the story set on an Earth where oxygen is in short supply. Capstone, UTA Independent Film Group and CAA Media Finance handle US rights. The slate includes Spinning Gold, which is in post and tells the life story of Neil Bogart, the Casablanca Records co-founder and 1970s record producer. Jeremy Jordan stars alongside Wiz Khalifa as funk legend George Clinton.
XYZ Films will be talking up Isaac Florentine's action thriller Hounds Of War starring Frank Grillo, Robert Patrick and Rhona Mitra. The story of an operative who survives a botched mission and vows to avenge his fallen brothers is in post.
Sierra/Affinity has survival thriller The Skeleton Tree to star Room breakout Jacob Tremblay and Woody Norman from C'mon C'mon. Paul Barry will direct from his 2021 Black List screenplay about two boys stranded on the remote Alaskan shore after they survive a boating accident. 87North and 3Fifty Films are producing.
James Franco will star as a corrupt cop in Meyers Media Group's Mace, which Myriad Pictures is selling on the Croisette. Jon Amiel will direct from a script by David Chisholm about Mace and his idealistic rookie partner. Principal photography is set to begin in Q3 in New Jersey. The slate also includes concert documentary Toronto Rock And Roll Revival featuring John Lennon, Chuck Berry and The Doors; April Mullen's Sam Worthington-starrer Hello Stranger; and Walter Hill's western Dead For A Dollar starring Christoph Waltz and Willem Dafoe.
Cinema Management Group will be in town talking up love triangle drama Island City (Cidade Ilhada) from Brazilian director Sergio Machado.
Toronto genre specialist Raven Banner arrives with The Smoke Master, a Brazilian stoner action comedy about two brothers who take on the Chinese mafia.
Arclight Films brings Muru from writer/director Tearepa Kahi, starring Cliff Curtis as a conflicted police officer caught up when the government orders an armed raid on his small Ruatoki community. The story is based on the 2007 Tuhoe police raids in New Zealand and gets its debut market screening. Tame Iti, a Maori activist involved in the actual incident, is among the producers.
The Exchange brings Thelma starring Kathy Bates, John Malkovich and Lewis Pullman from The Sisterhood Of The Travelling Pants director Ken Kwapis. The story from production company Filmula centres on the eccentric mother of A Confederacy Of Dunces author John Kennedy Toole, who fought to get her son's book published after his death by suicide. Johnny Lin (Bernie, American Made) produces. ICM Partners and UTA Independent Film Group represent US rights. The slate includes Harvey Keitel, Tyrese Gibson and Frank Grillo in action thriller Hard Matter.
Magnolia International will bring James Morosini's SXSW award winner I Love My Dad starring Patton Oswalt as a man who catfishes his son (Morosini) in an attempt to reconnect, only for the young man to fall for his made-up female persona. The cast includes Amy Landecker and Rachel Dratch. Magnolia will distribute in North America.
Great Escape, the recently launched sales arm of Yale Productions, will be launching Uma Thurman and Samuel L Jackson comedy thriller The Kill Room which reunites the Pulp Fiction alumni in the story of an art dealer (Thurman), a hitman (Joe Manganiello) and a crime boss (Jackson) whose money-laundering scheme accidentally turns the hitman into an overnight avant-garde sensation. Nicol Paone directs and production is scheduled to wrap at the end of May.
VMI Worldwide will be showing a promo on completed horror thriller Candy Land, about an outcast from a religious cult who navigates through her new life as a 'lot lizard' or truck‑stop sex worker. John Swab directs Olivia Luccardi (It Follows), Eden Brolin, Owen Campbell and William Baldwin.
Screen Media subsidiary Foresight Unlimited brings thriller Saint Clare starring Bella Thorne, about a Catholic college student with a taste for murder. Rebecca De Mornay is in talks to join the cast with principal photography set to begin in Kentucky. Cassian Elwes, Seth Needle, Mark Damon and Tamara Birkemoe are among the executive producers and Screen Media will distribute in the US.
Epic Pictures will be talking up Dark Nature, director Berkley Brady's completed survival horror about a therapy group forced to confront the demons of their past when they are pushed to breaking point at an isolated weekend retreat in the Canadian Rockies. Hannah Emily Anderson, Madison Walsh and Roseanne Supernault star.
Blue Fox International arrives with YA thriller Jane, about a grieving high schooler who gets deferred from her dream college and embarks on a social media rampage against those that stand in the way of her success. Madelaine Petsch, Chlöe Bailey, Melissa Leo and model Chloe Yu star in the feature directorial debut from Sabrina Jaglom. Blue Fox will distribute in North America.
Film Mode starts sales here on Occupation: Rainfall Chapter 2, the third instalment in the alien invasion franchise from Sparke Films, which will star Jeremy Piven, Casper Van Dien, Tricia Helfer, Liam McIntyre and Danny Trejo. Returning Australian filmmaker Luke Sparke plans to start pre-production after Cannes ahead of a third quarter start of principal photography in Australia on the story of plucky human survivors who prepare to strike at the aliens' Rainfall weapon.
Premiere Entertainment Group has rights to Alfonso Pineda Ulloa's completed thriller There Are No Saints, based on a screenplay by Paul Schrader about a man, imprisoned for a crime he did not commit, who attempts to rescue his son from Mexico and avenge his wife's murder. Jose Maria Yazpik, Paz Vega, Tim Roth, Ron Perlman and Neal McDonough star and Saban Films will release with Paramount on May 27 in the US.
MPI Media Group arrives with Gateway, a completed horror film about a seemingly ordinary house that turns out to be anything but for a gang of desperate criminals. Tim Creed (Vikings) stars alongside Kevin Barry, George Hanover and Ryan McParland.
Yellow Veil will be talking up Daughter from Corey Deshon, featuring a cast led by Casper Van Dien, Elyse Dinh, Vivien Ngô and Ian Alexander. The completed film follows a young woman inducted into a bizarre family as their new surrogate daughter; it screens in the market.
Jack Campbell and Rebecca Campbell's newly launched Jackrabbit Media will be on the Croisette talking up Daniel Byers' plague thriller Eradication, about an immune man on the run from a shadowy agency as he races to find his wife. Harry Aspinwall and Anita Abdinezhad star.
Pinnacle Peak brings Lifemark from Alex Kendrick and the producers of faith-based films Fireproof, Courageous, Overcomer and War Room. Kirk Cameron, Kendrick and Raphael Ruggero star in the tale of a mother who is reunited with the son she put up for adoption 18 years earlier. The project is in post and the producers are targeting a September North American theatrical release. The film will screen in Cannes.
Motion Picture Exchange has worldwide sales rights to documentary feature Cat Daddies, produced and directed by Mye Hoang, which chronicles eight men whose lives have been changed forever by the love they have for their cats.
Red Sea Media brings action thriller The Minute You Wake Up Dead, with Morgan Freeman and Cole Hauser, about a stockbroker in a small southern town who gets involved in an insurance scam with a neighbour that leads to multiple murders. Michael Mailer directs the project, which is in post and will launch in North America via Lionsgate.
FilmSharks has one remake and one adaptation. Completed feature Coffee-Machine Cam (Camera Café) from Estela Films is based on the French Camera Café TV series and styled as The Office meets The Hangover, about a scammer hired to salvage a crisis-hit company. Ernesto Sevilla directs Arturo Valls and Ibai Llanos, and Warner Bros holds Spanish rights. Ferocious Wolf, directed by Gustavo Hernandez (The Silent House), is a remake of Israeli thriller Big Bad Wolves and centres on a mother who teams up with a cop to find her daughter's killer. In post.
EST Studios has the Sundance selection Every Day In Kaimuki, about a young man who is prepared to leave behind everything he has ever loved and find meaning outside Kaimuki, the small Hawaiian town where he grew up. Alika Tengan directed and the cast includes Naz Kawakami and Rina White.
RTG Features will be handling worldwide sales on completed sports documentary Handle With Care: The Legend Of The Notic Streetball, which chronicles the rise, fall and rebirth of The Notic, an upstart streetball collective from Canada in the early 2000s. Directors are Jeremy Schaulin-Rioux and Kirk Thomas; Telus, RTG Features and Victory Creative Group are producing.
Attraction Distribution, the Canadian sales outfit that handles many European family films, has children's superhero movie Vinski And The Invisibility Powder, from Finnish director Juha Wuolijoki, about a 10-year-old boy who comes into possession of a magic powder that allows him to become invisible.