One year on from the launch of Collectif 50/50's groundbreaking gender equality charter, Screen talks to the organisers about what they have achieved, the disappointing number of women directors selected for Cannes 2019 and what they see as the next steps.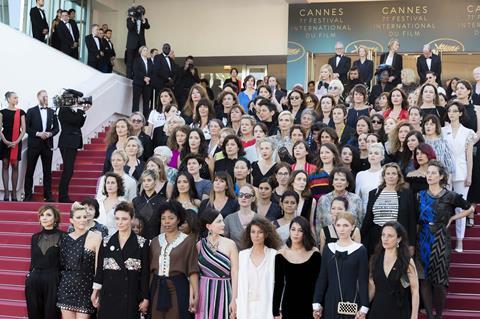 One of the most memorable images of the 71st edition of Cannes Film Festival last year was the silent ascent of the red-carpeted steps of the Palais des Festivals by 82 leading female film industry figures, protesting the historic lack of female representation at the event.
Each represented one of 82 women whose films had played in Competition at Cannes since 1946, against the 1,688 male directors to have hit the red carpet ahead of premiering their Palme d'Or contenders in the same period.
Standing alongside actress and jury president Cate Blanchett and the late Agnes Varda, in one of her last Cannes appearances, were sales agents Delphyne Besse, Bérénice Vincent and producer Julie Billy, co-founders of French gender equality group Collectif 50/50, which instigated the protest.
"We wanted to do something really striking, to get attention," Besse explains. "With Cate Blanchett being the president of the jury, it all fell into place."
Launched in March 2018, the campaigning organisation and think-tank (it also refers to itself as an 'action tank') has the support of some 1,000 professionals across the French film industry. Filmmaker members of the board include Céline Sciamma, whose A Portrait Of A Lady On Fire is a Palme d'Or contender this year, Rebecca Zlotowski, whose exploration of female empowerment An Easy Girl premieres in Directors' Fortnight, and Tonie Marshall, whose credits include Venus Beauty and Number One.
Two days after the red-carpet protest, Collectif 50/50 unveiled a gender-equality festival charter at a high-profile signing ceremony attended by festival delegate general Thierry Frémaux, incoming Directors' Fortnight delegate general Paolo Moretti and Critics' Week artistic director Charles Tesson. Under the charter, festivals pledge to log and publish data for all submissions on the gender of directors and key crew; strive for gender parity on selection committees and internal structures; and be transparent about selection processes and who is making the decisions.
To date, some 35 festivals have publicly signed the pledge in Europe and North America. But not a single festival in Asia or Africa has yet come on board.
Progress at Cannes is frustratingly slow too. In official selection, 28% of the feature-length films are directed by women, while female-directed films accounted for 26% of submissions. In Directors' Fortnight, four out of 24 directors in the main feature selection are women 16.7%).
Over at Critics' Week, where 60% of the 2018 competition selection was by women, just one of its seven films is by a female director this year, a development that Besse admits leaves her baffled. "Nothing is going to change overnight," says a philosophical Besse. "We know it's a slow process and that it will take time."
One major victory, she says, was Cannes' publication of the details of its selection committee in a press release at the beginning of the year. "It is important to us there is transparency around selection committees," Besse explains. "We all had an idea by hearsay who was on the committee but this was the first time Cannes announced it publicly."
Effecting global change
Gender equality groups around the world welcomed the introduction of the festival charter and the stance the Collectif 50/50 have taken.
"The charter is a tremendous tool to push festivals to embrace transparency in their selections and achieve equality in the long run," says Alessia Sonaglioni, director of European Women's Audiovisual Network (EWA Network).
But she is disappointed by this year's Cannes line-up. "Cannes could have made more of an effort to not simply reflect in their numbers the proportion of active women directors in France. The parallel sections are particularly disappointing in that respect," she says. "However, the overall trend is positive, and the composition of the jury is not only gender balanced but also diverse."
The network was vocal in its displeasure when Venice Film Festival artistic director Alberto Barbera declared last September he would sign the charter but never embrace quotas.
"The charter is not about quotas, it's about transparency and including gender among other 'political' and strategic considerations that A-list festival directors have in their agenda," she explains.
Besse juggles her day job as head of sales and acquisitions at Paris-based company Urban Distribution International (UDI), with the role of co-president of the Collectif 50/50, alongside Billy and producer Laurence Lascary. Vincent, who played a key role in Collectif 50/50's early days, remains on the board but is now focused on her new company Totem Films, with Agathe Valentin and Laure Parleani.
Although the group launched the charter in the wake of the #MeToo movement, Besse explains it was the fruit of five years of reflection and lobbying. Besse, Billy and Vincent launched a precursor to Collectif 50/50 called Le Deuxieme Regard in 2013, frustrated by the lack of female-directed films in Competition at Cannes in 2012.
"It was weird — we felt something was off," Besse recalls. "It simply didn't make sense to us, when you looked at the number of women at film schools and women directors. We started asking questions and launched Le Deuxieme Regard to get some answers."
One of its first achievements was convincing France's Ministry of Culture and Communications, Franco-German broadcaster Arte and the CNC to sign a five-point charter aimed at collecting statistics and stimulating initiatives around gender equality at the end of 2013. The group also lobbied Frémaux, asking him to provide data around submissions versus selections.
"Initially, he was quite defensive, saying it had nothing to do with Cannes as the festival was at the end of the chain," says Besse. "I think he felt we were too pushy, but we aim not to be aggressive. We want to turn people into partners. We won't get anywhere if we simply shout.
"Over time, he realised the issue wasn't going to go away and he needed to deal with it in a constructive way, which he has," she adds.
US-based Melissa Silverstein, founder of pressure group Women and Hollywood, has been working closely with Besse on the data aspect of the project and promoting the charter in North America. She says the initiative has opened up a useful dialogue at festivals, encouraging networking around the issue of gender equality and inclusion.
"What we're seeing is that the pledge has forced people to ask questions of themselves and of their festivals, that they haven't before and it gives them a framework in which to do this instead of having to come up with something of their own — it helps people on their journey to more inclusion," she says.
One of the challenges has been gathering uniform data, she notes, adding she and Besse have met with festival and awards submission portals such as FilmFreeway over including a voluntary gender button to the application process.
Addressing unconscious bias
Leading gender-equality activist and Swedish Film Institute CEO Anna Serner also welcomes the initiative but is characteristically radical on how it could be taken a step further. She suggests there should be more churn in the top posts and that festivals should launch education initiatives around male-focused unconscious bias, which can be found in women as much as men.
"Everyone on a selection committee needs to be aware of [unconscious bias]," she says. "I'm not sure the festivals are interested in doing much in terms of education but it would be a sign they had not just woken up but were changing too."
Collectif 50/50's plans for Cannes this year include a networking and brainstorming workshop with other international gender equality groups and activists. "It's useful to share best practices and experiences," Besse emphasises. "We're hoping to get together with bodies based in the US, the UK, Spain and Italy, many of which were born in the wake of the #MeToo movement."
Scheduled topics on the table will be inclusion riders and how they can be adapted to film and TV industries outside the US, the gender split among film critics and how it impacts the reception of features directed by women, and how to unify and deepen data across territories.
"In France, it's against the law to gather statistics around ethnicity, whereas it's acceptable in the US and UK," Besse points out. "The festival charters in North America are aimed at inclusion at all levels, not just in terms of gender… Greater inclusion is something we're aiming for, too, but everything we do, we do it step by step."