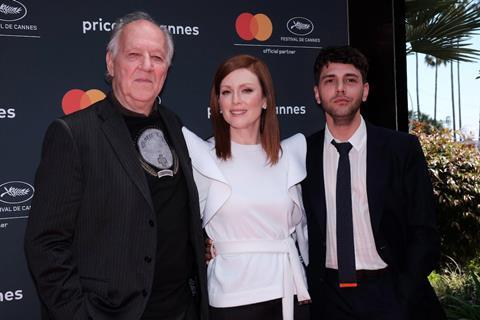 Julianne Moore told an audience at Cannes she supports imposing quotas to help improve gender representation in the film industry.
The actress, speaking at an event alongside directors Xavier Dolan and Werner Herzog, said: "Women are not a special interest group, we make up 52% of the population so in order to restore the balance we will need some measures to change our culture. It takes a long time to turn a big boat around.
"This has been a long time coming. We will have to make major changes to reach parity. That's just a fact. I do believe in quotas, I really do. I believe in trying to level the playing field for everybody regardless of gender or culture or ethnicity. We have to open doors. That being said you can't change everything right away. You make incremental change, that's how you do it."
Moore is appearing at Cannes this year in Luca Guardangno's medium-length Directors' Fortnight Special Screening The Staggering Girl, alongside Mia Goth, KiKi Layne, Kyle MacLachlan and Alba Rohrwacher.
Imposing mandatory quotas in film festivals has been a hot topic in recent years, with most major events – including Cannes, Berlin and Venice - signing gender equality pledges in the past 12 months.
The charters, spearheaded initially by French gender parity movement 5050x2020, do not include mandatory quotas for films directed by women, but commit to an even gender ratio in festival management, and improving transparency around selection processes.
Cannes delegate general Thierry Frémaux has stated his opposition to mandatory quotas, telling Screen earlier this year that "there should be no tokenism or indulgent choices in the Official Selection."
The MasterCard in conversation event was held at the Majestic Hotel in Cannes on May 15.