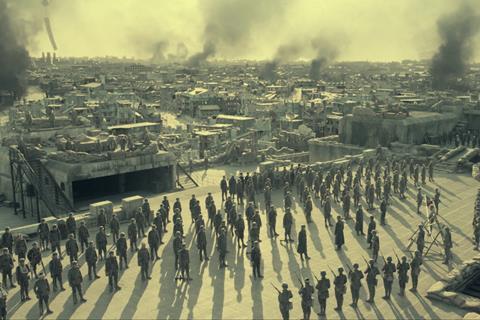 China was the first major international territory to have its box office wiped out by Covid-19, with cinemas closing on January 23 ahead of the lucrative Chinese New Year holiday period, and only reopening again on July 20.
It was also the first to recover thanks to local releases such as Guan Hu's war epic The Eight Hundred, which opened in August and not only topped China's 2020 box office, but was also the highest-grossing film globally for the year with a gross of $451m. Several local blockbusters over the National Day holidays in October – including patriotic omnibus My People, My Homeland and animation Jiang Ziya: Legend Of Deification – also contributed to recovery, while the year-end season yielded hits such as Dante Lam's The Rescue and Herman Yau's Shock Wave 2.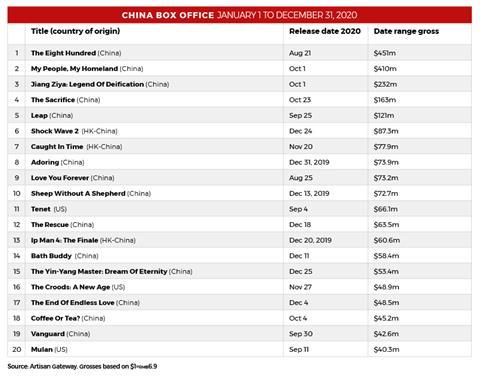 That's not to suggest China hasn't suffered. Total box office for 2020 was down by 68% to $3.12bn (RMB20.4bn) on 548 million admissions, compared to $9.2bn (RMB64.3bn) in 2019, according to figures from China Film Administration. But these are losses that most other territories would be happy to endure. Theatrical consulting firm Artisan Gateway estimates that around 4,000 screens closed for good during the pandemic, although 5,800 were added for a net gain of 1,800 screens. And despite losing six months' revenue, China ended the year as the world's biggest theatrical market, beating North America's tally of $2.78bn.
While the market hasn't yet fully recovered, it's definitely getting there. According to Artisan Gateway, box office in December 2020 was 92.5% of revenues in December 2019, a significant uptick from October when revenue was only around 77% of the same month in 2019. Artisan Gateway CEO Rance Pow says: "At the current pace, and of course depending on availability of film product, it would not be surprising to see the market at full [parity with 2020] box office by the Spring Festival [aka Chinese New Year, February 11-17] holiday season, in the next four to six weeks."
Several factors played a role in the recovery, in addition to the strong line-up of local films, which enabled audiences to feel confident about returning to cinemas. Chinese authorities have mostly managed to control the virus, since the stringent lockdown of Hubei province in early 2020, so it has never been rampant in other parts of the country. Despite an uptick in infection cases this week in Hebei province (adjacent to Beijing), China is currently reporting around 60 cases a day, compared to more than a quarter of a million daily in the US.
It also helps that Chinese cinemagoers are young – around 60% are under the age of 30 – so less fearful of public spaces. Audiences also have confidence in the hygiene and social distancing measures introduced by cinema operators, which are mostly complied with, and enabled theatres to return to 75% capacity by September after reopening at 30% in July.
So far, however, recovery has only benefited local films, as foreign titles accounted for just 16.3% of the market, compared to 35.9% in 2019, with US studio titles taking a measly 10% share. While this is to be expected in a year when the US studios pushed back many of their tentpoles to 2021, or opted for premieres on streaming platforms, most of the Hollywood films that did make it to Chinese cinemas under-performed relative to local releases. Tenet, the highest-grossing US film of 2020, didn't even make the top 10 in China, ranking at number 11 with $66.1m, while only two other US titles – Disney's The Croods: A New Age and Mulan – made it into the top 20.
Some US titles appear to have fallen victim to a rising sense of national pride – Mulan, based on a Chinese legend, was decried by viewers as being culturally inauthentic, while Monster Hunter was deemed racist due to an insensitive joke. But while Chinese audiences are certainly becoming more selective and discerning, it would be too simplistic to say they're losing interest in foreign or Hollywood films.
Pow points out that only 16 new US titles were released after cinemas reopened in July, among which 11 were films that had been released outside of China six to nine months earlier. None of them benefitted from the kind of global marketing blitz that was common in pre-Covid times. "Only Tenet, The Croods: New Age, Mulan, Wonder Woman 1984 and Soul were released in both China and the US near day-and-date – and only The Croods: New Age and Wonder Woman 1984 were released theatrically in the US as well," Pow says. "The impact on US studio international distribution and marketing decision-making cannot be understated."
On the other hand, the strong performance of Disney/Pixar's Soul, which has grossed more than $38m in China since it opened on December 25, suggests that Chinese audiences still have an appetite for certain types of US content. The film, which has been garnering rave reviews on the Maoyan and Douban platforms, taps into the Chinese audience's appreciation for philosophical and emotionally uplifting content – especially after a year when many people have suffered. One viewer wrote on Douban: "Depressed for a whole year, I am so grateful for this warm movie."
Meanwhile, the highest-grossing non-US foreign film in 2020 was Japanese anime Digimon Adventure: Last Evolution Kizuna, which ranked 27th with $19.4m (RMB125.2m), according to Maoyan. Two other Japanese animations appeared in the top 50 – Doraemon: Nobita's New Dinosaur, ranking 40th with $9.8m (RMB63.5m) and Violet Evergarden at 45 with $7.5m (RMB48.4m). The only other non-US foreign film in the top 50 was the reissue of Roberto Benigni's Life Is Beautiful, released before cinema closures in January, which ranked at 41 with $9.2m (RMB59.7m).
Again, it's probably too early in the market's recovery to read much into these figures. Japanese anime has been popular in China for the past few years, but so too were Indian films before they disappeared from screens due to political tensions between China and India. South Korean films would likely perform well if they were allowed into the market. Certain kinds of European films – and notably Lebanese drama Capernaum – had success pre-Covid, but it's now more challenging to find buyers willing to take a punt on specialist content in uncertain times.
In contrast to some other markets, another factor helping box office recovery is that China has not seen a stampede of theatrical titles heading to streaming platforms, despite the strength of the nation's big three streamers. Huanxi Media caused an outcry early in the pandemic by selling Chinese New Year title Lost In Russia to Bytedance when its theatrical release was postponed. But Artisan Gateway estimates that only 10 films intended for theatrical release shifted to streaming premieres in 2020. In addition, two Enlight Pictures titles – July release Mr Miao and September's Yes, I Do – had a seven-day theatrical window, while Edko Films' Soul Snatcher had a 15-day window. "It appears decision-making was case-by-case rather than policy-driven," says Pow.
Heading into 2021, prospects look bright for the market, which got off to a strong start with local melodrama A Little Red Flower grossing $167m since its release on December 31. All eyes are now on the Spring Festival (aka Chinese New Year) holidays, traditionally the biggest box office season of the year, with a bumper line-up of local titles scheduled for release on February 12.
In addition to Detective Chinatown 3 and animation Boonie Bears: The Wild Life, both postponed from Chinese New Year 2020, the holidays will see the release of several new titles, including two fantasy adventures – Lu Yang's Assassin In Red, starring Lei Jiayin and Yang Mi, and Li Weiran's The Yin-Yang Master, with Chen Kun and Zhou Xun – along with Rao Xiaozhi's Endgame, starring Andy Lau, Jia Ling's comedy drama Hi Mom, and animation Nezha Rebirth, from the team behind White Snake.
Cinema operators are also hoping that the US studios will be offering up some tentpole titles in the first half of the year, especially from franchises that have always performed well in China, such as Marvel's Black Widow, Universal's F9 and MGM's No Time To Die.