Which films will triumph at the box office over Chinese New Year? Liz Shackleton looks at the high-profile releases vying for the top slot.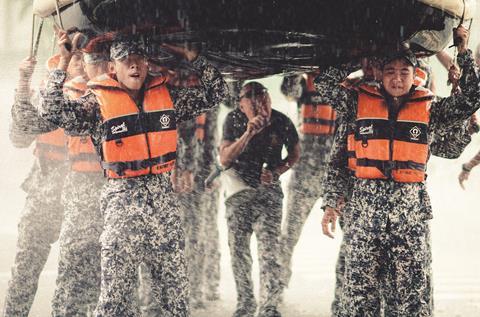 The Greater China box office is always competitive but this year's Chinese New Year holiday, which starts February 19, is being described by distributors as a potential bloodbath due to the large number of high-profile films jostling for release.
Among the heavy hitters are Jackie Chan's $65m epic Dragon Blade, which stars John Cusack and Adrien Brody as Roman generals; Jean-Jacques Annaud's $38m wilderness epic Wolf Totem; Wong Jing's From Vegas To Macau 2 and big-budget 3D fantasy adventure Zhoung Kui: Snow Girl And The Dark Crystal.
Several other films are also being released across multiple Chinese-speaking territories on February 19 — including Pegasus's remake of An Inspector Calls and Media Asia's aviation drama Triumph In The Skies — along with a plethora of smaller, seasonal comedies, which often involve gambling and spoofs of other local films.
As the holiday, which takes place from mid-January to mid-February depending on the Lunar calendar, is traditionally a time spent with family, animation and children's films perform well over the period — this year Penguins Of Madagascar and Shaun The Sheep Movie will be battling the local films in Hong Kong. Chinese epics can perform well but audiences like to have fun during this holiday and there are often upsets with feelgood family comedies, even those with slightly risqué content, snatching box office from loftier fare.
On the mainland, Chinese New Year concludes a five-month peak period for local films that runs from National Day in October, through Christmas, until the relative quiet of March. Hollywood films are restricted from release around National Day and Spring Festival. Last year, The Monkey King grossed $169m over Chinese New Year, while the family-oriented Where Are We Going, Dad? took $112.8m — a sequel follows this year.
Hong Kong and Taiwan are more Hollywood-oriented, so foreign films can perform well, but face stiffer competition. Last year in Hong Kong, after several years of Hollywood dominance during the holiday, Sandra Ng's comedy Golden Chickensss, From Vegas To Macau and The Monkey King trounced Hollywood releases Jack Ryan: Shadow Recruit and Saving Mr Banks. This year, Fifty Shades Of Grey and Kingsman: The Secret Service will be rolled out in Hong Kong and Taiwan just before the deluge of local films. The holiday is slightly shorter in both these territories, compared with mainland China, where audiences have up to 10 days off work.
Malaysian Chinese also take up to 10 days holiday, returning to family outside the big cities, so box-office potential for local films is huge. The top three Chinese films in Malaysia last year were all released over Chinese New Year — The Journey ($5m), From Vegas To Macau ($3m) and The Monkey King ($2.8m). The holiday is shorter in Singapore but the top two Chinese films in 2014 were also New Year releases — Jack Neo's The Lion Men ($1.6m) and From Vegas To Macau ($1.5m).
All five Chinese-speaking territories produce Chinese New Year films that are more local in content and humour and are aimed at just one or two territories.
Singapore and Malaysia have been producing more of these films in recent years as their respective box-office markets grow. This year's offerings include Singapore's Ah Boys To Men 3, Malaysia's My Papa Rich and Kungfu Taboo and Singapore-Malaysia co-production King Of Mahjong.
THE BIG RELEASES
12 Golden Ducks
Dir Matt Chow
Actress Sandra Ng and director Matt Chow are reteaming on this comedy following their success with Golden Chickensss, which became Hong Kong's highest-grossing local film last year following its Chinese New Year release. While Golden Chickensss was a comedy about prostitutes adapting to Hong Kong's digital economy, 12 Golden Ducks turns the gender tables by following a group of gigolos, known in the local vernacular as 'ducks'. The film opens in Hong Kong and Singapore on February 19, Malaysia on February 26, Taiwan on March 20 and is unlikely to be released in China due to the naughty subject matter.
Contact We Distribution, Andree Sham, andree@wedistribution.com
Ah Boys To Men 3: Frogmen
Dir Jack Neo
The third instalment in the record-breaking series from Jack Neo — Singapore's most bankable director — sees the popular cast as elite soldiers of the country's Naval Diving Unit. The first two movies, about a group of army recruits completing their National Service, were filmed together and released at the end of 2012 and Chinese New Year 2013. They were both the top-grossing local movies in their respective years of release. Backed by mm2 Entertainment and Fox International Channels, Ah Boys To Men 3 opens in Singapore on February 19.
Contact mm2 Entertainment, Sim Wee Boon, simweeboon@mm2entertainment.com
An Inspector Calls
Dirs Raymond Wong, Herman Yau
Pegasus Motion Pictures has produced this adaptation of JB Priestley's play of the same name, which adds black humour to the social commentary about a rich family's involvement in the death of a young woman. Louis Koo plays the inspector who calls on a wealthy family to investigate the suicide of a pregnant girl and discovers that, despite claiming they don't know her, they are all connected to the victim. The cast also includes Eric Tsang, Teresa Mo, Lam Ka Tung, Chrissie Chau and Pegasus chief and actor Raymond Wong.
Contact Pegasus Motion Pictures, Kat Yeung, kathy.yeung@pegasusmovie.com
The Arti: The Adventure Begins
Dir Huang Wen-Chang
Warner Bros is releasing this 3D puppet animation in Taiwan in the run-up to Chinese New Year on February 11. Backed by Taiwanese retail chains Family Mart and 7-Eleven, the $10m fantasy adventure is produced by Puppetmotion Entertainment and Pili International Multimedia, the creator of Taiwan's iconic Pili puppet theatre show, which is broadcast as a top-rating TV series and sells 400,000 DVDs every month. The story follows the son and daughter of a family accused of treason, who are forced to cross the desert with their wooden robot, but are pursued by a jealous prince.
Contact Golden Network Asia, Clarence Tang, clarence@goldnetasia.com
Dragon Blade
Dir Daniel Lee
John Cusack and Adrien Brody star alongside Jackie Chan in this $65m epic action film that imagines Roman soldiers crossing the border into China. Chan plays the commander of the Silk Road Protection Squad who is wrongly accused of treason and joins forces with a Roman general (Cusack), who has fled into China to protect a young boy from his power-crazed brother (Brody). The cast also includes Korean heartthrob Choi Si-won, the comedy duo known as the Chopstick Brothers and actresses Mika Wang and Lin Peng. Investors in the film include Sparkle Roll Media Corp, Huayi Brothers, Shanghai Film Group, Home Media & Entertainment Fund, China Film & TV Capital, Tencent and Alibaba.
Contact Golden Network Asia, Clarence Tang, clarence@goldnetasia.com
From Vegas To Macau 2
Dir Wong Jing
Chow Yun Fat reprises his role as a legendary gambler in the sequel to Wong Jing's From Vegas To Macau, which grossed $85m in mainland China over Chinese New Year 2014. In the sequel, he travels to Thailand with his sidekick (Shawn Yue) on the tail of the mob's chief accountant (Nick Cheung) who has absconded with $15bn of the bad guys' money. Carina Lau plays the love interest who appears to be on the wrong side of the law. Andrew Lau, who produced the first, returns in the role.
Contact Angela Wong, Mega-Vision Project Workshop, angelaolwong@mvphk.biz
King Of Mahjong
Dir Adrian Teh
This Singapore-Malaysia co-production is classic Chinese New Year fare — taking a popular Hong Kong genre, the mahjong comedy, pulling together a strong pan-regional ensemble cast and peppering liberally with a string of guest and celebrity appearances. Chapman To and Mark Lee star as rivals and disciples of a legendary mahjong master who go up against each other after a 20-year hiatus. Singapore's Clover Films has co-produced with Malaysia's Asia Tropical Films, whose CEO, Adrian Teh, is directing after his success with The Wedding Diary and its sequel. The film is opening on February 19 in Singapore and February 26 in Malaysia.
Contact Rex Productions, Raymond Liu, raymondliu@emperorgroup.com
Triumph In The Skies
Dirs Wilson Yip, Matt Chow
This feature version of one of Hong Kong's most popular TV series revolves around the glamorous lives and romantic escapades of pilots and flight attendants working for Skylette Airways. Francis Ng and Julian Cheung reprise their roles in the top-rating TVB series, while Louis Koo and Sammi Cheng play new characters. Directed by Wilson Yip (Ip Man 1 & 2) and Matt Chow (Golden Chickensss), the film is produced by Media Asia and Shaw Brothers.
Contact Media Asia, Fred Tsui, frederick_tsui@mediaasia.com
Wolf Totem
Dir Jean-Jacques Annaud
Based on Jiang Rong's bestselling novel, this $38m epic adventure follows a young student from Beijing who is sent to the wilderness of Inner Mongolia to teach a nomadic tribe of shepherds. Fascinated by the bond between the shepherds and the wolves, he captures a cub and tries to tame it. Annaud has spent several years working on this China-France co-production, which involved shooting in extreme conditions and training three generations of wolves. Feng Shaofeng who recently appeared in Ann Hui's The Golden Era, plays the student and the cast also includes Shawn Dou, whose credits include Zhang Yimou's Under The Hawthorn Tree.
Contact Edko Films, Julian Chiu, chiujulian@edkofilms.com.hk
Zhong Kui: Snow Girl And The Dark Crystal
Dirs Peter Pau, Zhao Tianyu
This 3D fantasy adventure stars Chen Kun as a legendary Chinese anti-hero who is forced into battle in the realms of Heaven, Earth and Hell to protect the people of his country and the woman he loves. Li Bingbing also stars. Peter Pau is serving as co-director, producer, DoP and VFX supervisor on the film, which has tapped 3D stereographer Vincent E Toto (Dredd), Weta Workshop for character and set design and Korea's Macrograph for visual effects. Produced by Desen International Media, the film is co-financed by Village Roadshow Pictures Asia, Warner Bros Pictures and Wanda Media, while Arclight Films has international sales.
Contact Arclight Films, Elliot Tong, elliot@arclightfilms.com