With box office booming for a third straight year, this year's CineEurope should welcome exhibitors in confident mood.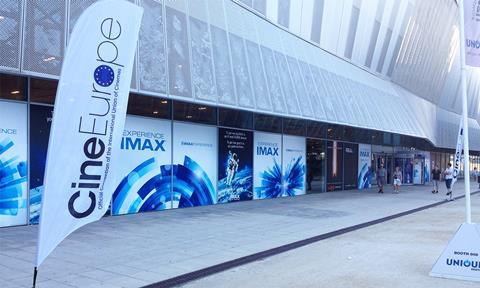 CineEurope, the annual conference for the European exhibition industry, will greet attendees in a relatively buoyant mood this month, thanks to an unusually sustained period of success at the region's box office.
But while the outlook remains agreeably rosy, the times have also become challengingly turbulent, as the exhibition industry assesses the ongoing consolidation of ownership, while also attempting to navigate a rather bewildering — and expensive — set of technological upgrade options.
Following sizeable hits including Beauty And The Beast and Guardians Of The Galaxy Vol 2, and a release calendar that includes another Star Wars chronicle film this December, it is no great surprise to hear Jan Runge, CEO of UNIC which co-organises CineEurope, say: "We're quite confident we'll have a good 2017." But it is the bigger picture of that success that is more noteworthy, given the usual ebb and flow in box-office fortunes experienced by the industry.
"It's quite extraordinary because 2016 already was a pretty good year for most territories," Runge says, "and that was after a great 2015, so it's exceptionally stable at the moment."
UNIC, the Brussels-based International Union of Cinemas, has organised CineEurope jointly with The Film Expo Group since the 2012 edition, a partnership that coincided with the event's move from Amsterdam to Barcelona. This year will present the 26th edition, running June 19-22.
Tech tops agenda
Runge anticipates that discussions on technology will dominate this year, conversations he hopes to illuminate with two of the panel sessions: 'Innovation and the Big Screen Experience' and 'Virtual Reality — Killer App or Companion Experience?'
"Last year, we were wondering if there would be interest in virtual reality, and there definitely is," he says. "And technological innovation is a huge topic that everyone's focusing on. We're only now seeing all the changes from digitising all the screens across the world.
"I do agree it gets increasingly complex, especially for smaller operators. The bigger operators can test new technologies at one of their venues, and see how they engage audiences, but that's difficult for smaller and independently owned operators. That's why the convention is important, and why we also have panels on the sales floor — what's the bottom line for you, which technology upgrade makes the most business sense?"
Windows
While theatrical windows are increasingly being questioned and challenged in territories across the globe, UNIC's line is that politicians should stay away from this topic.
"It's especially important that the European Commission and European regulators leave it up to the sector to decide when and where to release films," Runge argues.
"And in our view the commission should have much more trust in the market, that they know when and where to release films and what's best to get audiences to see a film."
Consolidation
As for consolidation, with the exhibition industry still processing the news of China-owned Dalian Wanda folding Nordic Cinema Group and Odeon & UCI Cinemas Group into its existing AMC assets, Runge welcomes the new investment and efficiencies. But he questions the likely scope of this trend.
"Some people in the industry seem to think that soon we'll have three large cinema circuits dominating Europe," he says, "and that's just not the case because it's much more fragmented. You have a big number of family-run, privately owned independent operators across Europe, with 20 to 40 cinemas, which do very good business. I don't think that independent tier of commercial operators is going to leave very quickly. If you compare it to other industries, it's still very, very heterogeneous."
Young audiences
Presenting research accomplished with funding from CineEurope's main sponsor, this year's Coca-Cola seminar is titled 'What do youth audiences really want?'
"It's a big issue for us," Runge explains. "It's not as negative as some might see it, because getting older people into the cinema is, first of all, a good thing. And we do have really good youth attendance figures in central and Eastern Europe, for example, and everywhere where cinemagoing is growing, young people are going as well.
"But if you look into some western European territories — I think the UK is a case, Germany may be a case, Spain may be a case — we have some work cut out for us," he continues. "It's something the industry is recognising. Obviously, they have to approach it together with distribution. Having the right films helps, and I think last year's success illustrates that effectively."
The study is based on one that was originally undertaken in Germany, with UNIC and Coca-Cola now extending it to the UK and Spain.
"You have to prevent young people from falling into the sofa trap," Runge says. "You have less time these days to activate people, because they make their decisions much quicker due to mobile technology and social media, and you have to reach out to them in new ways. We did some workshops with teenagers who told us some very interesting, sometimes frustrating things, and we will present our findings."
Credits roll
This year's CineEurope will be bittersweet for Runge, since it is also his last. The UNIC CEO steps down from his post at the end of July, when he will transition to a new role as an independent consultant, shuttling between Berlin, Brussels and his base in Cologne. The imminent move suggests this as the right time to look back at Runge's achievements at UNIC over the past six years, as well as the challenges, where work remains to be done.
"We relocated the organisation from Paris to Brussels when I started, and re-established everything from scratch," he says. "I think compared to where we started, we've come a long way as an industry association. Our raison d'etre is advocacy with the European institutions, and six years ago nobody had exhibition on the map. We've come quite a long way with developing our profile in that small policymaking world in Brussels. We do a lot of work there — we do film screenings exclusively for EU politicians, we bring out reports each year, we do studies. That's worked really well."
Runge is proud of giving CineEurope, appropriately enough, a more European focus, bringing on board the likes of Studiocanal, EuropaCorp, eOne and UniFrance to bring slate presentations alongside the traditional Hollywood studios. And this year, for the first time, Sweden's SF Studios will present a raft of new product.
Future challenges
But Runge acknowledges his successor - recently announced as Laura Houlgatte Abbott, previously UNIC's EU affairs executive — has plenty more work to do. "The entire film industry has a lot of challenges in Brussels," he says. "It doesn't get easier. Not only in Brussels — you have the same in individual EU member states where you have to convince policymakers of the value of film, of the value of cinema, and that it's an important sector culturally, socially, economically. At the moment it feels like that's not the biggest priority for many policymakers, so that's actually a big challenge for now."
"With the digital single-market strategy in recent years, there's a lot of work to be done," he adds. "Territoriality was the big thing that we worked on over the past six years. It totally dominated our policy agenda, whereas policymakers should also have focused on piracy and helping smaller cinemas buy into all these technological developments."
Gender gap
This year's CineEurope will kick off with a seminar called 'Women in Cinema — The Business Case', and the issue of gender-balanced leadership is one that remains close to Runge's heart. "When I came to UNIC, I worked in the environment of Brussels, policymaking and all that revolves around it — government affairs," he says. "That's very diverse, at least from a gender perspective; it's not diverse from other perspectives. And it was astonishing to go to the first exhibition events [and see the contrast]."
"Gender-balanced leadership remains a big issue for cinema exhibition, and an even bigger issue for the wider film industry. More than 50% of our audiences are female; probably a larger share than that makes purchase decisions. When you look at the senior executives in the industry, they're predominantly male, and it's really something that's very old-school and should be addressed."