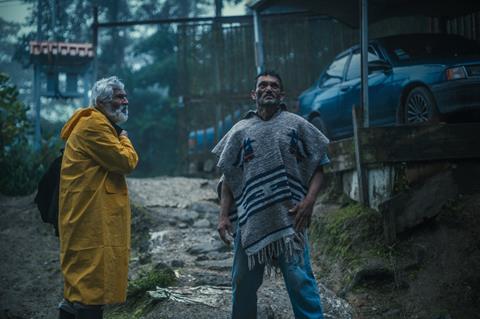 When Ariel Escalante Meza's Domingo And The Mist premieres in Un Certain Regard on Wednesday, it will mark the latest major festival berth for a Costa Rican filmmaker following the world premieres of Clara Sola in Directors' Fortnight last year and Land Of Ashes in Critics' Week in 2019. After years of relative obscurity, filmmakers in the tiny central American country are making good on the promise of trailblazers like Paz Fabrega, whose Cold Water Of The Sea (Agua Fria De Mar) won the Tiger Award at Rotterdam in 2010.
Costa Rican filmmakers are a close-knit community, sharing expertise and often switching roles on each other's films. Funding remains an ongoing battle. The local Fauno fund allocates roughly $300,000-$400,000 annually to local talent, which barely moves the dial on all but the most micro-budget productions, leaving bigger films like Clara Sola to rely on international co-productions.
Local filmmakers, many of whom studied and trained overseas, cite the need for a film law to enshrine funding support for the community. Offering hope is a new package of incentives that comes into effect this month granting an 11.7% tax rebate and exemption from local taxes on materials and goods. An enthusiastic local community sees that as a start, but the hope is there will be more support in the years to come.
Escalante Meza received backing for his low-budget Domingo And The Mist from Doha Film Institute and Panama International Film Festival. The film was set up as a Costa Rica-Qatar co-production and shot in Costa Rica over three-and-a-half weeks about a year ago with a
seven-person crew. "It was a very punky experience that we're all very proud of," says the Marxist devotee, who studied at film school in Cuba and Montreal. The story follows a man who refuses to make way for developers, and mixes reality with magical realism.
"It's hard for a film to be entirely Costa Rican; many have been international co-productions," adds Escalante Meza. "It has been a while since I've seen a 100% Costa Rican film travel beyond our borders. Other countries in South America can entirely produce their own films, and that's something I'm looking forward to."
Today Costa Rica has one film school — at Veritas University in San José — but it is private, which makes it prohibitive for some to attend. "Every country committed to see itself through its cinema needs a public-funded film school," he notes.
Escalante Meza's DP and producer Nicolas Wong Diaz studied at Veritas, while many people he knows attended other film schools in the wider region, such as the Cuban Institute of Cinematographic Art and Industry. "There was this influx of young people in their 20s coming back to Costa Rica with a wider perspective on the film world," Wong Diaz says.
Alexandra Latishev, whose Medea came out in 2017, also studied at Veritas and cites Fabrega and Hilda Hidalgo (Of Love And Other Demons) as inspirations in her career. "As a female filmmaker, it has been very important for me to have other female filmmakers as direct references," she says.
Latishev raised money for Medea through a crowdfunding campaign and private investment, and set up a co-production with Chile at San Sebastian's work-in-progress programme, which helped with post-production. She is now working on her second film Delirio, a drama about a girl and her mother who go to live with a grandmother who has dementia. The project has thriller and psychological horror elements and is expected to premiere in early 2023.
Dual purpose
Nathalie Alvarez Mesen's Clara Sola was a Sweden-Costa Rica co-production that took advantage of the filmmaker's dual nationality. Producer Marcelo Quesada Mena of Pacifica Grey notes the production received international funding before local funding. "This helped the film gather a budget that's much bigger than the average Costa Rican film," he says. "We were lucky to work this away, along with amazing producers from Sweden, Belgium, US and Germany."
Land Of Ashes director Sofia Quiros assembled the money for her film through state funding, co-production and lab support. She is working on her second film Madre Pajara, which will centre on a young boy growing up with a sick mother who fantasises their neighbour might be his new mother. That project will follow the same financing path.
"There are films that are made without co-production, only with the [El Fauno] fund, but they are very intimate films with few locations and few characters. I would love to make a more guerrilla film in the future, but for now my stories require other forms of production," Quiros says. "Every time a national movie triumphs, we all grow and celebrate.