At MBI's inaugural Creative Week, some 800 delegates heard about the latest inspiring work across new and old platforms. Andreas Wiseman highlights the discussions across a variety of industry issues.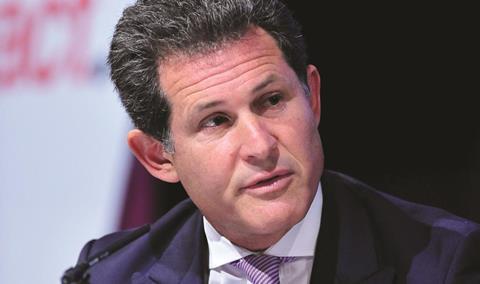 Consolidation, convergence, fragmentation, big data, diversity and the UK VFX boom were some of the main talking points at the inaugural Creative Week, launched by MBI brands Screen International, Broadcast, shots, ALF and Brad.
Executives from the BBC, ITV, Channel 4, Sky, Facebook, Twitter, Google/YouTube, Warner Bros and Double Negative were among experts to address more than 800 delegates from the UK film, TV, media, advertising and tech industries at the four-day event held at BAFTA in London.
During his keynote, ITV chief executive Adam Crozier cited Netflix's incoming $170m (£100m) project The Crown to highlight the growing importance of drama internationally, and as an example of "growing convergence" between the TV and digital sectors: "We've seen big new dramas coming through [ITV], and without giving any names away, when we look to sell rights to various countries, some of the biggest bidders will be companies you wouldn't associate with broadcast," he said.
Closer to home, Crozier hinted that the original commissioning strategy for the broadcaster's new pay channel ITV Encore will put an emphasis on high-quality dramas that might be too niche for the main channel.
'The investment in the market means all boats are rising as the tide rises'

Josh Berger, Warner Bros Entertainment
The ITV chief executive explained that the creation of Encore would allow ITV to make original drama without the same pressure of delivering audiences in excess of 5 million.
He highlighted the critical acclaim of "particular niches" with shows such as Mad Men or Game Of Thrones, which do not get "huge audiences" but are "terrifically high quality", as the type of shows he would like to "add to the ITV offering".

Digital decisions
Earlier in the day, Channel 4 chief executive David Abraham, like Crozier, highlighted the growing importance of the digital sphere in informing commissioning decisions. He lifted the lid on how the broadcaster's 10,000-strong online panel Core4 is being used to test programme ideas and titles.
However, Abraham made clear that Core4 was a "soft guidance tool" for chief creative officer Jay Hunt and her team, rather than a substitute for commissioners' intuition or understanding of the channel's audience.
"Before, when we had a programme idea, there might have been traditional phases of pre-tests, or dial test reactions to a pilot… [but now] if Jay wants to test two or three alternative titles overnight, she can do that. If she wants to understand social attitudes towards an issue, she can do that," Abraham said.
He added that the tool was available at Channel 4's "fingertips, at all times".
The members of Core4 form a subset of Channel 4's 11 million registered 4oD viewers and offer the broadcaster a deeper level of data and engagement. Input from the smaller database allows Channel 4 to conduct fast-turnaround surveys into areas such as marketing concepts and scheduling suggestions. Core4 also gives the broadcaster insight into the devices its members own and their social-media usage.
Abraham added that Channel 4 now has the ability to analyse billions of pieces of data within minutes and is using that information in a number of ways.

Consolidation benefits
The pros and cons of consolidation were a hot topic among the host of high-profile TV production bosses speaking at Creative Week.
All3Media chief executive Farah Ramzan Golant was keen to stress the super-indie will preserve its autonomy following its acquisition by Discovery and Liberty Global. The former AMV BBDO boss ruled out quotas or guarantees between All3's 19 indies and Discovery's portfolio of channels.
"We already serve Discovery, we are one of their biggest suppliers in the States ― we don't want preferential terms, we don't want quotas and they don't want to guarantee anything to us. We have to be free, in a free market, to serve the best customers in the right way," Ramzan Golant said.
"What we negotiated is the autonomy to take the best idea to the best home, to get the best audience and best return. The dynamics of the joint venture are legislatively constituted that way because if anything is done that constrains the growth of All3Media, then the other shareholder is put out."
She added that while it was important to look after the interests of its new owners, it was even more important to ensure its production groups ― including Lime Pictures, North One Television, Objective and Studio Lambert ― were given the space to grow.

VFX powerhouse
The UK's growing VFX industry was a key focus across the week. Josh Berger, president and MD, Warner Bros Entertainment UK, Ireland and Spain, explained to delegates that the Harry Potter franchise was key to setting up the UK film industry to be a world leader in visual effects, paving the way for Gravity's recent success.
Berger noted that with the first Harry Potter film in 2000, less than 15% of the VFX work was done in the UK. By the final film's production in 2010, more than 85% of the effects were done locally.
"There was an expansion of the skill base, the assets, the sheer number of people working in the industry." It was that base of skills and talent that Warner could again tap into for the ground-breaking Gravity, with London-based Framestore leading the VFX.
'We have to be free, in a free market, to serve the best customers in the right way'

Farah Ramzan Golant, All3Media
Warner Bros itself is part of that growth after acquiring Leavesden Studios. And that growth will have a positive effect on the attractiveness of the UK's film sector to other significant film players, predicted Berger.
"The investment in the market means all boats are rising as the tide rises. Our coming in and investing certainly brings other people to come have a look. The level of production here is substantially up. There is a lot of competition for that space. When Star Wars decides to come here, that's a long-term, hundreds-of-millions-of-pounds investment; that's great news no matter where [which studio] it is made."
The tax credit system is another key to the UK's current boom, Berger added. "Some estimates say the production would drop 50% if there were no tax credits," he said.
Double Negative MD Alex Hope characterised the DNA inherent to the UK's growing VFX sector: "The UK has a group of companies run along sound business lines that compete fiercely with each other but are also collaborative. The growth of the sector since the late 1990s has been built on that bedrock.
"Turnover grew 500% between 1998 and 2004," continued Hope. "The UK took significant market share from the rest of the world."
Today, VFX companies occupy a more central role in the film-making process than ever before. Hope added: "Fifteen years ago, VFX was viewed as a post-production industry. That isn't the case today. Digital technology now allows us to empower directors from the very beginning of the film-making process. That's what VFX should be in the future. We should be the vanguard of digital change across the production process."
Creative Week's VFX Summit also addressed some of the pressing challenges facing the sector. Growing the UK's talent pool remains vital. "There are challenges to what we do in the UK," said Hope. "We've seen other countries, such as Canada, for example, really push forward their talent bases and take advantage of the tax credits they have.
"We have a wonderful talent base in the UK but at Double Negative 50% of our staff are non-Brits and that demonstrates a restriction to the indigenous talent pool here. That's a challenge for all of us."
In a later session, Pat Joseph, chief creative officer of The Mill, countered a recent survey by union BECTU that revealed working conditions in the sector to be draining and unpredictable. "I think the opportunities that our business provides for our staff are exceptional," said the exec.
"They are long hours but the pay is fairly good and the work is absolutely fantastic."

Targets with teeth
The industry-wide lack of diversity remains a burning issue for all UK creative industries and the topic was high on the agenda at Creative Week.
Broadcasters and indie production companies should be hit with financial penalties for failing to reach targets introduced to boost diversity, said a panel of TV executives.
The "targets with teeth" objective was laid out by Channel 4 newsreader Krishnan Guru-Murthy. The suggestion was supported by Trevor Phillips, ex-chair of the Equality and Human Rights Commission; BECTU diversity officer Janice Turner; and Maroon Productions founder Paul Blake.
"Past initiatives have not delivered and we now need to have the quota argument," Guru-Murthy said. He added that broadcasters must take ownership of targets, which should be attached to Ofcom-enforced financial penalties. Production companies should also be accountable, he argued.
He also suggested that plans to boost diversity in TV have the support of prime minister David Cameron, which could be crucial if legislation is required.
Turner said creative industry unions have written to the Arts Council England and the British Film Institute to call for enforceable targets, alongside transparency and accountability; the letter will also be sent to Ofcom.
Phillips said TV does not take the "same risks" on black, Asian and minority ethnic people as it does on other people. He suggested a UK version of American football's Rooney Rule, which could require a woman or BAME candidate to appear on every major job shortlist. Of the 62 board members at the BBC Trust, ITV, Channel 4, BSkyB and Ofcom, only the BBC's Sonita Alleyne is non-white, he added.
With reporting from Matthew Campelli, Alexandra Chapman, Chris Curtis, Jake Kanter, Wendy Mitchell and Peter White.