The UAE is fast becoming one of the most popular shooting destinations in the Middle East.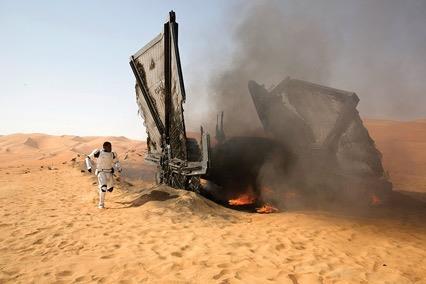 Dubai dwellers have a new pastime: spot the film shoot. Paparazzi and smart-phoned amateurs have had plenty of choice with Justin Lin's Star Trek Beyond and Jackie Chan's action comedy Kung Fu Yoga filming concurrently in and around the city this autumn.
Their arrival is one more sign of the UAE's growing popularity as a film location. Two hours down the road, Abu Dhabi was gearing up for Brad Pitt's Afghanistan-set war satire War Machine, which is now shooting, having housed Fast & Furious 7 and Star Wars: Episode VII — The Force Awakens in 2014.
Just a three-hour flight away from Mumbai, the Gulf state is also an increasingly popular destination for Bollywood productions. Indian box-office hits Welcome Back and Happy New Year were shot in Dubai, and Abu Dhabi will welcome another potential Bollywood blockbuster, Dishoom, starring Varun Dhawan, Jacqueline Fernandez and John Abraham, the latest production from one of India's oldest production companies, Nadiadwala
Grandson Entertainment.
The UAE's progress as a shooting destination is remarkable on a number of levels, not least because the drive to entice international productions is not even a decade old. "Ten years ago everyone was hesitant about this
whole project but we knew where we were heading," says Jamal Al Sharif, chairman of the Dubai Film & TV Commission, founded in 2013.
"It has developed enormously since I arrived in 2010," says line producer Maxine de Vere, who worked on Fast & Furious 7 and managed the Kung Fu Yoga shoot.
Al Sharif, who is also the managing director of content at the production hub Dubai Studio City, has been a driving force in enticing international productions to the UAE. De Vere also credits the late Tim Smythe, founding
CEO of Dubai's first major production company Filmworks, as a major force.
Al Sharif and Smythe's first joint coup was to convince Paramount to shoot part of Mission: Impossible — Ghost Protocol in Dubai in 2010. That was the city's Hollywood big-screen break, featuring a gravity-defying stunt
by Tom Cruise high up the Burj Khalifa.
That experience and Dubai's futuristic architecture convinced executive producer Jeffrey Chernov and producer Bryan Burk to return to Dubai some five years later with Star Trek Beyond.
"They knew a bit about the landscape," says Al Sharif. "Simon Pegg, who was in the cast of Mission: Impossible and co-wrote and stars in Star Trek Beyond, also has a soft spot for Dubai."
It was not a done deal, however, as Paramount also scouted the South Korean capital of Seoul and Singapore before deciding on Dubai.
"At a press conference ahead of the shoot, Chernov ensured Dubai's place in Star Trek history when he declared, 'We came searching for the future and we found it in Dubai,' smiles Al Sharif. "The look of Dubai really fitted the film. As they were completing the script, they were liaising with the location scouts to put specific buildings into the story."
Locations included Dubai¹s DIFC financial district and the Jumeirah Lake Towers neighbourhood. The production also used a 14,000 sq m soundstage at Dubai Studio City.

Incentive gain
Of course, it's also about money. Saving it specifically. Dubai and Abu Dhabi's iconic futuristic cityscapes, rolling desert landscapes and luxury hotels are not enough in themselves to entice productions in the competitive global locations business. Both emirates offer incentives: Dubai prefers tailor-made 'soft' solutions while Abu Dhabi has had a 30% cash rebate since 2012.
"We customise our offer on a film-by-film basis," says Al Sharif. "We can help out on facilities, services, customs, accommodation and transportation. In total it can amount to 30%, sometimes even 50%, of
costs."
Paul Baker, executive director of film and TV services at Abu Dhabi's media and entertainment hub twofour54, which works closely with Abu Dhabi Film Commission, says the cash rebate and soft incentives, such as
discounted or complimentary hotel nights, always end up being paid back many times over on a number of levels. Productions come in and spend a significant amount of money in a relatively short time.
In 2014, the projects coming through the film commission added up to 15,000 hotel-room nights, which is a significant contribution to Abu Dhabi's wider infrastructure, he explains. A recent study by accountancy firm PwC revealed that for every AED1 ($0.27) that was invested via the cash rebate, an AED4.5 ($1.23) contribution was generated from productions shooting in the emirate. Indirect benefits also include raising the Emirate's profile around the globe and boosting tourism.
Abu Dhabi's Etihad Towers, for example, takes centre stage in Fast & Furious 7 when Vin Diesel's Dominic Toretto drives a sports car off the 45th floor of the tallest of the five buildings. The five-star Emirates Palace Hotel was also one of the film's key backdrops.
Baker is expecting the impact of Star Wars: Episode VII — The Force Awakens to be even greater following the film's release in December.
"We've been tracking the press mentions of Abu Dhabi alongside Star Wars in the media and the value of that is more than $100m," he says. But for both Al Sharif and Baker, these are fringe benefits. Enticing international productions is part of a wider strategy to create a self-sustaining media and entertainment industry. In turn, this is part of the UAE's efforts to diversify from its reliance on oil and natural gas as chief sources of income.
"Twofour54 remains very focused on the development of Abu Dhabi as a global production hub — it's one of our core drivers," says Baker. "In the long term, the media sector could make a significant contribution to the
economy, even if at the moment it¹s a minnow in a world of oil."
For Al Sharif, the arrival of international productions sets in motion a virtuous circle in which local crews gain experience, boosting the overall production scene. "Our aim is to create a vibrant enough sector that both
local and expat production professionals can come and settle in Dubai in the knowledge there will be enough work," says Al Sharif, who points out that beyond news, TV and film, Dubai is also home to the region's main
advertising hub.

Can the UAE cope?
As the number of major productions hitting the UAE rises, however, there are question marks over whether the country's fledgling infrastructure has the depth to house them all. Baker says the breadth of production services
and facilities in Abu Dhabi is expanding. He points to the example of Mumbai-based lighting specialist Light N Light, which recently opened a branch in Abu Dhabi, investing in a sizeable acquisition of ARRI lights
for the new facility.
"On my shoot with Jackie Chan, we had a Chinese camera crew and a few key people but most of our heads of department were from here as was our production team," says de Vere, who is confident the UAE can cope.
"Facilities are being developed more and more and I still see it increasing with one main facilitation company now having a number of unit trucks and gear."
Al Sharif is equally positive about the UAE¹s ability to handle multiple productions at once. "When Mission Impossible shot here, the ratio of non-resident crew to Dubai resident crew was 70:30. Five years later on
Star Trek Beyond, it was 40:60. That¹s a big shift," he says. "Having taken two large films in one month, while another was in pre-production down the road, we¹ve proven we can handle it."