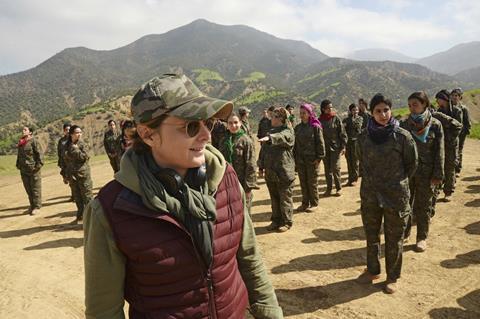 Caroline Fourest's debut fiction feature Sisters In Arms (aka Red Snake), inspired by the real-life exploits of international volunteers who joined Kurdish female fighters in the war against ISIS in Syria and Iraq, made its world premiere at the El Gouna Film Festival in Egypt last week.
It opens in France via Metropolitan Filmexport on October 9. Sierra/Affinity is handling international sales.
Fourest is best known in her native country as a hard-hitting columnist and documentarian, interested in topics such as women's and gay rights, extremism and religious fundamentalism.
Her move into fiction filmmaking brings together many of those themes and Fourest describes Sisters In Arms as "a feminist war film". It tells the story of members of a female fighting unit involved in heavy combat against Jihadists, weaving in the life stories that led them to the frontline.
The ensemble international cast features Dilan Gwyn, Amira Casar, Camélia Jordana, Maya Sansa, Esther Garrel, Nanna Blondell and Noush Skaugen.
Jordana plays a young French-Algerian woman who joins the unit in response to terror attacks back home; Casar is a Kurdish commander; Sansa plays a former model with an anarchical streak; Blondell is a skilled sniper; and Gwyn plays a former Yazidi slave determined to free her brother from the clutches of ISIS.
Their characters were inspired by interviews Fourest conducted with real-life fighters as well as accounts about women who died on the battlefield.
Charlie Hebdo attack
Fourest started developing the feature in a personal response to the deadly terror attack in January 2015 on the offices of satirical magazine Charlie Hebdo in Paris, where she had once worked. (She wasn't working there during the attack.)
"I lost a lot of friends and colleagues. It became difficult for me to express all the emotions I was feeling with journalistic language," she explains.
Some 4,000 kilometres away, ISIS's campaign to establish a worldwide caliphate, or Islamic state, was at its peak. By the end of 2015, it boasted some 30,000 fighters and had seized control of vast swathes of western Iraq and eastern Syria.
Fourest became interested in the women travelling to the region to join Kurdistan's female fighters battling ISIS on the ground as international volunteers.
"The ISIS fighters on the front were scared of being killed by a female fighter. They believed it would deprive them of paradise and the virgins that went it," she recounts.
Around the same time, she also came across the first accounts of survivors of the Yazidi genocide perpetrated by ISIS fighters on the minority community living on the border territories between Iraq and Syria.
From 2014 onwards, ISIS slaughtered thousands of Yazidi men and abducted some 3,500 women and girls, selling many of them into sex slavery. To this day, hundreds of Yazidi people remain missing.
"I came to the conclusion that in the same war, you had peak feminist power and peak misogyny," said Fourest.
She decided that rather than focusing on a single Kurdish faction, the unit featured in the film would be a composite one with imaginary uniforms and flags rather than real-life ones.
"I spoke to all the Kurdish factions and a lot of Yazidi survivors, including Nadia Murad, the Nobel Peace Prize winner, but then made the deliberate decision to not talk about any one particular faction," she explains.
"It stops the film from dating and also preserves its metaphorical force as a tale about women fighting religious totalitarianism, a battle that in my opinion is not finished."
Fighting preconceptions
The project started to take more shape following a chance meeting at a party with producer Leo Maidenberg at Place du Marché, who expressed an interest in working with Fourest.
He would go on to bring on board Jad Ben Ammar, the son of Tarek Ben Ammar, who produces under the Kador banner. It would be a first fiction feature for all three of them.
An early hurdle during the development and financing stage was the discovery French director Eva Husson was working on Girls Of The Sun, a project also inspired by female Kurdish fighters.
"Girls Of The Sun complicated things for us. People would say, 'But there's already a film out there about this war told by a woman'," recounts Fourest. "My response was, 'Do you know how many films have been made by men about the Vietnam War? Both Platoon and Full Metal Jacket were directed by men and that never posed a problem'."
Fourest also had to work hard to get potential backers to see beyond her image as an intellectual and convince them she was not interested in making an arthouse film.
"I wanted to shoot a real war film, a feminist war film, but a war film nonetheless," she said.
Samuel Hadida
One of the big turning points was getting the late Paris and Los Angeles-based producer and distributor Samuel Hadida on board the project.
"Because I'm a well-known figure in France a lot of distributors wanted to sign the film but they couldn't offer the sort of investment we needed," says Fourest. "Samuel Hadida, on the other hand, had never heard of me but liked the script, my energy and the war scenes. He accompanied me in my desire to make an action film and a war movie because he really believed in that vision too."
Support also came from another unexpected quarter in the shape of Tarek Ben Ammar, who convinced Fourest's two young producers to give her a shot at directing the film rather than trying to attach a more experienced fiction filmmaker.
Metropolitan Filmexport, the Paris-based distributor co-founded by Hadida with his brother Victor Hadida, is now gearing up for a release across France this month. Fourest hopes the film will attract a wide and youthful audience. She says the three million views for the film's trailer since it was posted online at the end of August suggest there is interest out there.
"One of my big frustrations as a journalist it to not be able to get through to this younger generation which was got caught up in this war on both sides. We've talked a lot about the people who got involved in ISIS, this film looks at those people who supported the other side," says Fourest. "With this film, I hope to connect with the people I don't manage to connect with through my books and documentaries."