Hugely respected by her peers, Ann Dowd has taken a slow journey to leading film roles — and enjoys another important breakthrough with intense US indie drama Mass. Screen talks to her about a life of creative commitment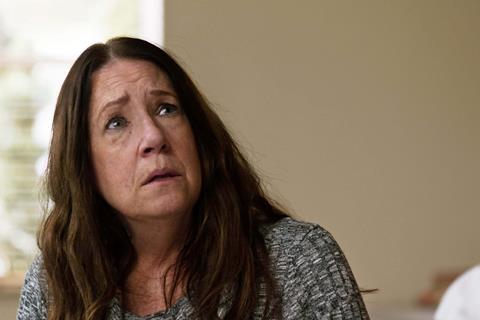 Ann Dowd remembers the moment when the text message arrived from her agent that would prove so consequential for her life and career.
She had auditioned for Craig Zobel's US indie drama Compliance, based on the true story of a fast-food restaurant manager who falls victim to a manipulative phone caller impersonating a police officer, but the shooting dates clashed with another commitment.
In early 2011, she was appearing alongside Ethan Hawke in stage play Blood From A Stone at New York's Pershing Square Signature Center. "It was between acts one and two, and generally I don't touch the phone during a play," she says. But she read the message, bearing the good news that Compliance's shooting dates had shifted and the role of the restaurant manager was hers.
In 2011, Dowd turned 55 and was already decades into an acting career that included acclaimed major work for the stage, and supporting parts in films ranging from Jonathan Demme's Philadelphia to Bryan Singer's Apt Pupil, Clint Eastwood's Flags Of Our Fathers and Steven Soderbergh's The Informant!. But major film roles had eluded her, and she had already parted ways with an early agent who had told her that she would always be "a character actor". ("I remember thinking, 'You've just put a limit on something you have no business putting a limit on.'")
Compliance premiered at Sundance in 2012, ultimately earning Dowd a raft of nominations including at the Independent Spirits and a win at the National Board of Review. The process took the actress way out of her comfort zone, onto red carpets and in front of flashing cameras ("I remember laughing, which was helpful because you've got to keep smiling"), but more importantly it opened the door to bigger opportunities in film and tele­vision, ultimately leading to two seasons of Damon Lindelof's HBO series The Leftovers (2014-15), playing cult leader Patti Levin, and then the role of enforcer Aunt Lydia in four seasons to date of Hulu's Bruce Miller-created The Handmaid's Tale (beginning 2017).
The transformative decade since Compliance means that when the screenplay arrived for Fran Kranz's Mass, it came with a firm offer to play Linda, who is the mother of a teenage boy who six years prior embarked on a mass shooting at a high school, before taking his own life. Mass sees Linda and her husband (Reed Birney) brought together — by a restorative justice project — with the parents of one of their son's victims (Martha Plimpton and Jason Isaacs).
When the Mass screenplay arrived, "I didn't know what it was about," recalls Dowd. "I read it, and was struck by its beauty and its truth, and two questions at one time. How could anyone turn this down? Which is to say, of course, I will do this. And at the same time, can I really do this justice, to drop into that level of grief for the necessary time to respect the character?"
The essence of the film is a single discussion in an Idaho church basement room between the two sets of parents, filmed with long, intense takes over just eight days, often covering 12 pages of script in a single day.
"It was one of the most extra­­ord­inary, profound experiences I've ever had," says Dowd, who has clocked up more than 100 film and tele­vision credits to date. "Because we had established that level of trust, we were comfortable with our own process. We each had our own way, but none of it was, if you will, precious. There wasn't any time for such things — and we weren't inclined either."
Release came between takes. "Howling with laughter, to the point of weeping regularly. Reed Birney is a very, very funny man. Everyone's funny in this group. And we just were very, very close."
In preparation, Dowd read A Mother's Reckoning: Living In The Aftermath Of Tragedy by Sue Klebold, mother of Dylan Klebold, who was one of the two perpetrators of the Columbine High School shooting in 1999. "I needed a friend, meaning someone who act­ually went through this, who was the mother of a shooter, who didn't see it coming. I didn't dwell, I just read it and then kept my hands off, and just saw where it settled."
As told recently to Screen by Dowd's co-star Jason Isaacs, Kranz — an actor making his writing/directing debut with Mass — kept himself out of the room while shooting, watching on a monitor, ceding the space to his cast. "He wanted us to be alone," says Dowd. "I think many of us don't remember where the camera was. I can't remember [a boom mic]. Whatever it was, it was out of sight and kept us free of anything. The crew were fantastic, very respectful."
It has taken Dowd more than a little courage to forge her creative path. "I worked as a waitress for a long time," she recalls. "Pregnant with my first child at 35. Working in a pet shop in New York City, and nothing in the bank. My husband [Lawrence Arancio] and I are actors. And rather than be alarmed, which I should have been — 'What are the plans, hon?' — I just never thought twice. It was, 'It'll all be fine.' That's denial, I suppose.
"I never thought of myself as an ingenue. Nor did anyone else, for that matter. Each job felt like a triumph, for a long time. And then Compliance. Compliance is the first time I ever said in an audition, 'I don't know if you're interested in me, but I'm interested in you, and in this part.' I just never put it in the room before. So that felt cool."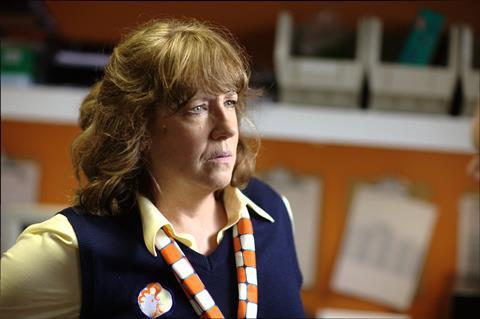 Awards experience
Winning a Primetime Emmy — for the first time, aged 61 — in 2017 for The Handmaid's Tale made an impact. "I'll never get over that," she says. "Then you realise, 'I loved that. That was great.' And then you begin to attach to winning. That's when I realised, 'Honey, take a step back.'"
Dowd is appreciative of the place she finds herself in, and is finding the festival circuit with Mass — whose journey began at Sundance last January — a part­icular pleasure. "The audiences have been so lovely. I just feel so much gratitude for the experience, and that it's being recognised. How do you thank somebody for that? I remember all those days where you didn't know the next job, so to be in this place now…"
Since Mass, which has earned Dowd a place on Bafta's supporting actress longlist, that next job has included a one-person show — UK director Robert Icke's radical adapt­ation of Henrik Ibsen's Enemy Of The People — at New York's Park Avenue Armory. She also has season five of The Handmaid's Tale, which takes up around six months of the year.
Not the first actress to find opportunities expanding rather than diminishing as she gets older, Dowd is no longer concerned about any label applied to her. "You can call it character actor, or anything you want," she says. "Now say what you will, it's perfectly fine, I'm doing the work I love."