Eddie Murphy has earned a Golden Globe nomination playing cult comic Rudy Ray Moore and his outrageous fictional stage persona in Dolemite Is My Name. The star talks to Screen about returning to the Hollywood limelight.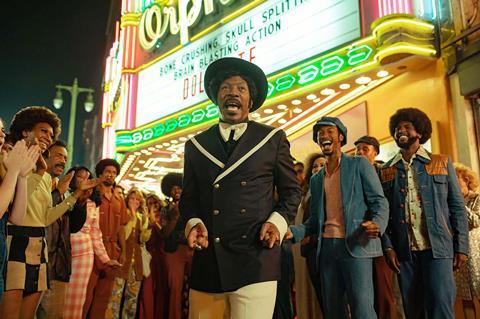 Like Eddie Murphy, Rudy Ray Moore was a comedian who parlayed a talent for raunchy stand-up into a run of albums and movies. Murphy, though, suggests that it is what sets him and Moore apart — not what they have in common — that drew him to Moore's story, as told in the Golden Globe-nominated comedy Dolemite Is My Name.
"Maybe one of the reasons I'm fascinated with Rudy Ray Moore is because his career is the polar opposite of what happened to me," says Murphy, who picked up a Globe nomination in the best actor, musical or comedy category, for his funny and surprisingly touching performance in the film. "The one thing we have in common is we're comedians."
Moore, who died in 2008, was a middle-aged showbiz struggler when he invented the stage persona of Dolemite: a pimp with a cane, an outrageous wardrobe and an arsenal of obscenely funny tales. As recounted in the film, Moore rounded up a crew of friends, students and other misfits, and self-financed the production of a no-budget movie built around the character. Dolemite became an underground classic of the mid-'70s blaxploitation movement and was followed by a string of other action comedies headlining Moore, whose vocal style made him an influence on the development of hip-hop and earned him the nickname 'The Godfather of Rap.'
By contrast, Murphy, in his own words, "got blasted out there" while he was still a teenager, joining the cast of Saturday Night Live in 1981 and within a year starting work on a run of big-budget movies — including 48 Hrs., Trading Places, Beverly Hills Cop and Coming To America — that would make him a comedy superstar by decade's end.
Since that explosive start, he has had some massive hits (The Nutty Professor and Dr Dolittle series among them), the odd high-profile miss (like 2002's The Adventures Of Pluto Nash), earned a best supporting actor Oscar nomination for 2006's Dreamgirls and amassed a filmography with an aggregate worldwide gross of more than $7bn.
It was back in the early 2000s that Murphy, sparked by the story of the original movie and after seeing Moore perform stand-up at a Los Angeles club, started developing his Dolemite project (on which he is also a producer). "I have a soft spot for movies about misfits making movies," Murphy confides. "I love Ed Wood, I love Bowfinger, [the 1999 comedy] that I did with Steve Martin."
The movie version of Moore, his portrayer says, has a dream but none of the attributes necessary to make it a reality: "He has the least amount of talent, he doesn't have the looks, he doesn't have the equipment, he's surrounded himself with a bunch of people that have never done it before. The thing that makes it happen is his belief in himself. You have to be inspired by a guy like that."
Murphy met with Ed Wood writers Scott Alexander and Larry Karaszewski, who turned out to be fans of Moore and were keen to sign on. Studios, however, were more difficult to win over, even for Murphy, who at the time was not at his box-office peak and was also considering a biopic project about a better-known black entertainment icon, Godfather of Soul James Brown.
"I remember sitting with studio executives and they didn't know who James Brown was," Murphy recalls, "so Rudy Ray Moore 15 years ago…? It was probably harder to get it made after I'd just made Pluto Nash, but even without that they didn't know Rudy Ray Moore. We needed Netflix to come on the scene to be able to make this movie."
Making the project with Netflix — which premiered Dolemite in September at Toronto International Film Festival and in October gave the film a three-week US theatrical run followed by a streaming launch — gave Murphy, fellow producers John Davis and John Fox and director Craig Brewer the chance they needed. "You have creative freedom," Murphy enthuses on dealing with the global streamer, "and you have a bunch of smart young people that you're working with. I love Netflix."
Off the couch
The reception afforded to Dolemite has put Murphy firmly back on the industry map after a spell during which he, by his own admission, "sat on the couch for years". And several upcoming projects that have been in development for almost as long as Dolemite should keep him busy.
Due from Paramount for Christmas 2020 is a Coming To America sequel (aka Coming 2 America), which Murphy recently wrapped with Craig Brewer again directing and a cast including the original's James Earl Jones and Arsenio Hall as well as Dolemite's Wesley Snipes.
On the horizon is a fourth Beverly Hills Cop film, recently made possible by a deal in which Paramount licensed rights for the property to Netflix, with Murphy and original franchise producer Jerry Bruckheimer attached. Murphy reveals he has talked about the project with Adil El Arbi and Bilall Fallah, directors of Bruckheimer's upcoming Bad Boys For Life, but wants to make sure the script for his Axel Foley character's first outing since 1994 is right before going ahead: "It has to be good enough to where you forget about Beverly Hills Cop III," he insists.
Meantime, Murphy is considering using his currently heightened profile to promote a return to stand-up comedy, the form he started out in but last highlighted in 1987 performance film Raw. And this month, maybe as a stand-up tryout, he hosted Saturday Night Live for the first time in 35 years, returning to the show that helped make him a star.
When he was planning a schedule made suddenly hectic by the acclaim for Dolomite Is My Name, the gig on Saturday Night Live, Murphy says, "seemed like a nice little way to bookend everything, in case I wanted to sit back on the couch again for another 10 years".