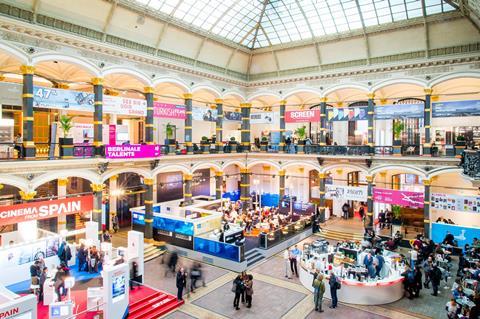 The presence of several eye-catching packages helped to bolster spirits at the EFM, although the chasm between the haves and have-nots remains as wide as ever.
Buyers who could afford the most desirable commercial product from the blue-chip sales companies responded enthusiastically to Lionsgate International's John Wick: Chapter 3, Sierra/Affinity's Official Secrets and Front Runner and Kung Fury from Bloom.
There was plenty of interest too in Late Night, The Aeronauts and The Personal History Of David Copperfield from FilmNation, STXinternational's Finest Kind and The Marsh King's Daughter, Voltage Pictures' Roland Emmerich epic Maya Lord, and The Exchange's Drew Barrymore comedy The Stand-In.
Studiocanal's Mia And The White Lion has sparked activity, as have TrustNordisk's competition selection U-July 22 and Protagonist's Sundance hit The Kindergarten Teacher, among others. UK buyers in particular seemed happy to get their wallets out, while US deals were thin on the ground besides Sony Pictures Classics' move on Rupert Everett's Berlinale Special Gala screening The Happy Prince.
Yet for many Berlin buyers and sellers, overwhelmed by fundamental change in the industry and unsettled by the fickle currents of market forces, it was hard to connect with the right material. For the arthouse buyers in particular, a gloomy and thus far unremarkable festival selection has offered slim pickings.
Protagonist Pictures' managing director of sales and distribution Vanessa Saal expressed "relief that business seemed to be happening", adding that the lack of pick-ups by Netflix and Amazon, despite both companies being in Berlin and scouting for product at all stages, gave "independents more of a chance to position themselves".
Global Road, without new sales titles since Tang Media Partners merged IM Global, IM Global Television and Open Road six months ago, staged what buyers who spoke to Screen said was a presentation that lacked substance in which top brass said they planned to raise a $1bn production war chest.
As the vastly experienced Rob Friedman, Global Road chairman and CEO, attempts to build Summit 3.0, all eyes will be on what his international team brings to the Croisette in May.
Some newer players already seem to have hit their stride. "There is a resurgence in the marketplace following the AFM drought," STXinternational president of sales John Friedberg said. While that is good news for those who inhabit the upper echelons, the trick for everybody else is how to get in on the action.