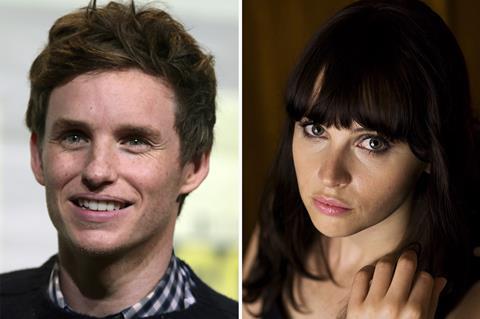 Amazon Studios has unveiled its first output deals here in Berlin in a sign that the deep-pocketed titan is looking to expand its global footprint and forge closer ties with international buyers.
The development comes as FilmNation, the company's frequently used international sales agent, said it had struck key pre-sales on Amazon Studios' hot air balloon adventure and EFM sales title The Aeronauts starring Eddie Redmayne and Felicity Jones.
Under the new outputs struck by Amazon Studios, the company's filmed content will get theatrical distribution through Transmission in Australia and New Zealand, Scanbox in Scandinavia, Gaga in Japan, and Telefilms in Spain and Latin America.
The Aeronauts will go through those output deals and has also landed distribution in a slew of pre-sales struck between distributors and FilmNation on the eve of the market.
eOne has secured rights for the UK and Canada, while Telemunchen will distribute it in Germany.
Tom Harper (Peaky Blinders) will direct The Aeronauts from a screenplay by Jack Thorne. Harper produces alongside Mandeville Films' David Hoberman and Todd Lieberman, who are riding high on the $285m-plus global success of Wonder and 2017 phenomenon Beauty And The Beast.
Oscar-winner Redmayne and Jones, who starred opposite each other in The Theory Of Everything, will play a headstrong scientist and wealthy widow who plan an expedition to fly higher in an air balloon than anyone has gone before.
Amazon Studios financed The Aeronauts and will self-distribute in the US.
FilmNation has sold international rights on Amazon Studios titles since 2016, handling the likes of The Big Sick, Luca Guadagnino's Suspiria remake, Todd Haynes' Wonderstruck, and Doug Liman's The Wall.