David Bowie's shadow looms large over The Man Who Fell To Earth, a TV sequel to his 1976 cult classic. Screen speaks to the show's stars.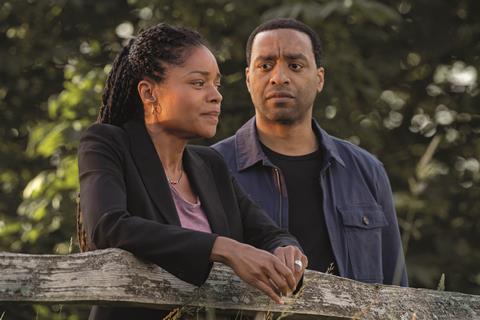 David Bowie is having another moment, six years on from his death in 2016 and six decades since his first musical forays. Moonage Daydream, Brett Morgen's psychedelic celebration of the singer's life, art and recordings, made a splash at Cannes, earning strong reviews and a rapturous ovation at its Midnight premiere. Showtime, meanwhile, is making its own contribution to his legacy with The Man Who Fell To Earth, a reprise-cum-sequel to the 1976 sci-fi parable in which the then 28-year-old Bowie gave one of his most indelible screen performances.
Directed by Nicolas Roeg and based on the 1963 novel by Walter Tevis, the original film told of an extraterrestrial visitor who, having come to Earth to save his home planet from a devastating drought, becomes corrupted by the trappings of wealth and celebrity. Its TV follow-up returns to the story 45 years later, as another alien arrives from the distant orb of Anthea to complete his predecessor's mission.
Teaming up with Justin, a former scientist who turned her back on her calling to care for her family, the alien — who adopts the name Fara­day — sets out to perfect a renew­able power source that could secure the future of both his world and ours. Before he can do so, however, he must acclimatise to his strange new surroundings — an assimilation process made more complicated by his unnervingly direct manner and a constant need to consume improbably vast quantities of water.
"I did get through a lot of water on this," says Chiwetel Ejiofor, the UK actor and 12 Years A Slave star who plays the role of Faraday in Jenny Lumet and Alex Kurtzman's 10-part series. "And I did at one point decide to Google to see whether I could cause myself any serious damage by drinking so much of it," he adds. Fortunately there was nothing harmful in his character's H2O habit.
Any residual discomfort, meanwhile, paled in significance next to the "huge" lizard-like contact lenses he was required to wear during scenes in which Faraday reverts to his reptilian Anthean form.
Having grappled similar eyewear in the likes of Venom: Let There Be Carnage and the Pirates Of The Caribbean sequels, fellow Brit Naomie Harris could sympathise with her co-star. "I have had that experience many times, so I know he was super uncomfortable," says the Moonlight and James Bond actress, who as Justin becomes Faraday's reluctant guide and protector on a road trip that takes them across the US and eventually to England. "I have to give him a lot of credit, because he never complained once."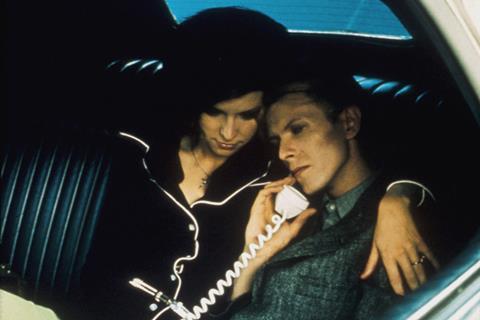 Ejiofor recalls seeing Roeg's original "in my early teens" and freely admits that much of it "went above my head".
"But I was struck by David Bowie, of course, as it was such an iconic performance," he adds. "Everything he did in the film seared into your brain; you couldn't rip your eyes away from him." As Ejiofor began working on his characterisation, however, it soon became evident there was only so much of Bowie's Thomas Jerome Newton that he could draw inspiration from.
"What I discovered, in the end, is you can only play your own alien," he explains. "I was looking at a lot of material, from E.T. The Extra-­Terrestrial to Starman to [Iain Softley's 2001 film] K-PAX, and you realise pretty quickly that you can't lean on any of them. You've got to discover your own alien, your own connection to what is alien, and to what it felt like emotionally when you have felt like an alien yourself. Faraday is not a character who is brand new but an adult being who carries the weight of a lifetime of experience, and mining experiences from my own life was my entry point into playing him."
Different worlds
Ejiofor's cerebral approach was counter­balanced by the more instinctual technique practised by Harris. "Chiwetel likes a lot of rehearsal and to discuss the script, so he did a lot of that with Alex and Jenny," she explains. "I'm very different because I don't really like rehearsals; I like to come and be surprised by what's happening in the moment. I felt we were coming from two different worlds in the way we were approaching the material. But I thought that was apt because we're supposed to be from two different worlds, and I think our different techniques helped to create our dynamic on screen."
Given her own passionate advocacy of environmental issues, Harris is pleased the show addresses the existential threats of climate change and impending ecological disaster. "It gives us an insight into what it could be like in the very near future if we continue on the path we're on," she says. "I think that's a timely message that we as an audience need to hear. But what I love about it is that this powerful and edifying message is wrapped in the candy floss of entertainment. We are not bashing people over the head; we're letting them see it for themselves and come to their own conclusions."
Ejiofor, meanwhile, is no less happy the drama, which airs on Showtime in the US and will be available on Paramount+ in the UK and Ireland, has a point of view on the vexed topic of displacement and immigration. "Faraday calls himself an immigrant and a refugee, and I think it does address the way we look at migration," he says. "We are increasingly conditioned to look at it as a negative energy, so the idea of looking at it through the lens of somebody who comes from a different planet, with all this information and knowledge to offer, definitely does resonate.
"I think something that should always be put back in the forefront of the conversation is all the positive aspects migration has given us," he continues. "These are incredibly fulfilling groups of people that have a real place in society."
The shadow of Bowie looms large over the series, which not only incorporates snatches of his lyrics within its dialogue but also names each of its episodes after one of his songs. It seems fitting, then, that Thomas Newton should make a reappearance, with Bill Nighy stepping flamboyantly into the late singer's shoes.
"Bill is an absolute legend in his own right, so who better to play another legend?" muses Ejiofor, whose personal kinship with the veteran actor stretches back more than 20 years. Having starred alongside Nighy in the Pirates Of The Caribbean franchise, Harris was just as glad to be reacquainted, calling him "one of the nicest people on the planet and an incredible human being."
Neither Ejiofor nor Harris can say at present if The Man Who Fell To Earth will receive a second season. As far as Ejiofor is concerned, however, "there is much more real estate and more stories to tell if we're lucky enough to do it. I love when people watch the show and have a good time, when they engage with these characters and get caught up in the story. But I also think its themes are so rich and powerful, and that it's optimistic and hopeful about where we can possibly go."