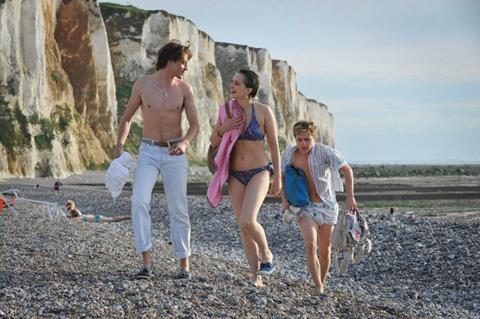 Don't expect a mad buying spree during the virtual Cannes Marché next week.
"Like everybody else I guess, we will be extremely cautious and careful about what we do [at the Marché]," says Erik Engelen, director acquisitions for Splendid Film in both Germany and Benelux. "That's not only to do with the products being offered but also it remains a very uncertain situation. What happens if indeed a second [Covid-19] wave comes long?"
Buyers have signed up for the Marché and CAA-led agency market in big numbers but they're stepping gingerly.
"It is going to be a little tricky given that there has been no income for some time for most of the distributors. There will be a balancing between the need for new films – the cinemas are reopening little by little all around the world – and, at the same time, this lack of cash for putting into the films," observes Thania Dimitrakopoulou, head of sales at leading German outfit The Match Factory.
Robert Beeson, director of UK arthouse distributor New Wave Films, is participating in the virtual market out of curiosity as much as necessity. "It's really just to be nosey. I need more films at the moment like I do a hole in the head," he says, referring to a dozen unreleased titles the company has on its books including Elia Suleiman's It Must Be Heaven, Martin Eden which took the best actor prize (for Luca Marinelli) at last year's Venice, and The Invisible Life Of Euridice Gusmao, which won the Un Certain Regard award at Cannes 2019.
New Wave is aiming to give at least half of these films a theatrical release. "But obviously it's a long haul for cinemas, even when they do reopen, to get back to normal," says Beeson.
'Embracing the opportunity'
Certain sales agents are understood not to be participating either because they have nothing new to sell or they want to keep their powder dry until the autumn, when festivals including Venice, Toronto, San Sebastian, Zurich and London are planning – at least for now – to have at least partly physical events. Others are using the virtual Marché to continue selling titles which already screened in Sundance, Berlin or Tribeca, or were slated for one of the cancelled festivals such as SXSW.
However, those who are taking part in this virtual edition of the Marché see it as the chance to kickstart an industry which has been stalling throughout the lockdown.
"We need to face the situation. We need to learn to live with Covid-19 and to adapt; we can't just stay in a corner complaining," says Ida Martins, managing director of Germany's Media Luna which will be screening several new films.
"We are actually embracing this opportunity. We have revamped our website; we have created a virtual screening room; we have looked into other opportunities to elevate the experience of screening a film online," says Thorsten Ritter, executive vice president, acquisitions, sales and marketing at Munich-based Beta Cinema, which is holding invitation- only screenings of Corvidae and The Auschwitz Report). "Of course, the virtual market cannot emulate the sensation of a physical market, but the new technical side is also an opportunity."
Ritter adds, however: "We need the arthouse-driven titles to be embedded in a [physical] festival with all the frenzy and craziness around it."
"For the type of films we are doing, we also need the festival buzz so we are being very cautious on what we are going to show," agrees The Match Factory's Dimitrakopoulou.
That caution is mirrored by the distributors. They're ready to buy but only if something exceptional crosses their radar.
"Should the next Parasite present itself, then we will of course go for it. For the rest, we have enough postponed titles as it is," says Kim Foss of Denmark's Camera Film, summing up a sentiment widely shared.
"We very recently picked up Francois Ozon's Summer Of 85 and Klaus Härö's Life After Death and will buy if we find other fab films. But not out of need, only because we can," explains Frank L Stavik, managing director of Fidalgo in Norway, of the highly selective approach he is taking.
"Projects are being promoted everywhere, finished films are struggling. They have no outlet and nobody is really looking at them," says Esther van Messel, CEO of Swiss documentary sales, distribution and production outfit First Hand Films, referring to online activity in the European industry during the lockdown.
However, while labs, workshops, seminars and festivals have been taking place in high numbers since March, van Messel distinguishes next week's Cannes Marché from the rest. "Cannes is an exception. It is a different beast, in a different league. It's a really important place to network."
More focus, less risk
Whether a virtual Cannes allows meaningful networking remains a moot point. Some buyers attending the online Marché say they're there to watch films and won't be taking meetings unless they have to.
"I think participants will be much more focused, working from a shorter list of the companies they need to see to talk about specific films. I don't think they will spend lots of time browsing the site. For most people there won't be time for that because most of us will be working from our office or home office and other things will just continue to go on," notes Christian De Schutter, manager of Flanders Image.
"At the same time, we wanted to show our full support to the Marché du Film and its team by having a presence at the virtual market," he adds. "We want to learn from this experience, and hopefully gain new insights on how to approach these online events."
The Cannes 2020 titles – the list of 56 films which would have shown in Official Selection had the festival gone ahead, according to Thierry Fremaux – have an added prestige for arthouse buyers but only around a third of them are screening in the virtual Marché. However, alongside the names from established and familiar directors, there may still be decent pickings for arthouse distributors looking for debuts from auteurs who could emerge as major forces in world cinema in years to come.
Whether distributors will pay significant advances for such titles is open to question. Without critics' reviews and the buzz of festival screenings, bidding wars are unlikely and MGs are set to stay on the "nominal" side.
While the Cannes 2020 label was weighted towards French titles, distributors including Edge Entertainment in Sweden and Camera Film in Denmark, who have both picked up Ozon's Cannes label title Summer Of 85, agree the badge is still an "asset" which could help with the marketing of the film.
Those bigger buyers looking to acquire at script stage remain wary. In the current climate, they can't be sure that projects packaged up with stars and fully financed "are really going to happen" as one top-flight European buyer puts it. Production is resuming across the world but there are multiple insurance, travel, and health and safety issues still to be resolved.
The instinct of distributors is therefore to minimise their risk. At the same time, they welcome Cannes' initiative.
"We want to take part [in the Marché]. It's partly about collegiality but our job is to find new projects. We have to take very opportunity to do that and this is an opportunity," says one leading UK acquisitions executive.
"We felt that we had to show our full support to the Marché du Film and its team," another agrees.
And for buyers from further afield, a digital Marche is actually offering advantages.
"We will have more staff participating this year than in recent years," notes Paul Wiegard of Australia/New Zealand distributor Madman Entertainment. "The 'virtual' engagement has enabled greater participation in screening not only the features, but pitches from agents and talent that are usual the domain of a few chosen 'buyer' representatives."
"We are concerned about content supply and delivery of films from mid-2021," Wiegard adds, "and will more likely lean into films that we know can be delivered."
If the pandemic is contained and travel restrictions are loosened, many buyers are anticipating Toronto and the AFM will be "very busy". In the meantime, they are clearly curious about what is on offer.
Some genre titles in the Marché are attracting the buyers' interest, among them Altitude Film Sales' new shark film Shark Bait and AGC Studios' action picture The Blacksmith starring Nick Jonas and Laurence Fishburne.
CAA event
The CAA-led virtual market, See You Tomorrow/A Demain, running at the same time as the Marché, will showcase many of the bigger English-language packages and projects. It has presentations on June 22-23 and meetings from June 24-28.
"That makes it slightly confusing because, obviously, there are now two conduits through which you can buy films," one UK buyer notes.
Not that the Scandinavians, for one, seem to be paying much attention to the CAA event. "Since I don't know what that refers to, presumably the answer is no," Fidalgo's Stavik responded when asked by Screen if he was participating.
One sector which does seem buoyant is what used to be called the "straight-to-video" market. Distributors can see the value in acquiring films which may not have obvious theatrical potential if they can then sell them on to streamers. If production is slow to resume, buyers may look again at older titles which they passed on at previous markets. The old truism that films only have one or two markets in which to find buyers no longer applies.
The Russians come in to the Marché having just held their own online "Key Buyers' Event," organised by Roskino. Russian industry figures see the two events as complementing each other, allowing international distributors extra time to find out about the films on offer.
"It's kind of a Russian gate into Cannes," says Metrafilms boss Artem Vasilyev, producer of Dovlatov.
"We can keep the focus of the buyers on several Russian projects throughout the whole month of June," agrees Mila Rozanova, manager international sales at Mars Media.
On the eve of the virtual Marché, buyers and sellers alike are speaking about the event with both enthusiasm and wariness. As Beta Cinema's Ritter puts it: "We are on the one hand excited but on the other hand we hope that [the virtual market] is not going to be the new standard."
Wendy Mitchell contributed to this article.