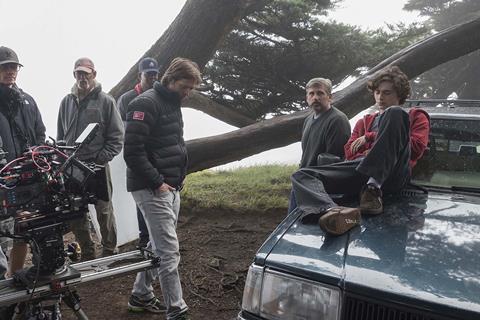 Adapting one memoir for the screen is a tough challenge. Adapting two in the same film is potentially impossible.
That was the challenge for Belgian director Felix van Groeningen as he worked on his first English-language feature Beautiful Boy, the true story about one family's struggle with their teenage son's cycle of addiction and recovery. "There was so much material," he explains.
The script was inspired by David Sheff's book Beautiful Boy: A Father's Journey Through His Son's Addiction as well as by his son Nic Sheff's own memoir, Tweak: Growing Up On Methamphetamines. "Each memoir is talking from their point of view about the struggle of a family and, more specifically, the struggle of addiction," the director recalls.
Brad Pitt and Dede Gardner's Plan B Entertainment had the rights to both books and approached van Groeningen to direct the project after they saw his breakout feature The Broken Circle Breakdown, which was nominated for the best foreign-language film Oscar in 2012.
After reading the books, van Groeningen felt he could understand the cycle of addiction for the first time. "It was an eye-opener for me," he says. "I realised that I had been judging people who are in recovery or relapsing. The insight from Nic's book was how easy it is to relapse. That cycle of relapse and shame makes it impossible for people to see a way out. I could never fathom that before."
Addiction and recovery
The director believes the film is not an addiction story that has been seen before, partly because of the father-son dynamic and also because "it's more about recovery than addiction — it is hopeful", he says.
The project had been kicking around for a while at Plan B (including one iteration to be directed by Cameron Crowe), but the team started afresh on the script when van Groeningan was hired, bringing on screenwriter Luke Davies, whose credits include Lion, as co-writer.
"The challenge was to make a story of an addiction cycle. It has to be repetitive," van Groeningan says. "But how do the characters learn about addiction, how do they learn about themselves and what changes the dynamic? That was meticulous work, and draft by draft it fell into place."
The Scheffs have been very supportive of the project but did not get involved in the script or production. As the director says: "They wanted to share their story to help people," but they also gave the film team creative freedoms. "David and Nic trusted us a lot. They didn't want to obstruct us or interfere."
For his fictional Sheffs, van Groeningen first cast Steve Carell as the father, then Timothée Chalamet as the son.
"It was important to get the father first," van Groeningen says of Carell. "The movie was also financed thanks to his attachment. Steve is an incredible actor, known for comedic work, of course. But I was blown away by his Foxcatcher role, and part of who he is in real life overlapped with how I saw David as a character."
Fearless acting
Chalamet was cast before anyone had seen his career-making performance in Call Me By Your Name. Van Groeningen says the actor came to the project "with an incredible amount of energy — the fascinating thing to see was his fearlessness." He also describes him as "a searcher" who always wanted to give the role what it needed.
Although the film is van Groeningen's first US project, it marks his sixth feature. He was able to bring some of his European ways of working to the film, including hiring two of his regular Belgian heads of department: Ruben Impens as cinematographer and Nico Leunen as editor.
He also carved out a two-week rehearsal slot before the shoot with the cast, which also included Amy Ryan and Maura Tierney in pivotal roles as Nic's mother and stepmother. "What I like to do then is figure out what works, figure out how the actors feel and set some boundaries. Sometimes we could rewrite scenes that didn't work, we could really feel it out."
The prep helps him stay focused on set. "The only thing that matters is that it's moving and authentic, that's what we have to get to. Working with actors who are that talented, it's not that hard. You see beautiful stuff, the question is how can we get it more authentic."
Beautiful Boy premiered at Toronto and Amazon Studios released the film theatrically in the US. An international rollout has also begun with Studiocanal releasing in the UK in January 2019.