With no fewer than three pavilions on offer, Japan is making the most of the opportunities to do business and network at Filmart, writes Jean Noh.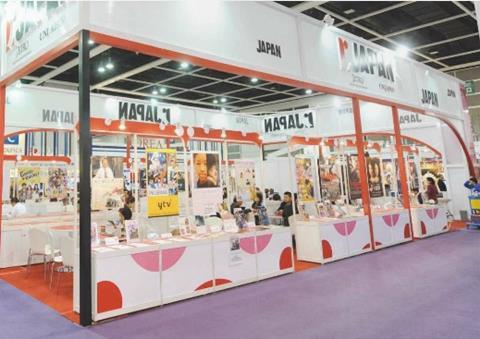 At Filmart, Japan will be represented with three pavilions hosted by Japan External Trade Organization (JETRO), Screen Authority Sapporo (SAS) - which has taken an expanded space this year - and Okinawa Film Office.
JETRO
A governmental organisation that promotes international trade and investment for Japan, JETRO was established in 1958. The organisation's main focus is on bringing foreign direct investment into Japan and helping small and medium-sized local firms to boost their export potential.
JETRO will host a pavilion featuring companies involved in an array of businesses including audio-visual production and distribution, such as Gaga, Nikkatsu, Kadokawa, Fuji Television Network and Omgact Entertainment.
SAS
Managed by Sapporo Electronics and Industries Cultivation Foundation, SAS was established in 2012 as an organisation to promote Sapporo City's special zone project. As the political, economic and cultural centre of Hokkaido, a city is known for its Snow Festival, winter sports, year-round nature attractions, Sapporo Brewery and the local cuisine.
SAS business includes PR, marketing, researching and planning local development using visual contents, and international promotion for co-production, co-distribution and co-education.
Exhibitors in the SAS pavilion are from various prefectures in Japan and include film offices, regional TV stations, digital entertainment and film companies such as Kyoto Media Support Center, Fukuoka Broadcasting Corporation, Hiroshima Convention & Visitors Bureau and Heart Bit.
Okinawa Film Office
Set up in 2002 by Okinawa Prefecture OCVB, Okinawa Film Office supports and promotes location shoots with assistance in scouting, co-ordinating permits, recruiting extras, finding product placement and launching screening events.
Spanning a chain of hundreds of islands in southernmost Japan, Okin-awa Prefecture enjoys a sub-tropical climate. With its unique language and traditions, Okinawa is known for its music, popular entertainers, karate and cuisine.
Okinawa Film Office provides services free of charge to promote the region through films and television, attract tourism and vitalise the region.
Regional entertainment firm Mabui Stone Corporation will also be based at the Okinawa Film Office pavilion.
Welcoming the Filmart first-timers
by Wendy Mitchell
Three countries are attending Filmart for the first time: Brunei Darussalam, Malta and South Africa (the latter two are part of Locations World).
From South Africa, the newly established KwaZulu-Natal Film Commission, funded by the government, will promote the province as a destination for film production, as well as developing a local film industry with international reach.
The multi-cultural region has a population of 10 million and boasts two of South Africa's largest harbours. Past shoots in the area include Cry The Beloved Country, Blood Diamond and Zulu.
As well as promoting the region as a location, the commission seeks to "establish long-lasting relationships with key players in the film industry". It will also host one-on-one meetings to tout current projects that are open for co-production or pre-sales.
"We have strategically positioned Asia as an important market for KwaZulu-Natal and, as such, think Filmart will put us directly in touch with the organisations and companies we would seek to work with going forward," says CEO Carol Coetzee.
Malta Film Commission is also attending Filmart for the first time, with film commissioner Engelbert Grech and chair Beverly Cutajar both set to attend. At the Malta stand, producers interested in filming in the Mediterranean region can talk about the incentives that are available.
From Brunei, film production and distribution outfit Origin Films will attend the market. The company, which has a background in multimedia productions, will be represented by director Siti Kamaluddin, producer Khairuddin Kamaluddin and action director Chan Man Ching. Origin will be discussing two specific projects, Brunei's first feature film, Yasmine, and documentary series Brunei Reflections, as well as talking about distribution in Brunei and co-production services.
In China's pavilion, the three provinces introducing their services and offerings at Filmart for the first time are Shandong, Sichuan and Guangdong.