Korean director Yeon Sang-ho doesn't think it's quite right to call Peninsula "an official sequel" to his zombie thriller Train To Busan, which became an international hit in 2016.
"It takes place four years after Train To Busan, in the same universe, but it doesn't continue the story and has different characters," says the filmmaker. "Government authority has been decimated after the zombie outbreak in Korea, and there is nothing left except the geographical traits of the location – which is why the film is called Peninsula."
The follow-up stars Gang Dong-won, who has featured in local hits such as 1987: When The Day Comes, as Jung-seok, a former soldier who manages to escape from the Korean peninsula – a zombie-infested wasteland turned into a ghetto by other nations trying to stop the spread of the virus.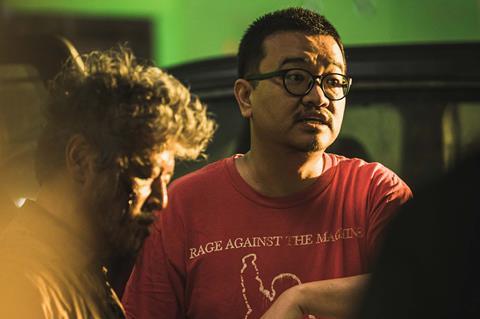 Sent back with a crew on a mission to retrieve something, he goes in through the port of Incheon to reach Seoul and comes under attack, discovering there are more non-infected survivors left on the peninsula.
Actress Lee Jung-hyun (The Battleship Island) plays one of the survivors, alongside child actress Lee Re – whom Yeon thinks will become "more [popular] than Ma Dong-seok [aka Don Lee] in Train To Busan".
Other cast include Kwon Hae-hyo, who was a voice actor in Yeon's award-winning 2013 animation The Fake; Kim Min-jae, who appeared in his 2018 live-action film Psychokinesis; indie filmmaker and actor Koo Kyo-hwan (Maggie); and child actress Lee Ye Won.
Several Train To Busan alumni are working on Yeon's $16m follow-up (almost twice the budget of the $8.5m original), among them cinematographer Lee Hyung-deok, visual effects supervisor Jung Hwang-su and art director Lee Mok-won.
"The scale of Peninsula can't compare to Train To Busan, it makes it look like an independent film," says Yeon. "Train To Busan was a high-concept film shot in narrow spaces whereas Peninsula has a much wider scope of movement."
Zombie world
With award-winning roots in independent animation on titles like 2012 Cannes Directors' Fortnight entry The King Of Pigs, Yeon's initial zombie film concept was for the arthouse animation Seoul Station, which takes place the day before Train To Busan's story kicks off. Although it was conceived first, Seoul Station was released later and marketed as a prequel to Train To Busan – which Kim Woo-taek, CEO of investor/distributor NEW, convinced Yeon to make as a live-action film.
Train To Busan premiered in the midnight section of the 2016 Cannes Film Festival, going on to clock up more than 11.5 million admissions at home, according to the Korean Film Council (KOFIC), on its way to a $140m worldwide gross, according to NEW and its sales arm Contents Panda.
The film became such a phenomenon that other Korean film sales companies reported a "Train To Busan bump" that year around international interest in Korean cinema.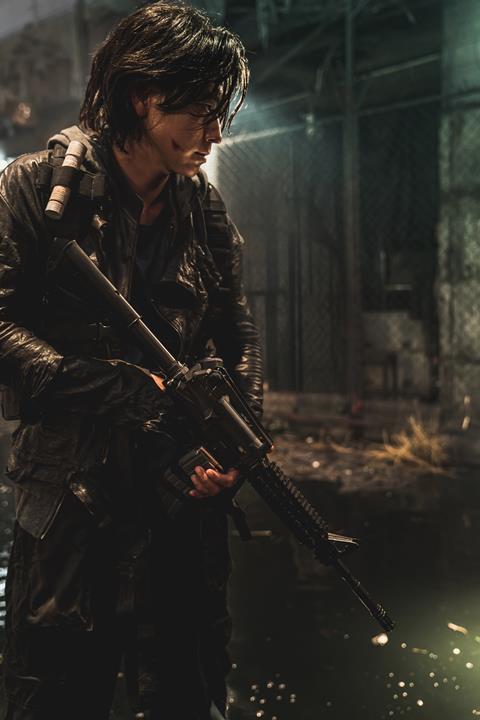 When it came to following up his global hit, Yeon admits he was initially reluctant. "But the idea of being able to build a post-apocalyptic world – which would be sort of savage but also in a way like ancient times, or like ruined modern times, with rules of its own – was interesting to me.
"There could be many stories that could keep coming out of that world. Destroyed, isolated, extreme, but with hope of escape and humanism, and the way world powers would look at this place. There could be a lot of material with a lot of greater significance."
Peninsula shot for 62 days over three months starting in late June 2019. Yeon referenced post-apocalyptic films such as George Romero's Land Of The Dead, The Road, Mad Max 2 and Mad Max: Fury Road, as well as post-apocalyptic manga such as Akira and Dragon Head, "for looks as well as world views".
But he also found that things he imagined prior to the arrival of Covid-19 were showing up in real international news headlines, much to his surprise in post-production.
"Of course I never dreamt of anything like the new coronavirus," he says. "But recently I have been learning news about the collective selfishness that you do see facets of in Train To Busan and in Peninsula, that brings about tragedy."
Working on his third zombie film, the director notes he has yet to answer the question of how the mysterious zombie virus got started.
"I've thought about dealing with that question in another film, which probably I won't direct myself," he says, chuckling with the awareness that he initially said the same about any follow-up to Train To Busan. "There are a lot of interesting questions you could answer, issue by issue, with other films."
In real life
Recently, Yeon has also noticed the effect of fellow Korean filmmaker Bong Joon Ho's Parasite success at the Oscars. If Train To Busan's success had an effect of growing interest for Korean films within that year, Parasite's made "the atmosphere and the way people ask for things from Korean filmmakers change in the space of a few days," he reports.
"Before, the way a Korean director would 'go to the US' would be to go make an American film with American actors in English. Now, with multiple platforms like Netflix burgeoning and the most recent effect of Parasite, everything has changed.
"I think the role of the films that come next will be very important," he continues. "Just because Parasite was a success doesn't mean we need another Parasite. We could see more diversified interest for, say, a Korean-style blockbuster or Korean independent films. It's just breaking through a wall once that is difficult."
Backed by NEW, sold by Contents Panda and produced by Redpeter Films, just as Yeon's Train To Busan and Psychokinesis were, Peninsula is set for a summer release in South Korea.
The film has pre-sold to a slew of territories including North America (Well Go USA), France (ARP SAS), Latin America (BF Distribution), Hong Kong (Edko), Taiwan (Movie Cloud) and the UK (Studiocanal).