The costume design teams behind Little Women, Once Upon A Time… In Hollywood, Judy, The Irishman and Jojo Rabbit discuss creating looks for key characters.
Jacqueline Durran - Little Women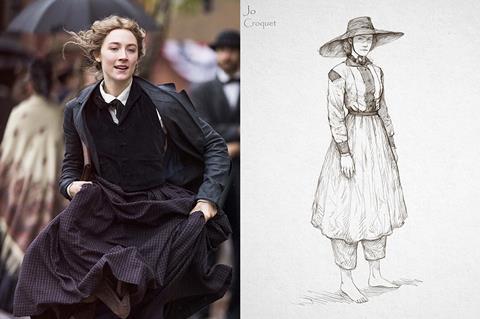 For her adaptation of Louisa May Alcott's beloved novel, Greta Gerwig brought a modern sensibility to the American Civil War-era trials and tribulations of the story's four March sisters. This balance of the traditional and the contemporary runs through the costume design by Oscar and Bafta winner Jacqueline Durran, who says Gerwig wanted Little Women to be "accessible, and not a static period film".
"We looked at a different way of being Victorian," continues Durran of the research she undertook with Gerwig. "Painters like Winslow Homer showed people out in the countryside, tramping around, being very free in their environment."
Nowhere is this more obvious than with Jo March, who kicks against gender expectations and follows her writing ambitions to New York City. "We made the decision that Jo is a character that never wears a corset," explains Durran. "We did fittings where she was going to wear a hooped skirt [as an older character], she was going to be more conventional. But it felt like too much of a leap from her younger self."
While Jo's outfits — which are all informed by the character's individual palette of red and dark blue — could be described as masculine and modern, Durran says that everything was inspired by genuine Victoriana: "The bowler hat Jo wears at the publishers existed as a women's Victorian fashion hat." And there was a deliberate symmetry between Jo and Laurie (Timothée Chalamet), her similarly free-spirited friend who plays a major role in her life. "There was a reflection between Laurie and Jo, in terms of what they wore. They actually exchanged waistcoats and things, that was built into the costumes."
Equally as important to the character is the military-style jacket that Jo puts on whenever she is getting down to the serious business of writing. "It's about how she is representing herself, where she wants to be and where she sees the economic power of the situation," Durran says. "It's about how she wants to position herself."
Arianne Phillips - Once Upon A Time… In Hollywood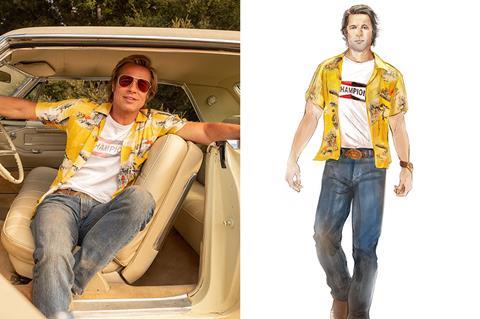 When it came to designing the costumes for Brad Pitt's stuntman character Cliff Booth in Quentin Tarantino's 1969-set Once Upon A Time… In Hollywood, three-time Oscar nominee Arianne Phillips had a very lucky find. "I found a belt buckle in the bottom of a box at a costume house, and it said 'Stuntmen's Association'," she laughs. "It was a belt buckle that was specifically made for stuntmen. And that really became a starting point for Cliff's costumes; it grounded the character and he wears it through the film."
Along with that fortuitous buckle, Cliff also boasts an eye-catching Hawaiian shirt that, says Phillips, was written into Tarantino's original script — although the design was left open. "I loved the idea of it being yellow as a representation of California," she says, "and rather than a palm tree motif, I made it an Asian motif." The range of vintage T-shirts that Cliff wears — including those for real-life brands Champion spark plugs and Lion Speedway — were also carefully curated by Phillips and Tarantino as a nod to Los Angeles nostalgia, as well as Cliff's masculinity. And the character's fondness for denim speaks to his rough-and-tumble day job, as well as his surprisingly forward-thinking fashion sense. "Denim was traditionally workwear," explains Phillips, "but at that time it was being appropriated by the youth culture movement. It was becoming a different kind of revolution."
Perhaps the most revolutionary part of Cliff's ensemble is, however, his shoes. While fading actor Rick (Leonardo DiCaprio) clings on to the cowboy boots that were part of his 1950s TV persona, by contrast Cliff dons a pair of soft moccasins. "Cliff's got this fearless reputation," says Phillips. "I thought the most intimidating thing for him would be a soft shoe like a moccasin, the next best thing to being barefoot. It shows that Cliff is a confident guy, he doesn't give a shit what anyone else says."
Sandy Powell & Christopher Peterson - The Irishman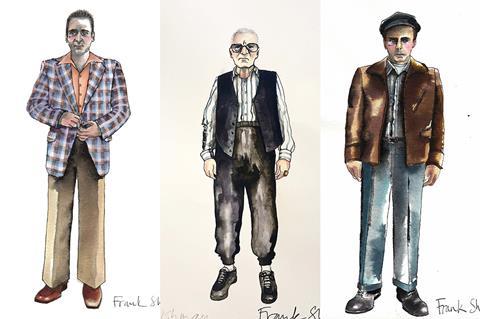 Given that Martin Scorsese's The Irishman spans more than four decades and features young and old versions of the same characters, it is perhaps unsurprising that Sandy Powell and Christopher Peterson approached the costume design with military precision.
"Robert De Niro [who plays gangster Frank Sheeran] became our Rosetta Stone for the entire film, because he's in every scene," says Peterson, adding that the actor endured at least 10 three-to-four-hour fittings for his 100-plus costume changes. "We put together a cork board, featuring every costume before we started shooting."
"We had pictures of him in every outfit, but chronologically," adds three-time Oscar winner Powell. "In script order it jumps around all over the place. The only way we could see the development of the character and the costumes through the periods was to put it all chronologically."
The first time we see Frank as a young man, when he meets Joe Pesci's Russell Bufalino — the crime boss who will change the course of his life — he is wearing a simple leather jacket, trousers and cap. "We found gorgeous originals and had them reproduced," says Peterson. As Frank ingratiates himself with the mob, however, his clothes become sharper and the fabrics more luxurious — yet never ostentatious.
"Marty's direction to Sandy and I was that this was a different approach to his past takes on the genre like Casino or GoodFellas," explains Peterson. "The characters were to be more subtle and grounded wholly in reality."
"Even if it wasn't Frank's suits, even if it was casual wear, it was very conservative," adds Powell. "Having some pattern, like checks and stripes, was a way of bringing some texture and dimension without bright colours or exaggerated shapes."
Considering all of the finery that Frank wears throughout the film, Powell and Peterson's favourite outfit turns out to be the least glamorous. "It's the costume we see Frank in at the beginning and end of the film," says Powell. "When he is in the care home, in the wheelchair, with the track pants pulled right up to his chest and horrible trainers."
"He's clinging to his aviators, his watch and all of his bling against this otherwise unspectacular costume," says Peterson. "It's amazing."
Jany Temime - Judy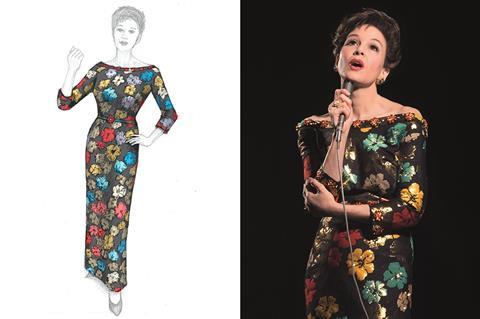 Having previously worked with Renée Zellweger for 2004's Bridget Jones: The Edge Of Reason, costume designer Jany Temime says she jumped at the chance to work with the actress again on Judy, in which Zellweger plays troubled star Judy Garland towards the end of her life. And, while Temime did a lot of research into Garland's style, it did not hold her hostage. "I get the maximum amount of information, I take it to a certain point and then I forget about it," she says. "Ultimately, I'm designing for the actress.
"I could see lots of parallels between Renée and Judy, the immense talent and that refusal to belong to the public, the desire for privacy," adds Temime regarding the duality of strength and vulnerability that informed her designs. "I gave Judy very strong colours and shapes when she was on stage, because that's her power. In her private life, I gave her things which were very soft, very pale, very normal. I gave her that shawl around the neck to amplify her weakness. Judy Garland was always very careful about her throat, and Renée wanted to use that to show what a fragile person she was."
One of Judy's most striking stage looks is a black dress with vibrant flowers, which came from an unlikely source. "I found that fabric in an Indian shop in the middle of Hendon [in north-west London]," Temime says. "They had 3.8 metres of it; usually I would buy 100! So we could make just one dress. All the decorations on it were original jewels."
While most of the costumes were bespoke — Temime sent fabric and designs to be made in Hungary due to the film's limited budget — she did find several vintage items. "For the gold suit, I found a vintage Guy Laroche tunic and then made the matching trousers. The Chanel bag that Judy uses is from my late mother. Renée loved that. She loves to wear something with a story."
Mayes C Rubeo - Jojo Rabbit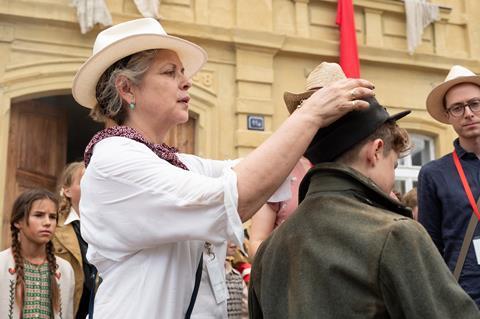 War may be hell but the Nazi Germany of Jojo Rabbit, as seen through the eyes of an excitable 10-year-old fanatic, is bursting with vibrant colour. This was the direction filmmaker Taika Waititi gave to Oscar and Bafta-nominated costume designer Mayes C Rubeo, in a bid to avoid making "another drab war movie".
"Through the eyes of Jojo, war in springtime is wonderfully vivid and colourful," says Rubeo, who previously worked with Waititi on Marvel blockbuster Thor: Ragnarok. This can best be seen in the wardrobe of Jojo's mother, Rosie Betzler, played by Scarlett Johansson.
"Rosie's character is an extrovert and isn't going to lose that colour or style, even in spite of the war," says Rubeo. "Taika told us that Rosie had belonged to an elite group of European artists, ranging from theatre actors to fashion designers. We imagined her hanging out with Italian designer Elsa Schiaparelli and avant-garde textile designer Sonia Delaunay, and took inspiration from that."
This manifests itself in chic outfits that comprise bright reds and greens, with bold prints, striking hats and high-waisted, wide trousers. Arguably, the most important element of her wardrobe is a distinctive pair of laced, red-and-white spectator shoes. Designed by Rubeo, they were made by longtime collaborator and famed shoemaker Jeff Churchill through his Toronto-based company Jitterbug Boy.
"As a former theatre and musicals actress, those shoes represent a happier period of Rosie's life," says Rubeo. "They also represent a turning point of the film, as the bearer of bad news. From then on, the colour in Jojo's face and clothes becomes more wintery."
Jojo Rabbit is something of a departure for Rubeo, best known for her work on fantasy features such as Avatar, Warcraft: The Beginning and Thor: Ragnarok. "While I love action movies, I've long wanted to focus on a more intimate, human story," she says. "When Taika called me about Jojo Rabbit, I said yes immediately. There was no question. The chance to serve these characters through costume has been everything I wanted."