Food is a vital part of the experience when visiting South Korea's Jeonju International Film Festival.
The city is highly renowned in the country for its cuisine as well as for popularising its own version of bibimbap, Korea's most famous rich dish. The challenge, as an international visitor looking to meet with industry, filmmakers and Korean festival bosses, is where to go and what to order due to the sheer level of choice.
Here are some recommendations that are within walking distance or a short taxi ride from the festival centre as well as a variety of Korean dishes to sample.
Close to the festival centre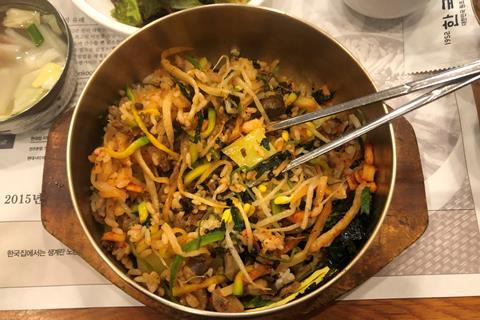 No trip to Jeonju would be complete without sampling the city's famous bibimbap and Hankook Jib (한국집, Wansan-gu, Jeon-dong 2-3) has been serving the dish at this restaurant for generations. You get a choice of raw beef (also a Jeonju specialty) or cooked minced beef as a topping in addition to a variety of sautéed and seasoned vegatables with gochujang (red pepper paste) and sesame seed oil. You can also get the cooked beef version in a sizzling hot stone bowl, known as 'dolsot bibimbab'.
For the more adventurous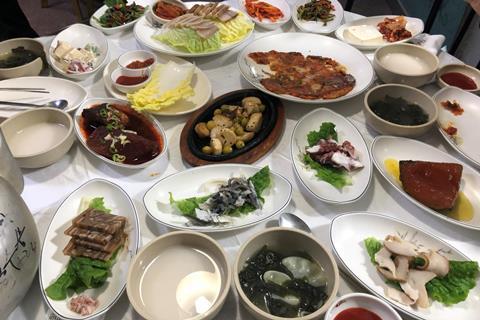 Less than a 15-minute taxi ride from the festival centre is Samcheon-dong Makgeolli Alley (삼천동 막걸리 골목, Wansan-gu, Samcheondong 1-ga 628-6 and northwards on the same street), an entire street dedicated to speciality dishes and makgeolli – an off-white, lightly sparkling rice wine. Diners are served a variety of dishes that range from delicious kimchi pancakes, octopus, pumpkin and blowfish to the more challenging "headmeat" and notorious hongeo hoe. The latter is a pungent, fermented sliced raw skate fish which should be accompanied by boiled pork and aged kimchi, but you may find yourself challenged to eat it raw as a rite of passage. Screen passed the test… just.
A taste of tradition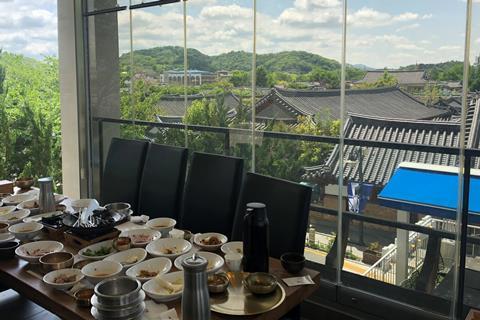 In Jeonju's picturesque Hanok Village, a 20-minute walk from Film Street, more traditional meals can be found at Giwa (기와, 15 Eojin-gil, Nosong-dong, Wansan-gu). With spectacular views over the village to the countryside beyond, Screen ordered the 'sotbab' (솥밥) set which has rice that comes in a large piping hot metal bowl and includes side dishes such as a fermented bean paste stew with vegetables and tofu, as well as Jeonju specialty 'ddeokgalbi' (떡갈비) - beef patties made of grilled short rib and onions.
Quick and convenient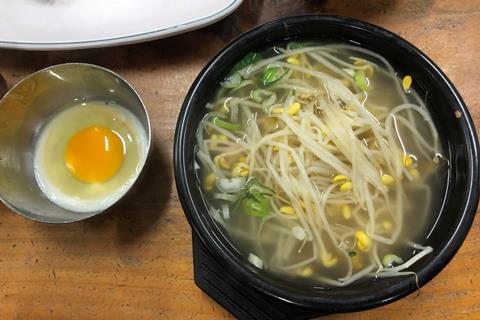 Jeonju's famous bean sprout soup can be found close to Film Street at Sambaekjib (삼백집, 454-1 Gosa-dong, Wansan-gu) and Samilgwan (삼일관, 451 Gosa-dong, Wansan-gu), which are open around the clock for people looking for quick comfort food. Get the 'moju' (모주), a popular local drink – around just 1% alcohol – that is made primarily from maekgeolli (see above) simmered with fruit sugars, cinnamon, dried licorice root, jujube and brown sugar.
Alternatives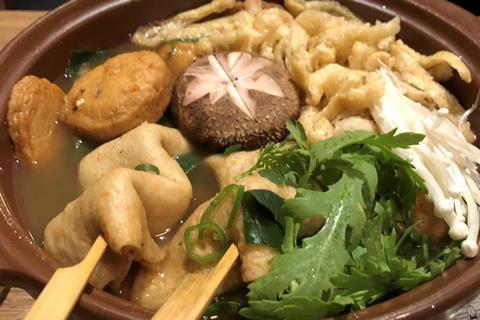 There are, of course, countless restaurants throughout Jeonju serving cuisine from other countries. For a taste of Japan, visit Kuhichi (쿠히치, Wansan-gu, Jeonju Gaeksa2gil 74-5), an izakaya-type place across from the Jeonju Dome where fish cake soup simmers on your table with side dishes of potato croquettes and 'jumeokbab' (literally 'fist rice', which is rolls of rice covered in dried seaweed flakes). The venue also has outdoor seating in the courtyard and on a terrace.
Bonus bar: A Novel or, in Korean 'Soseol' (소설, Wansan-gu, Dongmungil 29) is a bar that originated in Seoul, a favourite of director Hong Sang-soo that has appeared in more than one of his films. The Seoul bar has shut down and moved down to Jeonju, where film industry can be found mixing with local artists and writers from around the country on any given night during the festival. The owner, a former singer, may grace patrons with renditions of jazz standards.