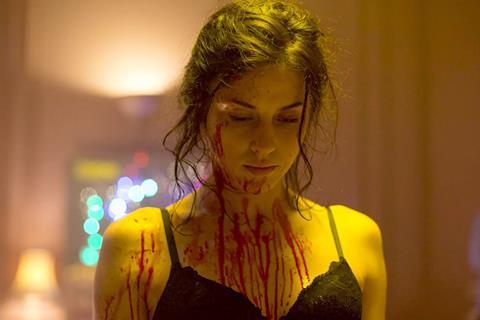 After building a career as an actor in TV shows like Ideal and films including On The Road, London-born Danny Morgan felt it was time for a change. "I wanted to try and write a film, but I didn't know what it was going to be," he says.
"I knew I wanted to keep it simple, so I thought a few characters over one night would be a good place to start. And the idea stemmed from a general fear I had, for a long time, about talking to women, so the main guy is cripplingly shy and the one night that his friend manages to get him over that fear is the one night that he really should have stayed home."
That idea became Double Date, a co-production between the UK's Merrymeet Films and Stigma Films and US outfit Dignity Film Finance. It stars Morgan as 29-year-old virgin Jim who, on the eve of his 30th birthday, is persuaded by best mate Alex (Michael Socha) to go on a double date with two sisters, Kitty (Kelly Wenham) and Lulu (Georgia Groome), who turn out to have a deadly secret.
A chance meeting with producer Matt Wilkinson in a bar resulted in the pair tightening the screenplay until it became a viable production proposition. At that point, director Benjamin Barfoot — with whom Morgan had made previous shorts, including YouTube Harry Potter spoof Where Did It All Go Ron — came on board, and together they set about assembling their cast.
While Groome had been cast as Lulu at an early stage, Morgan confesses that both Wenham and Socha were only signed up a few short weeks before filming began. He attributes the fortuitous casting of Socha, however, with much of the film's comedy; the friendship between Jim and Alex being the true heart of the film
"Michael, whose background is with Shane Meadows, can improvise in a way that doesn't feel self indulgent, but in a way that stars true to the scene, the character and the story," explains Morgan. "There's a lot of the script in there, but there's probably a good 30- to 40 percent of improv in mine and Michael's scenes."
Laugh-out-loud funny
The result is that, despite its moments of blood and gore, Double Date is laugh-out-loud funny; something that Morgan, who credits Shaun of the Dead as one of his major influences, didn't expect at the outset. "At the beginning I wanted to make it more of a horror film that just happened to be funny," he says. "But the closer we got to shooting, it became obvious that the script is clearly a comedy that has horror elements in it. And I embraced it."
Morgan is looking forward to screening the film at FrightFest, particularly as he credits genre fans with being incredibly supportive to independent filmmakers. "Horror is a genre where people still really love going to the cinema," he observes. "And if you're a little low-budget independent film like us, you know there is a ready-made audience who wants to support you."
And that's why Morgan is staying in the genre, already working with Wilkinson and Barfoot on his next genre project. "It's not necessarily horror," he says, "but a similar thing, violent black comedy. Possibly about ginger hair."
Danny Morgan is nominated for Screen International Horror Rising Star Award at Horror Channel FrightFest, with the winner revealed on Monday August 28.
FrightFest Screening: Sunday August 27, 15:30
Contact: Film Constellation office@filmconstellation.com