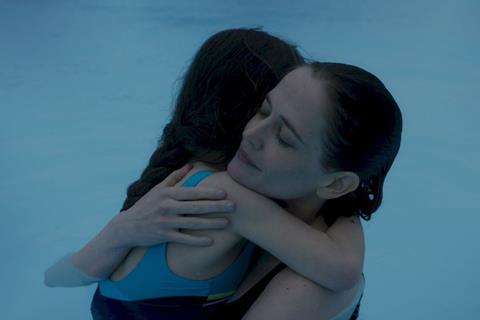 Actions speak louder than words when it comes to diversity, inclusion and the representation of women in film for Allison Gardner, programme director and co-director of the Glasgow Film Festival (GFF) which opens today (February 26) with Alice Winocour's Proxima.
This year GFF's expanded Industry Focus strand (March 2-6) includes the launch of a Talent Mentorship scheme for people of colour, LGBTQIA+ people, and those from economically disadvantaged households who live in Scotland and are not in full-time education.
"It's something we are passionate about: Equality and diversity," says Gardner. "That has been root and branch for Glasgow Film Theatre [which runs the festival] for a very long time. I told the team I don't want to hear about diversity, I don't want to talk about diversity, I want to do it, I want to see it in action."
Running February 26 to March 8, the festival opens and closes with UK premieres of female-directed features for the first time. Following Proxima from French filmmaker Winocour, How To Build A Girl, directed by Coky Giedroyc and written by Caitlin Moran with John Niven will bring the curtain down on the event.
The industry Focus includes a session on the female perspective in distribution hosted by Birds Eye View's Future Leaders in Distribution, as well as in-conversation events with Rose Glass, the first-time director of Saint Maud; Haifaa al-Mansour, Saudi Arabia's first female feature film director who will talk about her new film The Perfect Candidate; and Iranian-born artist and writer Marjane Satrapi, who will discuss her career and the making of Radioactive.
"We've got to keep pushing to make things right," says Gardner in a warning against complacency in the fight for equality and diversity. "You can't stand still, you have to keep reinventing."
"We are asking audiences to take a risk"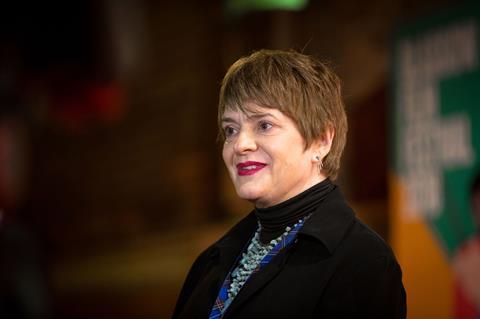 This year's festival offers 102 UK premieres, nine European premieres and 10 world premieres for the local paying public. "These are films that are unknown quantities and we are asking our audiences to take a risk," Gardner says. She hopes distributors regard the GFF as a launch pad for UK releases.
Gardner is particularly proud of the festival's audience- award line-up for first and second-time filmmakers. It is the only award the festival presents. It was a conscious decision to choose five directed by men and five directed by women.
They are: Silja Hauksdóttir's Agnes Joy, Bridget Savage Cole and Danielle Krudy's Blow The Man Down, Katharine O'Brien's Lost Transmissions, Melina Leon's Song Without A Name, Tom Sullivan's Arracht, David Charles Rodrigues's feature doc Gay Chorus Deep South, Jurgis Matulevicius's Isaac, Matthew Rankin's The Twentieth Century, and Flavio Alves' The Garden Left Behind.
One female director had to pull out: Glasgow-born filmmaker Shelly Love was all set to accompany her film A Bump Along The Way to the festival until distributor Element Films secured a UK video-on-demand release for the title before the festival began.
"You can't ask people to pay £11 to come and see a film they can get for £2.99 on VOD," explains Gardner.
Love, who lives in Belfast, is still coming to the festival though. "We were covering for her to come over and do a talk so we covered that anyway," says Gardner. "She'll be a great addition to the industry focus because she's a first-time feature filmmaker, she's a single mother, she worked with interesting people."
The festival put out a notice explaining why her film had been pulled from the line-up and included a heartfelt plea for audiences to seek Love's film out.
Gardner explains both the festival and the GFT are open to showing films before they go on VOD or SVOD platforms. "There could be a Netflix film at the festival if it hasn't been on Netflix yet. The quality of the film is always a deciding factor both for GFT and the festival." (Indeed Netflix titles The Irishman, Uncut Gems, and Marriage Story all screened at GFT before they started streaming on the platform).
Gardner, who runs the festival with co-director (and Screen critic) Allan Hunter, hopes the GFF offers distributors a live audience litmus taste test for the films it showcases. "[The festiva] is people handing over their money. It is not critics sitting in a room saying 'this isn't really my thing'," she says. "You can see the demographics of the audience, you can see if they're enjoying it. The press sit in with the audience as well. If a film is funny it is funnier with a regular full house of paying punters."
Gardner expects the roof to come off during the festival screening of Michael Caton-Jones' comedy drama Our Ladies, an adaptation of Alan Warner's The Sopranos, a Scottish novel about a gang of schoolgirls in a choir from the Highlands on a road trip to Edinburgh.
"It's funny and right up a Glaswegian audience's street," she says.