Dir/scr. Stephen Poliakoff. UK. 2009. 130 mins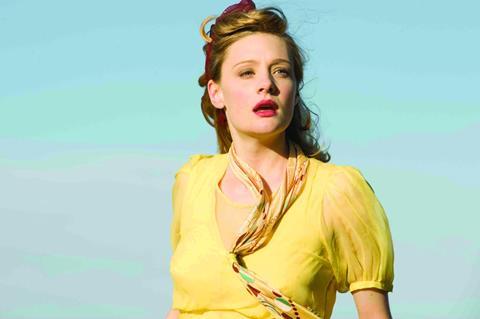 Writer/director Stephen Poliakoff has always shown a fascination with the dark secrets that lie at the heart of family life and the lessons that history can teach us. Those twin preoccupations are contained within a Hitchockian suspense story in Glorious 39, his first cinema feature after a decade and a half of distinguished television work.
Glorious 39 sticks to some very traditional thriller elements
Set during the sultry summer of 1939, the film appears to be offering an unfamiliar perspective on an England faced with the possibility of war and unable to decide which way to jump. Unfortunately, the sinister conspiracy is more familiar than Poliakoff might care to admit and the plot doesn't always stand up to close scrutiny.
The starry cast and plush production values should appeal to older costume drama aficionados, but they may be disappointed by the ponderous pacing and a tale whose surprises are all too obvious.
The film gains little from being told in a redundant flashback prompted by a cousin's visit to elderly brothers Walter (Christopher Lee) and Oliver (Corin Redgrave). He wants to know what became of Anne Keyes (Romola Garai). In the summer of 1939, she was a beautiful young actress, safely ensconced in the heart of a wealthy aristocratic family presided over by her father, the prominent politician Sir Alexander Keyes (Bill Nighy) and including formidable aunt Elizabeth (Julie Christie).
Talk of war is everywhere and Anne's friend Hector (David Tennant) is fierce in his commitment to the view that Churchill should become Prime Minister and that Britain has a duty to fight the evil of Nazism. He is well aware of covert forces within the country working to appease the Nazis and keep Britain out of the conflict.
Hector's sudden death from an apparent suicide is the first act in a story that makes Anne the spectacularly naive heroine at the heart of a tale pitched somewhere between a Hitchcock thriller like The Lady Vanishes and the nightmare of Rosemary's Baby.
Poliakoff injects some interesting ideas into the mix and is clearly keen to satirise the concerns of an elite who are determined to hold on to everything they fear losing in a conflict that would break down the barriers of class and gender. The dialogue is often less than subtle in conveying the callous prejudices of the upper classes, and the fact that Anne is adopted only serves to increase her status as a dangerous outsider.
A number of other people will die before Anne finally figures out what has been going on - which strains credibility somewhat, as many of those involved seem guilty from the moment they make their first appearance on screen.
Given the rich texture of Poliakoff's television work, Glorious 39 seems a little clumsy by comparison and sticks to some very traditional thriller elements including the presence of a spooky foreign office chap Balcom (Jeremy Northam) and one of those vital clandestine meetings where one of the parties will never arrive alive.
When the story comes full circle back to the present day and the encounter with Walter and Oliver, the pay-off seems particularly bewildering and unsatisfying.
In the film's favour, production designer Mark Leese and cinematographer Danny Cohen do create a sumptuous vision of an England about to lose its innocence. The eyecatching costumes, luxurious family estates, plush rooms and sun-dappled countryside all underline the theme of privilege.
Romola Garai is also excellent in the role of Anne and is believable in every aspect of the character's journey from unsuspecting innocent to horrified, unhinged victim. It is just a shame that the film itself cannot match her conviction.
To sign up for Screen's weekly Reviews Newsletter with all the week's new releases,internationalopenings and full festival reviews delivered free to your mailbox every Friday, please clickHERE

Production Company
Talkback Thames
Magic Light Pictures

International sales
The Works International
44 20 7612 1080
Producers
Barney Reisz
Martin Pope

Cinematography
Danny Cohen

Production design
Mark Leese

Editor
Jason Krasucki

Music
Adrian Johnston

Main cast
Romola Garai
Bill Nighy
Julie Christie
Christopher Lee
Hugh Bonneville