For his 20th feature, Past Life, film-maker Avi Nesher examines how a father's complicated past haunts his family.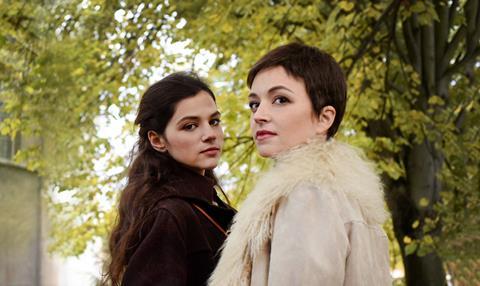 Veteran Israeli writer/director Avi Nesher was hesitant when composer Ella Milch-Sheriff asked him to tell the emotional story of her father, Baruch Milch, a Holocaust survivor who had a dark secret from his years living in Poland during the Second World War.
Nesher, himself the son of a Holocaust survivor, was not sure he was the right man to helm this project. "[Ella] approached me with her father's diary," he recalls. "I said no, because I want to make movies I know about. All my movies are very personal, I have to be able to connect to the story."
The director then realised, however, that the narrative naturally focused on the man's daughters in 1977 - played by Joy Rieger and Nelly Tagar - as they delve into the dark mysteries of their father's past. "I realised it was the story of Ella and her sister," he says. "These two girls are haunted by this dark secret. I understood the sisters; one struggles with being an artist and shaking herself free from the traditions of music school."
Indeed, this reminded him of his own first feature, The Troupe, which he made aged just 23, despite being told it would never work (the film went on to become a huge hit). "I know about going to a school and having a system imposed on you, and having to rebel," he says.
Past Life is Nesher's 20th feature, following notable titles including Rage & Glory (1984), Timebomb (1991), The Secrets (2007), The Matchmaker (2010) and The Wonders (2013). Many of these films also explore themes of how "our future and present are shaped by our past", the director says. "Making movies about the past is trying to understand the present."
In particular, Past Life also explores "redemption and letting go". It is not a typical Holocaust film, he asserts: "It's usually absolute evil and absolute good in Holocaust movies. But in this, there is a lot of finesse and grey areas." To achieve this tone, Nesher explains that the film's score is particularly key. "Music can become a film's Greek chorus, the emotion of the film — it gives you latitude, cinematically, on what not to say out loud."
Past Life's music includes work composed by Milch-Sheriff herself, and the director praises the composer for being especially open during the film-making process. "She was brave and she didn't want to sugarcoat anything, she told us all these small details about her family. It was an extraordinary feeling, shooting a movie about someone who is with us."
Past Life is produced by David Silber at Tel Aviv-based Metro Communications in co-production with Poland's Opus Film, whose credits include Oscar winner Ida. It also has support from Israel's Rabinovich Foundation, Jerusalem Film & Television Fund and The New Group Broadway theatre company. After premiering in Toronto International Film Festival's Contemporary World Cinema strand, Past Life is at Haifa as part of the Israeli Feature Films Competition.
Haifa regular
Nesher is a frequent visitor to Haifa, which presented him with the Cinematic Excellence Award in 2009. "It's so well programmed, they have a great audience and it's a beautiful Mediterranean city," he says. The director will be a key part of the event, as the festival is showing not only Past Life but also two of his earlier films with similar themes, Turn Left At The End Of The World (2004) and The Matchmaker.
The concept of the past will stay in Nesher's thoughts as he plans two more films - the first currently in pre-production - is a new trilogy that starts with Past Life. "They have different characters and a different mindset," he says, "but are still about the stranglehold the past has over us."