Swedish writer/director discusses the challenge of bringing a beloved bestseller to the big screen.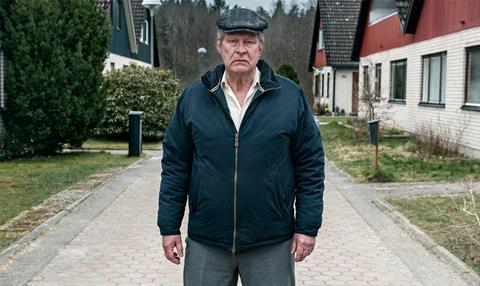 Hannes Holm's Ove-like stubbornness almost made him miss out on directing A Man Called Ove, which has gone on to become a box-office hit and Sweden's foreign-language Oscar submission. The experienced director usually writes his own original scripts, so he initially turned down the offer to direct. But producer Annica Bellander persisted.
Holm read Fredrik Backman's bestselling book and realised "some scenes reminded me of a certain feeling I had when I was young. If you have a personal relation to the story, that can be a very good tool."
That story is about a curmudgeonly old man who misses his late wife so much he wants to commit suicide. When a boisterous young immigrant family moves in next door, they start to change his outlook. Holm adapted the script himself, and felt the pressure of keeping the book's essence on screen. "I wanted to please the very aggressive book lovers," he says with a laugh.
Audiences have also found personal connections to Ove. "A good thing about a grumpy old man is there are so many of them. People start to connect Ove with their own husband or neighbour," Holm says. "Ove behaves like a racist but he's not a racist. He's just a man who is very afraid when society is changing, and you have feelings for him."
Holm jokes that he cast Rolf Lassgard as Ove "because he was the cheapest". But more seriously, he says there actually was an economy to him. "He's one of Scandinavia's greatest actors, he doesn't need so many takes."
The actor, whose credits include TV's Wallander, is a youthful-looking 61 but appears older on screen thanks to nearly three hours in the make-up chair every morning. "In Hollywood, all the 59-year-olds look 35, so I wanted him to have history in his face," Holm says.
Lassgard went on to win the best actor award in Seattle, as well as Sweden's top film honour, the Guldbagge.
A Man Called Ove is now the most successful Swedish film of the last 32 years, with a box-office gross of more than $20.5m. Music Box released it in the US on September 30, where it has taken a robust $1.2m in its first month of release. TrustNordisk continues to handle international sales.
Ove's success has opened doors abroad but Holm will stay in Sweden for his next film. Ted - Show Me Love, about troubled Swedish pop star Ted Gardestad, will shoot next year.