While this year's Asian Contents & Film Market is being held as a hybrid event, the improving Covid-19 situation is giving confidence to its organisers, with significant online and in-person industry engagement anticipated.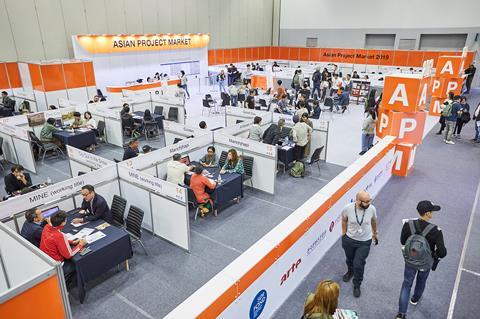 The 16th Asian Contents & Film Market (ACFM, October 11-14) is going hybrid as it runs alongside Busan International Film Festival (BIFF, October 6-15). After swiftly moving its activities online last year while the Covid‑19 pandemic played havoc, ACFM organisers this year have co-opted industry feedback and adjusted to an evolving situation, holding parts of the market as an 
in-person event for local attendees of the Asian Project Market (APM) and Entertainment Intellectual Property Market (E-IP) at the Paradise Hotel on Haeundae Beach.
At press time, about 74% of South Koreans have had at least one dose of a Covid-19 vaccine and 45% have completed their vaccinations. Quarantine measures for international travellers entering South Korea — and, in many cases, those returning to their home country — make an entirely in-person market unfeasible at the moment, but ACFM general manager Daniel H Kim still cites an improving situation.
"Last year's offline market went well, but the fact is that a market's advantage is in the in-person networking, not just between buyers and sellers but between professionals in the same fields, and in the opportunities for unplanned encounters," says Kim, stating his long-term hope that ACFM can eventually return to being a wholly in-person event. "You can get different kinds of information and fulfil diverse forms of needs offline."
As was the case last year, all APM and E-IP participants will be able to watch pre-recorded pitches with English subtitles that will be open online during the market. Overseas participants can have meetings online while local attendees choosing to travel to Busan will be able to meet with the APM and E-IP representatives in person. Seven of the 26 projects selected for this year's APM are Korean, notes Kim, while E-IP features 29 Korean properties — "17 books, four web comics, six web novels and two stories, plus 17 more E-IP properties from Taiwan and Japan". Companies planning to hold meetings with the rights-holders of these properties include CJ ENM, Studio Dragon, Barunson E&A, Watcha, Netflix and MBC.
Participation is key
Buyers taking part in the market this year include Terracotta Media from the UK, Well Go USA, Hong Kong's Golden Scene, France's Borsalino, Twin from Japan and Catchplay from Taiwan, while well-known Korean companies include Green Narae Media, Aud and First Run.
"It is important for Well Go to continue participating in Asian film markets — whether virtually like this year or in person as we have previously — because Asian movies make up such a large, vital part of our overall business model and our underlying mission to bring Asian content to North American viewers," says Doris Pfardrescher, president and CEO of Well Go USA, who is hoping to discover new titles to add to the company's 2022 slate. The prolific company is handling North American distribution on what could be South Korea's submission to the upcoming Oscars' international feature film category: Ryoo Seung-wan's political action-thriller Escape From Mogadishu, which it previously picked up from Lotte Entertainment.
Sales companies participating in this year's market include all the key Korean players such as Finecut, CJ Entertainment, Contents Panda, M-Line Distribution and Lotte Entertainment, in addition to Gaga from Japan, Wild Bunch from France, Films Boutique from Germany, Vietnam Media Corp and Hong Kong-based Asian Shadows. "Buyers still look for movies, and we participate to get to know new buyers as well so that's why we attend the market even virtually," says Haruko Watanabe, international sales manager at Gaga. The Japanese company is launching sales at ACFM on a trio of made-for-TV documentaries produced by Hirokazu Kore-eda in the 1990s.
ACFM will also stream pre-
recorded, subtitled talks about working in the rapidly evolving media environment. Speakers will include Korean filmmaker Park Chan-wook, whose feature output increasingly co-exists alongside his TV work as a director (AMC/BBC's The Little Drummer Girl, upcoming HBO/A24 production The Sympathizer) and producer (TNT's Snowpiercer); Luke Kang, president of the Walt Disney Company Asia Pacific; and a panel featuring the heads of the major international film markets — Jacob Wong of HKIFF Industry, Jerome Paillard of the Cannes Marche du Film, Dennis Ruh of the European Film Market and Oh Seok Geun of ACFM.
While the Busan festival and market are on, the 15th Asian Film Awards (AFA) will also be held on October 8 at the Paradise Hotel — key titles up for prizes include Zhang Yimou's Cliff Walkers and One Second, Korean director Lee Joon-ik's The Book Of Fish and Indian filmmaker Chaitanya Tamhane's The Disciple — while the Asia Contents Awards (ACA), established in 2019 to highlight TV, OTT and online content from Asia, will take place on October 7.
"When things open up, there will probably be a boom in overseas business travel and then a stabilisation and we will see which markets remain important," says Kim. "It has been a special time for Korean content with Parasite winning [at] the Oscars, but we ran into unfavour­able factors with the pandemic. [But] in the end, South Korea is one of the countries that doesn't have issues of censorship or unpredictability when it comes to films, content and business, so we will see."