When an early version of Can You Ever Forgive Me? fell through, the project was reborn with director Marielle Heller, writer Nicole Holofcener and star Melissa McCarthy. Screen talks to the makers of this real-life, '90s-set New York story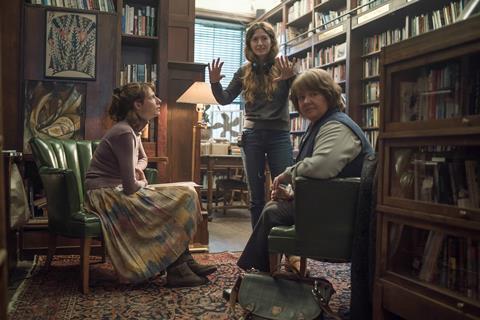 It was "the prospect of working with all these smart women on interesting material" that first drew director Marielle Heller to Can You Ever Forgive Me?. And the film that Heller, writer Nicole Holofcener, star Melissa McCarthy and others ended up making — after an early false start — managed to combine a female-centric production team with Hollywood star power and an intriguing story of two gay misfits on an unlikely crime spree.
The eponymous memoir on which the film is based, late celebrity biographer Lee Israel's account of her rise and fall as a literary forger in early 1990s New York, had found its way to producer Anne Carey before its 2008 publication. A few years later, Carey took with her the option on the material when she became president of production at Archer Gray, the New York company launched by financier-turned-producer Amy Nauiokas.
Archer Gray recruited indie stalwart Holofcener to work on a new draft of the script (originally written by Jeff Whitty) and to direct. With Julianne Moore and Chris O'Dowd attached to play Israel and her accomplice Jack Hock, the project quickly found a backer in Fox Searchlight, the studio arm behind Holofcener's Enough Said, her 2013 romantic drama starring James Gandolfini and Julia Louis-Dreyfus.
But this original incarnation collapsed before production was set to begin in the summer of 2015, because of what Holof­cener describes as "creative differences in a few areas" between her and Moore. "It had never happened to me before and I was very sad, as I'm sure Julie was," says Holofcener.
"It was pretty devastating," Carey agrees. "We thought we were making the movie, so it was really hard."
With Holofcener returning to Los Angeles to start work on another project (the recently released Netflix feature The Land Of Steady Habits), Carey began to look for someone else to fill the director's chair. Actor-turned-filmmaker Heller, whose 2015 debut feature The Diary Of A Teenage Girl had been produced by Archer Gray, "seemed like a natural fit", says the producer. "She was another smart female filmmaker who didn't shy away from untraditional characters."
For her part, Heller liked the idea of following Diary with "a more grown-up movie that still felt within my realm of interest of telling a story from a woman's perspective. And I felt connected to Lee as a character, and as a woman who doesn't really have a voice within our society." Also appealing, adds Heller, was telling a story about "two non-hetero­normative people. And I loved the idea of trying to recreate that specific moment in time. I live in New York, but I came here in 2000 and I missed the real artists' New York of the 1980s and 1990s."
To make the project her own, Heller reworked Holofcener's script to focus more on the central character's emotional arc and her relationship with street hustler Jack. In the process, the director created a new ending to the story that had Lee and Jack meeting when the latter's health is in serious decline from Aids. "I felt it was really important to place the movie in its historical context and not ignore the Aids crisis that these two gay people in New York were living through," says Heller of the changed ending.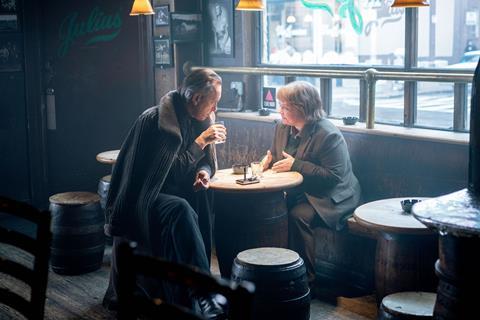 While Heller was reworking the script, Carey got word from McCarthy's representatives that the actress was interested in the part. Though the star is best known for hit studio comedies such as Bridesmaids and Spy, Carey says she and the other producers did not see the prospect of casting McCarthy as a risk. "We were all super-intrigued by the idea," she says. "It seemed like a really brave choice on her part. She probably took the bigger risk. If anything it was her turning herself over and trusting us, a bunch of New York independent filmmakers she didn't know."
When Richard E Grant was mooted by his agent for the role of Jack, Carey, a fan of the 1987 cult classic Withnail & I in which he played the title role, was even more easily won over. With a budget of $10m-$15m set, the shoot finally began early in 2017, using locations in New York City where the real Lee Israel and Jack Hock had once been friends and drinking companions, including the famous Julius' in Greenwich Village, one of the city's oldest gay bars.
Street hustle
Besides dealing with a New York winter, the production — which took advantage of the 30% New York State production tax credit — also had to move swiftly to film some locations before they lost their vintage feel. "We were trying to capture a New York that's rapidly being lost, a New York from 1991," Heller reports. "We were filming certain areas right before they changed and there was a feeling that we'd better make the movie quickly, before things continued to change."
While the production was able to find privately owned bookstores that looked as they would have in Israel's day, one or two denied shooting permission because of the film's subject and her record of passing off fake literary material. "There were some who didn't really want our movie," Carey says. "People who knew about the history and weren't interested in celebrating Lee Israel."
Post-production — also done in New York and qualifying for another local tax credit — gave Heller the chance to use the editing process to further refine her take on the story's central relationship and find a tone that, she says, "was sort of like an old movie — it was never going to be a heist-y movie and it was never going to be a comedy. The right tone was something I felt very clear about and had in my head, but it was hard for people to always understand that."
Premiering at Telluride in September — just before Heller started work on A Beautiful Day In The Neighbourhood, in which Tom Hanks will play beloved US children's TV host Mr Rogers — Can You Ever Forgive Me? arrived in North American cinemas this autumn and grossed $6.7m. Twentieth Century Fox's international rollout is set for early 2019.
The film's reception and early awards season showing — which has included Spirit Awards nominations for best screenplay and best supporting male and inclusion in the National Board of Review's list of 2018's 10 best films — have allayed fears Heller once had over the story and its milieu. "I hoped it was not a movie that was just for New Yorkers, or just for people who knew who Dorothy Parker [one of Israel's favourite writers] was," says the director. "I'm happy people have felt connected to Lee from their own perspectives, that they're not getting caught up in the ways they're different from this character instead of finding ways they're connected to her."