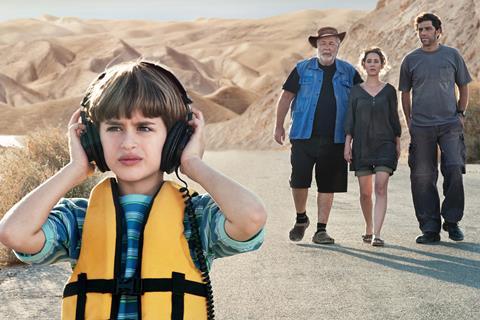 It is 12 years this month since Gideon Raff's breakthrough Hebrew-language Prisoners Of War debuted on Israel's Channel 2 and helped change the course of history for Israeli series at home and internationally.
The story of three soldiers as they struggle to re-adapt to civilian life after 17 years of captivity struck a raw nerve in Israel and was an instant hit on its launch in March 2010. More significantly for Tel Aviv-based Keshet Media Group (KMG), which produced the show, it would be the catalyst for a major push into the international arena when the US remake Homeland was a hit for Showtime.
Within a year of Homeland's US debut in October 2011, Avi Nir, CEO of KMG, had recruited seasoned Israeli TV executive Alon Shtruzman to set up the global production and distribution division Keshet International (KI) in London. "Avi Nir came to me and said, 'Can you help us build a studio, a big business, based on Homeland?'," recounts Shtruzman.
KMG was launched in 1993 as one of three franchises, alongside Telad and Reshet, selected to provide programming for Channel 2, Israel's first commercial terrestrial channel.
"Israel was fairly unique because until then it only had one state-owned channel," explains Shtruzman of the terrestrial landscape. Cable channels had started to emerge in the late 1980s.
In 2005, the number of franchises was reduced to Keshet and Reshet. Then in 2017, under fresh reforms, Channel 2 was shut down and the two companies were granted licences to run their own standalone channels, Keshet 12 and Reshet 13. Today, Keshet 12 dominates the TV market, with an average 26% primetime audience share in 2021, against 15.4% for Reshet 13 and 5.6% for state broadcaster Kan 11. This position was achieved in part by the savvy acquisition of the company producing the prime-time news programme for Channel 2.
KMG in the meantime has grown into one of Israel's most powerful media companies with its own digital platform mako, news service N12 and a soon-to-be-launched streaming platform.
Back in 2012, Shtruzman was working for Fox International Channels in London when Nir approached him. Shtruzman had spent a decade as a driving force in the Israeli cable TV sector and Nir's international ambitions appealed to him. During his time working for the Israeli cable networks, Shtruzman had commissioned Nir Bergman, Hagai Levi and Ori Sivan's psychologist drama BeTipul for Hot 3. It became Israel's first major drama format breakout when HBO picked it up for US remake In Treatment, which launched in 2008.
"As a young TV executive, I was always kind of frustrated because I felt we're doing amazing content in Israel, but the market is so small," says Shtruzman. "In Treatment was this small Israeli show that showed how we could resell the IP and get it remade in other languages. It's still selling 20 years later."
KI's first major deal was for Keren Margalit's 2010 autism drama Yellow Peppers to the BBC, which transposed the drama to the Lake District from its original Arava desert setting under the title The A Word. This UK version then went on to sell into 80 territories in its own right.
"In the beginning it was with Channel 4 and then went to the BBC. Things moved quickly from there," recalls Shtruzman.
Other KMG dramas to have travelled widely since then — both as completed series or formats — include romantic comedy The Baker And The Beauty, kidnap drama When Heroes Fly, detective tale Line In The Sandand long-running Friday-night-dinner comedy drama Your Family Or Mine. The first two seasons of stolen-identity thriller False Flag have aired in more than 120 territories via a multi-territory deal with Fox International Channels as well as individual sales to Canal+ for France and Hulu for the US. Season three begins on flagship channel Keshet 12 from March 24. The show's English-language remake Suspicion, featuring Uma Thurman and produced by UK subsidiary Keshet Productions for Apple TV+, landed on the platform in February.
Homeland would also drive sales back to the original Prisoners Of War, which was subsequently sold into 65 territories including the US, where it was Hulu's first foreign-language acquisition.
Shtruzman likens the international trajectory of Israel's drama producers and creatives to that of the country's tech entrepreneurs who "dared to go" to Silicon Valley.
"You've got a very small market and lots of talent trying to break out [and] the global market is the place to be," he says. "This is where Israeli chutzpah and entrepreneurship comes into play — in believing we can go to the US and UK and sell and make shows that succeed."
In 2014, NBC offered KI a first-look deal involving a production pact with Universal TV. Shtruzman left London for Los Angeles to set up US arm Keshet Studios and hired Peter Traugott to head operations.
"The NBC deal was a game-changer for us," says Shtruzman. "It gave us the opportunity to set up in America and really scale."
Completed NBC-backed productions have included a Miami-set version of The Beauty And The Beast and David Appelbaum's original fantasy drama La Brea, revolving around a massive sinkhole in Los Angeles that transports people back to primordial times, which was a hit last autumn.
High-profile productions outside of the NBC deal include Our Boys by Hagai Levi, Joseph Cedar and Tawfik Abu-Wael, inspired by the real-life kidnapping and murder of a Palestinian teenager in 2016, which was a co-production with HBO.
KI's other in-house development and production drama hubs comprise London-based Keshet Productions, which has existed since 2012 but was bolstered in 2018 by the acquisition of production company incubator Greenbird Media and scripted content subsidiary Keshet Tresor Fiction (KTF) in Germany.
Home advantage
Back in Tel Aviv, KI's head of global drama and co-productions Atar Dekel further extends the company's international reach through co-production and other third-party deals. Karni Ziv, Keshet Broadcasting's respected head of drama and comedy for the last eight-and-a-half years, also feeds into this process although most of her focus is on overseeing content for the Israeli audience.
"I look after the story side of things, not the deals. I am sometimes the connecting partner between Israel and the production hubs or third-party production partners," explains Ziv, who liaises regularly with Shtruzman, Traugott, Keshet Productions head of drama Howard Burch and KTF's director of fiction programmes Christina Christ in Germany. As KMG's drama footprint expands internationally, its in-house Hebrew-language originals and Israeli talent remain the bedrock of the KI slate, even for international projects not connected to existing KMG IP. Ziv says the international market is always taken into consideration when Keshet Broadcasting commissions a show, but whether it will work with an Israeli audience remains the key decider.
"When we decide if we're going to greenlight a show or not, there are parameters we test against; 80% is about the Israeli audiences but we do ask if it's got international appeal as a tape [completed series] and a format," she explains. "But the main factor is whether it will be a successful series in Israel. We can't really sell something that hasn't worked here."
Ziv believes the diversity of the population and the complexity of the Middle East conflict gives Israeli drama rich appeal. "Israel is very diverse. It's part of our identity. Viewers want to peek into others' lives. They want to see Orthodox lives, for example, or even that of a town like Nahariya [the northern coastal town where Line In The Sand is set], which is very far from Tel Aviv," she says.
Ziv teases a raft of projects in the early stages of development that tap further into this diversity. "We have six, seven dramas in the pipeline for 2023," she says. "[They bring] lots of diversity, new writers, dealing with MeToo, the new way of being a family, updated espionage stories and a couple in development set in [the] Orthodox community and one with a female Israeli-Arab protagonist."
Beyond the stories, strong ties with Israeli talent is also a key strength at KI. "When I started, I thought international producers would want to work with us because we were Keshet," says Dekel, a former literary agent. "But a lot of them come to us because they want to be in business with Israeli writers. I have producers from Italy, France, Spain and Australia that want to work with Israeli writers on projects that are not necessarily Israeli-centric."
She cites the example of co-production Diamonds, with Belgian company De Mensen, about a family of ultra-Orthodox diamond traders in Antwerp, to which KI has brought in Rotem Shamir (Fauda, Line In The Sand, Hostages) to direct, while his longtime collaborator Yuval Yefet is the main screenwriter.
Dekel suggests a "start-up mentality" also sets the company apart. "We're always hungry," she says. "Israel is the start-up nation. We've translated this into the TV market."
In the pipeline Upcoming series from Keshet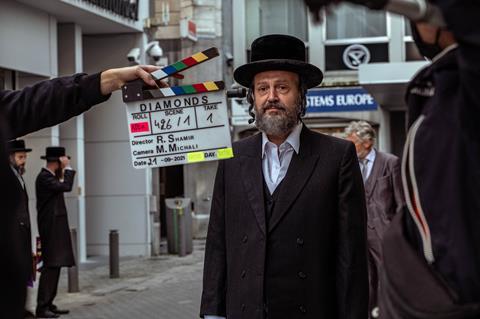 Dramas in the works for Keshet Productions include Ralph And Katie, created and lead-written by Peter Bowker, who previously guided the UK version of The A Word. It is producing the series with ITV Studios in association with Tiger Aspect for BBC One.
In Germany, Keshet Tresor Fiction is in production on comedy drama How To Dad for state broadcaster ARD. Revolving around four fathers who meet at their offspring's weekly ballet class, it is based on an original format from Keshet and Yoav Gross Productions.
On the co-production front, the global drama division's first collaboration with Japan, Deep Crime Unit (DCU), launched on the country's TBS channel in January. The police procedural about a scuba-diving investigative unit was co-produced with Tokyo Broadcasting System Television (TBS) and Canada's Facet4 Media, which first developed the idea for North America.
Further European co-productions in the pipeline include Diamonds, in partnership with Belgium's De Mensen for Netflix and broadcaster Eén, and spy thriller A Long Night In Paris with France's Elephant. The company also has projects in the works with Germany's Bavaria Film, HBO Europe and Italy's Fandango.
For US outpost Keshet Studios, upcoming NBC-backed projects include the second season of La Brea and The Missing, an adaptation by David E Kelley of Israeli crime novel The Missing File, to which Barry Levinson was recently attached to direct.
Other projects include The Stuntwoman, inspired by the real-life pioneering figure of Julie Ann Johnson. It is being co-created by Israeli director Guy Nattiv (Golda) and his actress/producer wife Jaime Ray Newman. Also in the works is Precious Cargo, about a high-school student who unwittingly takes a part-time nannying job with a mobster family, and Ties That Bind, which is described as a soapy thriller and is based on Australian miniseries Secret Bridesmaids' Business.
Outside of its NBC deal, Keshet Studios is involved alongside National Geographic and ABC Signature Studios in Disney+ commission A Small Light, about Dutch woman Miep Gies who sheltered Anne Frank's family from the Nazis and then preserved her diary. It is also gearing up for the shoot of Echo 3 for Apple TV+, a US remake of When Heroes Fly, to which Pablo Trapero is attached to direct with a cast featuring Luke Evans, Michiel Huisman and Jessica Ann Collins.