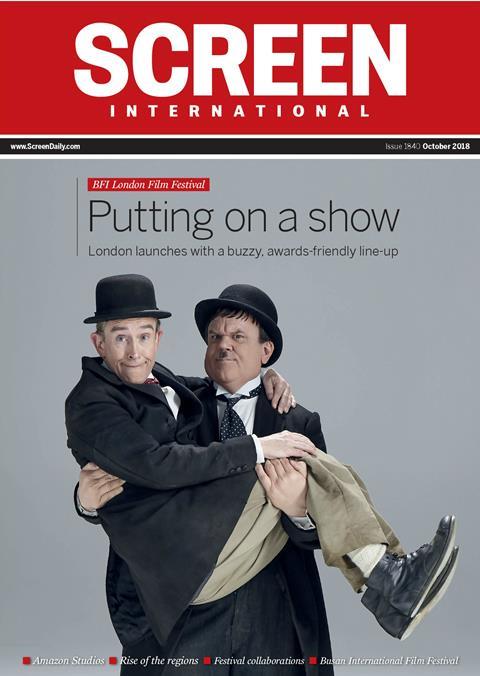 It took just six words for Scottish-born director Jon S Baird to persuade screenwriter Jeff Pope that he was the right person to direct his Laurel and Hardy story: "I think it's a love story."
"Jeff said, 'That's it. You don't have to say anything more. I want you to do the film'," recalls Baird.
The pair had collided on the UK awards circuit in late 2013 and early 2014, and had especially bonded at the London Critics' Circle Film Awards, where Baird won breakthrough British filmmaker that year for Filth and Pope was nominated with Steve Coogan for Philomena in the screenwriter category.
Baird would be the first to acknowledge he wasn't the most obvious choice to direct Stan & Ollie – the story of Laurel and Hardy as they reunite at the end of their careers for an inauspicious 1953 live tour of British theatres.
"I think that's an understatement," says Baird, who made his feature writing-directing debut with football hooligan tale Cass and had an associate producer credit on Green Street Hooligans before his 2013 Irvine Welsh adaptation Filth. "Nobody would think, 'This guy could do Laurel and Hardy,' and I would completely accept that."
But both Pope and Coogan were fans of Filth, particularly of James McAvoy's intense and depraved performance, which demonstrated to them Baird's ability to help an actor access a little-explored part of their range.
Stan & Ollie, which has its world premiere as the closing night of the BFI London Film Festival on October 21, began as a project with the BBC TV comedy department, intended as a single film for BBC1. It was only after Baird had boarded and subsequently invited producer Faye Ward to lead the project that the film's big-screen potential was realised.
Baird had met Ward on the Inside Pictures annual training scheme in 2010, and had watched her career develop working at Alison Owen's Ruby Films, producing Sarah Gavron and Abi Morgan's Suffragette alongside Owen.
"I always used to say, 'You are so good, you should really go on your own,'" Baird recalls. Ward set up her own company Fable Pictures in 2016, with Stan & Ollie as her first feature project.
It was Ward's idea to turn Stan & Ollie into a feature film. "I felt we were trying to squish a big story into a small piece," she says.
BBC Films, then under the leadership of Christine Langan, an executive producer on Philomena, was keen to jump in, and BBC TV executives graciously stepped aside. But the switch to a cinema release introduced "a lot of different legalities of rights", says Ward, who had to explore fresh clearances with the multiple parties who own the Hal Roach studio catalogue of Laurel and Hardy titles.
BBC Films financed fresh screenplay development, which continued when Coogan and John C Reilly boarded in the lead roles. Ward had a tempting package to take to market, and was the target of what she calls "a little bit of a bidding war".
It was the personal passion for the project of London-based eOne boss Alex Hamilton that tipped the balance in the company's favour; they came on to fully finance the £9.5m budget with BBC Films.
More than two years after Pope and Baird had first met, the film achieved its greenlight, shooting for 39 days in late spring 2017. Sony Pictures Classics, which acquired Stan & Ollie in September, will release in the US before the end of the year to allow awards qualification. In the UK, eOne releases in early January, positioning for Bafta attention.