Promising Young Woman's bright colours, comedic tone and dark revenge plot made it a unique proposition in the marketplace. Screen talks to the creative team about its journey to screen.
When LuckyChap Entertainment was founded in 2014, it set out with a firm mandate. "We wanted to push female stories and female creatives," explains Josey McNamara, the UK-born former assistant director who formed the company with Margot Robbie and the actress's now-husband Tom Ackerley (another British former assistant director) after the three met on the set of war drama Suite Française in 2013.
"We were thinking about what stories aren't being told at the moment," says Ackerley, "and what stories should be put out into the world." They were perfectly primed, then, for Emerald Fennell's Promising Young Woman.
LuckyChap, which is based in Los Angeles, had previously met with Fennell to discuss a TV series that didn't come together. They were aware of the London-born hyphenate's showrunning gig on Killing Eve season two and her appearances as Camilla Shand in the third and fourth seasons of The Crown. But they were not prepared for the power of her pitch when, during "a general chat" in spring 2017, she brought up PromisingYoung Woman: a rape revenge drama with darkly comic overtones.
Without a script yet written, she outlined the film's cold open: "A drunk girl lying on a bed, being undressed," as Fennell describes it. "She's slurring, 'What are you doing? What are you doing?' And then the moment her knickers are around her ankles, she sits up and, sober, says, 'What are you doing?'" The LuckyChap team was instantly hooked. "From that initial pitch, we said, 'We're in. Whatever we need to do, we'll do it with you,'" says McNamara.
Fennell, prompted by all the movies she had seen — mostly romantic comedies — in which, she says, "alcohol was encouraged as a way of sleeping with women", wrote the script over the next eight months. The girl in the cold open became 30-year-old Cassie Thomas, an acerbic medical school dropout who spends her evenings faking inebriation to punish the men who pick her up, with a bigger plan for revenge on those responsible for the rape of her best friend during college.
While the film has #MeToo timeliness, Fennell denies that was a major factor in its creation. "I think it's unfortunately pretty perennial," she says. "When it came to writing it, I was just interested in writing something that felt honest to me — a revenge movie that felt like it had a real woman in the middle of it."
Both the script and the resulting film walk a tonal tightrope that makes it difficult to categorise. It is telling that, despite being put forward in the musical or comedy category for the Golden Globes, the Hollywood Foreign Press Association transferred it to the drama section, in which it was ultimately nominated. ("We were initially a bit disappointed by the flip," admits McNamara, "but obviously since it's been recognised in drama, we're not gonna complain.")
On the one hand, it is bright, snappy and entertaining, like so many of the romcoms Fennell had in mind. On the other, it channels the dark energy of the revenge thriller, albeit with subversive and surprising results. It also contains sensitive, potentially triggering subject matter. Fennell's term, says McNamara, is "poison popcorn". So when she and her producing partners at LuckyChap started to seek out financiers, they accepted it might prove a tough sell for some.
"Obviously there were people who had queries about certain elements of the script and whether it would translate," says McNamara. "But that just helped us because we were so steadfast in how we saw the movie that we knew the people who did respond to it were the right people for the movie."
Those "right people" turned out to be robust indie studio Film­Nation, which optioned the script and came on board to finance Promising Young Woman in October 2018. "I read it and thought, 'This is not like anything else I've read recently,'" says FilmNation president of production Ben Browning. "It was set to where FilmNation fits in the film business. We're not servicing giant intellectual property. We mostly make speciality films. So we're always looking for something that could be where culture may be going."
There was not even any hesitation over allowing Fennell to direct it herself, despite her having only one short film to her name (2018's Careful How You Go). Her clarity of vision impressed Browning from the moment he first met Fennell. "The astonishing thing is that a lot of what she articulated right then is in the movie," he says. "She already had it completely in her mind. So that's when we got involved, scrambling to make it after that."
Things moved fast, with Carey Mulligan secured for the lead role. In the "heightened, allegorical world" of her film, says Fennell, she needed someone who could make Cassie feel "incredibly honest and very real". Mulligan brought those qualities.
"It definitely felt like a mammoth part," says Mulligan, who, like LuckyChap and FilmNation before her, was attracted by the cogency of Fennell's vision. "Within about five minutes of meeting, I felt totally safe and confident in her."
Finding its feet
With Mulligan now packaged as part of the movie, FilmNation and LuckyChap took the project to Berlin in February 2019 and promptly sold it to Focus Features, which joined as distribution partner before the film went into production. This was a simple matter of "the passing of enthusiasm from one person to another", says Browning. "It felt like they saw the same film as we did. We were very much a team of people who were excited about making the film and never had any conflict."
However, the production budget was lean (McNamara describes it as "tier one"), a challenge further compounded by the fact the film was shot in Los Angeles, denying it the tax credit it could have received in many other North American locales. This decision was primarily a matter of timing — they had to move quickly with Fennell entering the third trimester of her pregnancy. Principal photography commenced in late March 2019, little over three months after Browning first read the script, and wrapped 23 days later, mere weeks before Fennell's son was born.
"We had an impossible schedule," laughs Fennell, who produces alongside LuckyChap's McNamara, Ackerley and Robbie, and Film­Nation's Ashley Fox. "The shoot was so challenging, but so exhilarating. And everyone was amazing. In a million years I never dreamed that Carey would be the lead, that we would get the cast that we got, that we'd have [costume designer] Nancy Steiner, who did The Virgin Suicides, or Angie Wells to do make-up. And we didn't make it easy for ourselves. We weren't just Steadicamming it and making it pretty loose. It's a very formal film in lots of ways. Also, we were shooting Los Angeles for Anytown USA, so we were desperately trying to avoid the Hollywood sign, and palm trees and California babes and all that stuff."
Fortunately, the LA location came with its advantages. "Being on so many amazing people's doorstep made it a bit more possible for them to say yes to being in the film," Fennell says, referring to the film's strong supporting cast, which includes Alison Brie, Adam Brody, Jennifer Coolidge, Christopher Mintz-Plasse, Clancy Brown and Molly Shannon, alongside Bo Burnham and Laverne Cox in bigger roles. "So it's totally swings and roundabouts."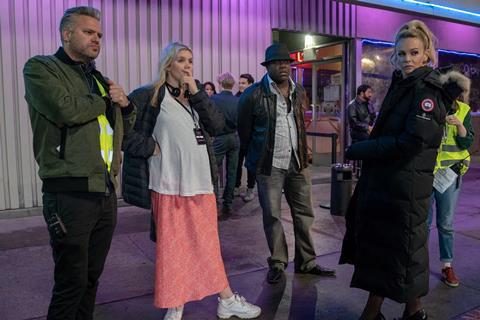 Feeling the heat
The difficulty of shooting Promising Young Woman (not to mention its long, Covid-related release delay, from April to December 2020) has been vindicated by the awards buzz it has received, with the film's four Golden Globe nominations and five Oscar nods, including for Fennell in the director and screenplay categories. Yet its reception has not been without its controversies.
The first hint that it might prove divisive came during the first test screening. "It was at Burbank," recalls Fennell. "I decided to sit right at the back because I wanted, foolishly I suppose, to actually see the whole thing. And during one particular scene that is quite harrowing, two people started shouting at each other." As she was seated so far away, Fennell could not make out what was happening, but she later confirmed one of the viewers had taken offence to the film's brutal, final-act twist, while the other was essentially saying they were free to leave if they didn't like it. "It got quite heated," says Fennell, who admits her first thought was, "Fuck, this film's never gonna come out."
However, her fellow producers were encouraged rather than worried. "It reaffirmed to us the importance of the movie and the conversation that would come out of it," says McNamara. "So it was definitely an interesting test screening."
A further twist came after the picture premiered at Sundance Film Festival in January 2020: a review by Variety critic Dennis Harvey, in which he described Mulligan as an "odd choice" for Cassie, suggesting that producer Robbie might have better worn the character's "pickup-bait" and "femme fatale" elements. (Robbie was never in consideration for the role, Screen is told — partly due to scheduling realities, and partly because Mulligan was better to "subvert people's expectations", says McNamara.)
After Mulligan expressed her annoyance at the review ("It drove me so crazy," she told The New York Times), Variety prefaced it with an apology for its "insensitive language and insinuation" — a move that itself drew criticism from the National Society of Film Critics, which lamented the "shabby treatment" of Harvey by his own publication.
And what does Fennell make of the incident? "I am certainly not adding fuel to that fire," she replies. McNamara and Ackerley will not be drawn into the specifics either, though they broadly see it as symptomatic of the film's emotive power. "I think Carey handled it well," says McNamara. "I think the response has been great, and people are having a conversation, and that's good."
Browning, meanwhile, sees it all as "great mileage for the film" — a film, he points out, "which is intended to push buttons and to confuse". As someone who describes himself as "a huge fan of film criticism", and grew up reading Pauline Kael and Francois Truffaut, Browning admits the whole debate — "reading articles on articles on articles" — has been "wild to watch". Rather like Promising Young Woman itself, you could say.
Additional reporting by Mark Salisbury