Screenwriter Tony Kushner, producer Kristie Macosko Krieger and Rita Moreno talk about its journey to screen.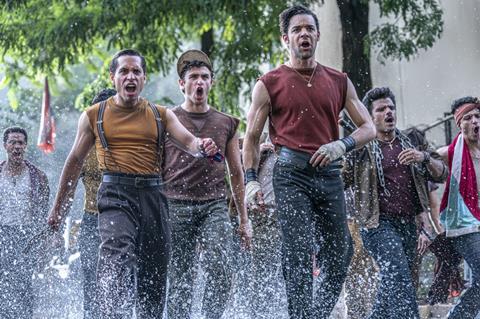 "Steven likes to scare himself when he makes films," says screenwriter Tony Kushner of frequent collaborator Steven Spielberg. "He likes to do things he hasn't tried before, like directing a musical."
A longtime Busby Berkeley fan, Spielberg had previously incorporated dance numbers into 1941 and Indiana Jones And The Temple Of Doom, although his favourite movie musical remains West Side Story, which premiered on Broadway in 1957 before being adapted for the screen by Robert Wise in 1961, winning 10 Oscars including best picture. Conceived and directed by choreographer Jerome Robbins with music by Leonard Bernstein, lyrics by Stephen Sondheim and a book by Arthur Laurents, West Side Story relocates Shakespeare's Romeo And Juliet to Manhattan's Upper West Side and details the rivalry between two teenage street gangs — the Jets, an all-white crew, and the Puerto Rican Sharks — which intensifies when Tony, a former Jet, falls in love with Maria, sister of Bernardo, leader of the Sharks.
In 2014, theatre producer Kevin McCollum, who revived West Side Story on Broadway five years earlier with Laurents directing, approached Spielberg with the idea of mounting a new film version. Spielberg was very interested, so McCollum introduced him to the musical's rightsholders — Sondheim and the various estates representing Bernstein, Robbins and Laurents — to see if they could come to an agreement. "We sat down and Steven made his case for 'his' West Side Story," recalls producer Kristie Macosko Krieger (Bridge Of Spies). "We went through a series of meetings, negotiated a contract, and worked with each estate to make sure they felt their needs were being met to protect this amazing property."
Once all parties were singing from the same song sheet, McCollum took the project to 20th Century Fox to finance, although Disney, through its acquisition of the studio in March 2019, would eventually distribute. Among the rightsholders' stipulations was that Spielberg hire a screenwriter from a pre-approved list, which included Pulitzer Prize-winning playwright Tony Kushner (Angels In America), who was friends with Sondheim, knew Laurents "a little bit", and had worked with Spielberg on Munich and Lincoln. Not that Kushner said yes immediately. "I said I needed to think about it and kept coming up with reasons not to. I was intrigued but I was hesitant."
A few years later, as Spielberg was about to direct The Post, he asked Kushner again. "We talked about the difficulty of doing a new version of a musical which was already the basis for one of the most beloved movie musicals of all time — arguably the best. We didn't want to push the other film aside. We wanted to be in meaningful dialogue with it."
Both Spielberg and Kushner were keen to bring a socioeconomic, political and historical context to their version that had only been touched upon in Wise's film, namely the demolition of huge swathes of the Upper West Side and the forced relocation of 7,000 people, mostly Puerto Ricans, to make way for the Lincoln Center. "Steven was interested in exploring the role poverty plays in the story of these street kids," says Kushner who lives in Lincoln Towers, which were built on the area torn down. "So I started digging into Robert Moses and the committee for slum clearance and Steven got excited by the visual possibilities."
Using the book of the 1957 musical as his template, Kushner began to reimagine West Side Story for the 21st century. He set about deepening existing characters, adding new ones, furnishing all with believable histories and motivation. "Our idea was the Jets are a gang of homeless, racist, xenophobic street rats. The Sharks are a neighbourhood protection organisation that formed in reaction. That is an original idea in our film. But if you look at the '61 [film], there's some indication of that."
Role play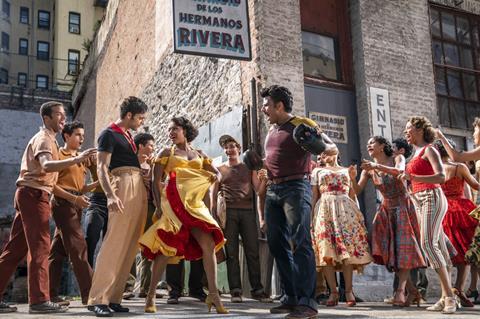 When it came to the part of Tony (played by Ansel Elgort), rather than the bright-eyed boy of the original, Kushner gave him a troubled past — on parole for assault, desperate to make a fresh start — when he meets Maria (Rachel Zegler). "One of the mysteries of Tony is the guy gets to sing three of the greatest songs ever written right off the bat, yet it's considered a dud role," says Kushner. "Part of the reason is because he's kind of corny. I thought, 'Why not make him the leader of the Jets?' Which makes the relationship with [best friend] Riff much more interesting and truer to Shakespeare."
Kushner made Bernardo a boxer, transformed Anybodys, a tomboy in the original, into a trans character — the role would be played by non-binary actor Ezra Menas — and insisted dialogue be in both English and, for the Puerto Rican characters, non-subtitled Spanish.
Kushner was no less exacting with Bernstein's music and Sondheim's lyrics, re-ordering songs and cutting lines to better serve his version of the story. He also asked Sondheim, who was present for all the prerecords and filming, to rewrite a lyric in 'America' to reflect the period more accurately. "I got to sit with him for a couple of days and go through the script, line by line, which was a dream come true. The fact he was there to say, 'This is true to the spirit of what I helped make,' gave us a lot of confidence."
With Robbins' choreography protected under contract, Kushner suggested they hire Justin Peck, who had studied under Robbins and danced at the New York City Ballet. The Robbins estate needed to approve his moves before they signed off on the film — which it did. "Then it was off to the races, and we were able to make the film," says Krieger.
Linking Spielberg's reimagining with Wise's film was Rita Moreno, who played Anita in the original, and was cast in a new role, Valentina, the kindly widow of drugstore owner Doc. What could have easily been a throwaway cameo became substantially more rewarding by having Tony work for Valentina, and having her be invested in his plight. More­over, Kushner decided Moreno should sing 'Somewhere', a number normally reserved for Tony and Maria, and moving it to after "the rumble". "The song has a new meaning," says Moreno, who sang it live on set. "It's so heartbreaking."
In addition to playing Valentina, Spielberg asked Moreno to be an executive producer. "That sort of made me wet my knickers," she laughs. "I was astonished. He said, 'I think you could contribute a great deal.' He would ask my opinion about any number of things. When he found his Maria, he was very concerned because she wasn't Puerto Rican." Wise's film had starred a browned-up Natalie Wood and only one Puerto Rican, Moreno. "I said, 'Now I'm executive producer, let me explain something. Everybody does not have to be Puerto Rican. They can be Hispanic.' I said, 'Make damn sure she can speak Spanish. For all your other worries, stop right now.' That's how I became a true executive producer, not just in title."
"I don't think we could have made the film without her," insists Krieger. "As a Puerto Rican, as a Nuyorican, growing up in the '50s, we knew she could bring an authenticity, and she could say to us, 'You're doing this right.' Or, 'No, you need to do this a little differently.' The cast relied on her. They sat at her feet and listened to the stories she told about the first movie and the period. She was able to give these kids something to sink their teeth into."
To further help with authenticity, the production team visited Puerto Rico, held casting sessions there, and drafted in historians to hold seminars and panels for cast and crew back in New York to educate them in what life was like for Puerto Rican migrants in Manhattan in the 1950s. "There wasn't a week where there wasn't somebody speaking and sharing," says Moreno. "Tony and Steven turned themselves into pretzels trying to get it right. I love them for caring that much. What they have done has made this film deeply, deeply relevant to our times."
Casting took a year, with 30,000 hopefuls answering a series of open calls for the four main roles of Tony, Maria, Anita and Bernardo. "They had to be able to sing and dance as well as they could act. We needed triple threats," says Krieger.
Next Kushner provided the cast with pages of backstory for their character. "One of the reasons I had to do it was, in musicals, you give up a lot of real estate in the script to songs and dance numbers," he explains. "[Actor] Mike Faist was the first person who contacted me and said, 'I need to know about Riff.' Then Rachel and David Alvarez [who plays Bernardo] texted and said, 'We're brother and sister. Where do we come from in Puerto Rico? Why is our father still there? What happened to our mother?' I thought I better sit down and write it up. I did it for all the Jets, for Maria, Bernardo, Anita, the Sharks. Rita wanted to know everything about Valentina. I wrote a 30-page, single-space docu­ment, and we're figuring out a way to turn that into a miniseries."
Opening the toolbox
A large part of Spielberg's desire to remake West Side Story was to imbue the musical numbers with more dynamism, zip and pizzazz, Wise having been hampered by the size and unwieldiness of his cameras. In contrast, Spielberg's camera sweeps, soars and glides.
"Steven wanted the film to 'sing'," notes Krieger regarding a movie that went on to earn five Bafta nominations and seven at Oscar including for best picture and director. "He normally comes in a few days before we start, sits with the actors and we start shooting. On this, he had 10 weeks of rehearsal. When I look at the movie, I see his fingerprints all over it. He used all the tools in his toolbox."
"He loves his cranes," notes Moreno. "I said to him, 'I'm going to call you Steven Crane.' I mean, he makes those things dance. They don't just go up. They go sideways, they go down. They go into close-up from a long shot. He's a fucking genius."
Moreover, Spielberg wanted to shoot outside, on real locations. "He said to Adam Stockhausen, the production designer, 'We're not making this on soundstages, we're making this on the streets of New York, so find them,'" says Krieger. "There are places like Harlem and Patterson, New Jersey, that still look like the '50s. If you keep your camera pointed in the right direction, you're pretty good to go with minor changes."
The number that gave Spielberg most concern was showstopper 'America', which in Wise's landmark musical was set at night on a rooftop. "Steven was, 'How am I going to do it differently and make people pay attention and enjoy it?'" says Krieger. Spielberg turned to Kushner for help. The screenwriter suggested they move 'America' to the morning, and have the whole of San Juan Hill, the Puerto Rican neighbourhood at the top of Lincoln Square, spill out onto the streets, transforming it into a riotous, colourful block party. The result took 13 days to film, and blended parts of Harlem, Washington Heights and Patterson. "We shot it everywhere," says Krieger. "It was a logistical nightmare. It was hotter than hell, but we made it work."
"I love his 'America' so much," says Moreno, who was a major part of the original version but was absent here. "It's so joyous. I love that they brought in little kids to dance and the neighbours. It's become iconic again, in a very different way."
Rita Moreno explains what tempted her back to 'West Side Story'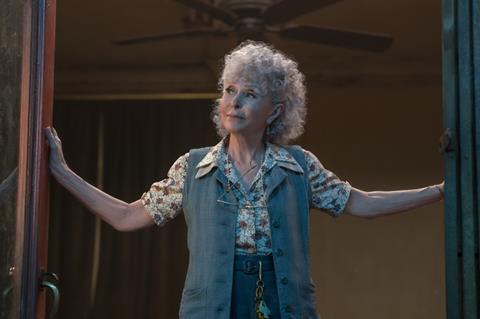 "My agent called and said, 'Steven Spielberg would like to speak with you. Can he have your number?'" remembers Rita Moreno on the phone from her home in Berkeley, explaining how she came to star in his West Side Story. "I spoke to him that day and he said, 'I was wondering if you would be interested in being a part of it.' I put on my most polite voice and said, 'I am so flattered, but I don't do cameos.' And he said, 'No. This is a real role, especially written for you by Tony Kushner.' And I loved the part. Valentina had such character and dignity. I immediately said yes."
Aged 90 and sharp as a tack, with the energy of someone a third her age — "I'm an old fart only in numbers" — Moreno, who won the best supporting actress Oscar as Anita in Robert Wise's 1961 original, delighted in playing "mama" to Spielberg's young cast, and has nothing but praise for Ariana DeBose who took over her iconic role. "She's a spectacular dancer, superior to what I was," says Moreno, who met DeBose during rehearsals and immediately invited her to lunch. "I tried to put her at ease. I said, 'I know you're nervous. But you auditioned for this, and you got the part, so relax. You are Anita. If there's anything I can do, I will be happy to share.'"
One challenge was shooting the scene in which Valentina stops the Jets from raping Anita, which gave Moreno flashbacks to filming the same moment in the 1961 movie where "I broke down so hysterically they had to stop shooting and call an early lunch," she recalls. "But, let's face it, that's the thing that got me the Oscar." Returning to the scene half a century later was both surreal and unsettling. "It was very difficult for me. I don't doubt it wasn't easy for Ariana, but every time I looked at her my brain kept saying, 'That is not Anita. You are.' So I never really was able to get into that part of the scene the way I wanted to. It shows how there are certain scars that never quite heal. It cut me to my very soul."
Back in 1961, Moreno was, shamefully, the only Puerto Rican in an all-white cast. "They browned up everybody who was playing a Shark," recalls Moreno, who had to endure the indignity herself. "That was so offensive. I remember one day, having the make-up man put on that hideous make-up, saying, 'Why can't I be my colour? I'm Puerto Rican!' And his riposte was, 'What, are you a racist?' It so shocked me, I clammed up."
Ultimately, revisiting West Side Story was, for Moreno, an overwhelmingly pleasurable experience. "This is the only film I've made where I look forward to every scene that I'm in. I love me in it. Because I'm such a raucous, humorous person, I don't ever get the chance to use that part of me that's still and thoughtful. That means everything, because I've always had to play these spitfires. So this film, being a part of it, and being an executive producer, means the world to me."