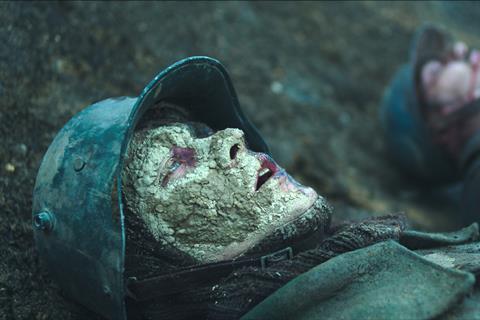 Edward Berger's German-­language feature All Quiet On The Western Front has proved a phenomenon for Netflix since it was launched last autumn.
Thanks to its success, Sasha Bühler, Netflix's director of films for Germany, Switzerland and Austria, has a lot of travelling to do. She is in London for tonight's Baftas, where the film leads with 14 nominations. In a few weeks, she will be in Los Angeles for the Oscars, where it is in the running for nine accolades.
But the project that first crossed her desk in late 2019 looked very different to the one competing for those awards.
"The film was brought to me as an English-language film with a South African director," Bühler recalls, while in town for the Berlinale. She thought the project was interesting but did not, at that stage, see "a compelling reason to make another First World War film".
Flash forward three months to the pre-pandemic Berlinale of 2020, where Rocket Science was selling the film in the EFM. German producer Malte Grunert and Berger were now attached, and Bühler agreed to meet them. "Edward pitched his vision for it and I was immediately sold, hook, line and sinker. It was something new. This story [by Erich Maria Remarque] published 95 years ago had never been told from a German perspective," Bühler explains.
Berger, she realised, was proposing to tell "the loser's side" of the story and to confront German shame and guilt over the war — and in the German language too. "I thought that was so exciting and important," Bühler recalls. "At Netflix, we find that it doesn't matter what language things are in… it does matter that it's authentic.
"When Edward pitched it, all I wanted to do was support him in his vision of how he wanted to make it. It was fully baked in his head."
While editing was underway on All Quiet…, Bühler was busy with her next project, Vanessa Jopp's Far­away ("an escapist, life-affirming rom-com"), which was shot on an idyllic island in Croatia.
She cannot put a number on how many German films she is backing in 2023. "We have a budget and we can make two films out of it and we can make 10 films out of it," she says. "It depends on what we think will be impactful."